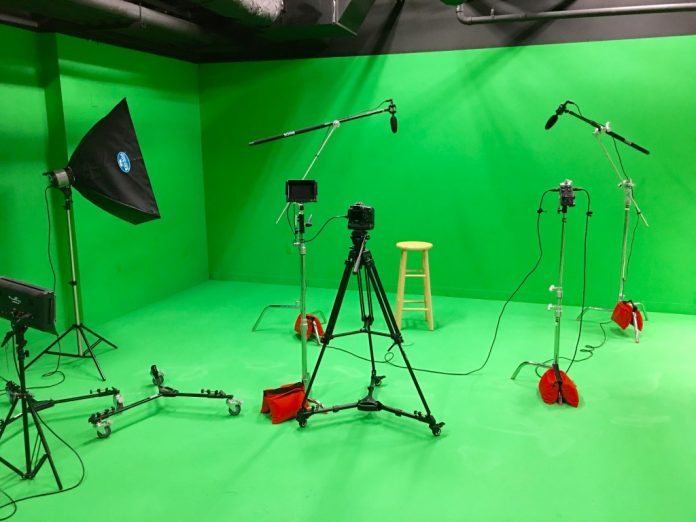 Every new school year brings change: new students, new classes, and new teachers. This year is no different as theater students may note a particular change when they go to the theater commons and notice a new room and its bright green walls.
Recently, Jesuit's theater department has gained a new green screen room as part of the school's ongoing initiative to modernize itself. This green screen gives Jesuit students access to a plethora of new opportunities. As Fine Arts Co-Chair Mr. David Myers put it, the lab "is able to blend different videos or photos into a single image. It also gives students a real-life experience of working in a video production studio."
This new change is huge for the theater program, as it provides them with many new capabilities that will undoubtedly be great for production. The technology should allow for a whole new depth to theater productions; it is even part of the new film making curriculum, now allowing students create a green screen project.
The new green screen room is a tremendous addition to the campus, and its creators should not go unnoticed. "Mr. Vardell, Mr. Kimberling, and the rest of the team here at Jesuit have accomplished on campus over the past few summers. They deserve a tremendous amount of credit for reshaping the campus, and they did a wonderful job on the green-screen lab," said Mr. Myers.
The new room has received tremendous amounts of praise not only from the faculty but also from the students. Film and theater student Gavin Loera '17 noted, "I am stoked for the new green screen room, especially because before we had a simpler green screen. So, this new room looks so professional and opens so many possibilities."
Loera's enthusiasm was echoed by fellow student Spencer Vilicic '17 who explained, "When I saw the green screen room, I couldn't believe my eyes. Not only were the plans to expand the film program coming to fruition, but they were also happening during my time here. I look forward to experimenting with the new space."
This is just another advancement in a long line of of technology integration with the arts. From using iMacs for music composition and the Digital Arts course to an attempt to reach out to digital media and those that consume it, Jesuit theater students have the unique privilege of using a state of the art technology.
As Mr. Myers commented, it essentially assures "that Jesuit's art program stays at the forefront of our cultural trends." He is especially excited for this addition to the theater commons, telling The Roundup, "I'm more than happy with the results. I am over-the-top thrilled."
The new green screen room is indeed a great addition to the Jesuit film and theater program. Make sure to keep checking The Roundup for future updates with the Jesuit Film and Theater program, especially with all the big programs coming up in the fall!