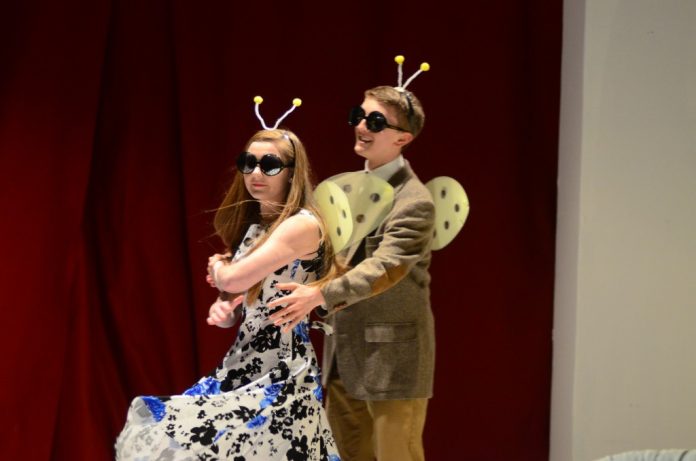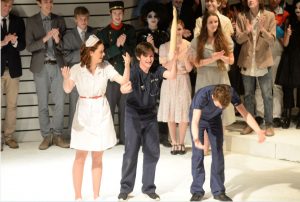 Comedy.  Whoever controls this, controls the world.  Harnessing the power to make people laugh as well as reduce them to tears, the act of crafting true comedic art is only possessed by a select few. Appropriately, the outstanding writing, acting and directing in the 2016 One Acts exhibited some of this beautiful comedic art from the heart of Jesuit theater.
On the weekends of the 15th and 16th, and the 22nd and 23rd of January, under the bright lights of the Jesuit Lecture Hall, the renowned One Acts took Center stage.  The anticipation and hype for this year's One Acts certainly set the bar high, a bar which many believe was raised even higher after the spectacular performances.
Although it was not apparent by their interactions one another, the directors and actors involved in these plays come from a wide variety of various schools and grade levels.  The cohesiveness that these artists execute with showcases the dedication they have to make these theatrical works of art.
Getting into the actual performances, the first appearance on the list is "Blind Date," by Horton Foote, directed by Ursuline Senior Isabel B. and Centennial High School senior Rachel T., with acting from Rubie L., Emily S., and Kyle Leonard '17.  This wasn't a typical blind date. Containing many twists and witty lines, this performance left the audience with many obvious grins on their faces.
Secondly, the following performance was a nice change in the mood from the first act.  "Cleanliness is Next to Gothliness," written and directed by Ursuline Senior Brittany W., with acting from Jack Matthews '17, Cameron Schutze '17, Anna R., Kiera M., Giovanni Ferrer '19, Maggie K., Luke Lewis '17, and Jake Carlson '18, depicted a goth friend group, and each person questions whether the rest are "truly goth."  Commenting on the management of the play, Matthews explained, "[Brittany] did a great job directing, giving us lots of creative freedom to do what we wanted without characters."  Matthews continued on with the topic of their clothing, stating that "Our costumes were especially good, as we wore all shiny black clothing, and had makeup that got laughs as soon as the lights went up on stage."  Concluding his approving review of the act, Jack finished by stating, "One of the best parts of the one acts as a whole was how focused everyone was. We were all intent on putting on the best show possible, making our transitions quick, encouraging each other backstage."  This performance was filled with laughs and thoroughly enjoyed by the whole audience.
Next comes the notably hilarious play, "Marred Bliss," by Mark O'Donnell, directed by Jesuit's very own Mr. Parker Hornsby, with acting from Molly M., Joseph "Deebs" Duebner '16, Henry "2 ChAinsworth" Ainsworth '16, and Madison W.  This particular performance, requiring talented actors and actresses to pull off the demanding, yet hilarious dialogue, entailed the communication issues in human relationships ano generated gut-busting  laughter from the audience.  Deebs recounted part in this act, saying, "For me the highlight of one acts was my opportunity to not only direct a one-act but also act in one as well. I had thought last year would be my last time on stage in that way, but I got a pleasant surprise when two spots opened up in a show and Henry Ainsworth and I took them."  With a solid group or actors and actresses, as well as some superb directing, this play captivated the crowd from the start until it's comedic close.
Moving on, the audience was in for another great performance with "The Plot Thickens," by Stephen Fry and Hugh Laurie, directed by Joseph Duebner, with acting from Henry Percy '17, Will Fynes '18, Sean Rilley '16, Maxwell Schutze '19, and Arianna C.  A truly unique play, it illustrated a man who adapted his place of business to suit the customer that w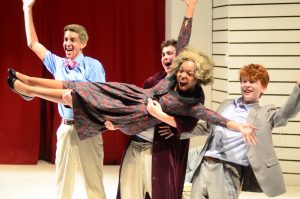 andered in.  The man's workplace revolved between him being a cigarette salesman, a waiter in a soup kitchen, and few other various businesses.  Additionally, Deebs explained, "The best part of directing one-acts is watching the cast you've bonded and grown with over the past months perform the show on stage. It's such an incredible feeling of exhilaration that isn't rivaled by anything else I've done yet." He then finished with, "My favorite part of my one act has to be the connections I've made with my cast, we became as close as a family. That's something really special to feel as a director."  This dynamic demonstration of theatrics got more than a few laughs from the audience.
Continuing along in the merriment, the next performance to be recognized was "The Producers," by Mel Brooks, directed by Tess J. and Ursuline Senior Hayley S., with acting from Aidan Leahy '16, Santiago Arenas '18, and Karen B. on cast A, and from Lee Ann M., Colton Hart '16, and Cole Henry '16 on cast B.  Set in a mansion, this show basically pitted a wealthy magnate against his sort-of secretary in a shouting match, with a peculiar appearance by an old lady as well.  This atmosphere set up the perfect opportunity for hilarious, entitled rants by the protagonist, pitiful pleads by the secretary, and interesting intrusions by the old lady, which all proved to amuse the audience immensely.
The next noteworthy title was "Slaves to the Stage," by Kieran Taylor '17, directed by Ursuline Senior Rachel C. and North Hills Senior Lillian R., with acting by Sam Cormier '17, Eliza P., and Max Taken.  Placed in the operating room of a hospital, the play portrayed a doctor and nurse working on a young boy, with the doctor and nurse becoming romantically involved.  To add to the effect, the doctor was married and had many children at home, the number of which grew every time he mentioned it, and the nurse had a boyfriend that was also a doctor, who walks in on them kissing.  A confrontation ensued, resulting in the second doctor shooting the first doctor with a cap gun, and the whole cast realizing their role as characters in a play.  This silly sequence of events proved to be the highlight of night with Jack Matthews agreeing, "One of my favorites was "Slaves to the Stage,"" as well as Alonso Espinosa Dominguez '16 stating that it was a "comedic masterpiece by Kieran Taylor" and "one of the better liked One Acts."  Alonso continued in saying that Kieran "wrote it sophomore year," explaining the time and thought that has gone into producing this performance.  Deebs expressed his joy in saying, "I felt Sam Cormier stole the show in the one act written by Kieran Taylor, that was by far the funniest performance on stage. He was closely followed by Eliza P. in the same show and Cameron Schutze in the goth show."  Continuing with the compliments, Gus Baldwin '17 happily stated, "I thought Sam Cormier was a pretty good standout."  This show definitely proved to be a crowd favorite and left many in crying in tears of merriment and joy.
Another astounding act was "The Still Alarm," by George S. Kaufman, directed by Garrett Alldredge '16 and Kenneth Crowe '16, with the original cast including Zach Feffer '18, Carlos Cabré '17, Spencer Grant '18, Jack Mason '16, Matt Musso '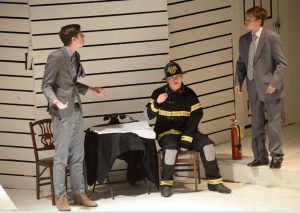 17, Payton Bilgere '19, and Gus Baldwin '17.  This show took place in a room inside a burning building.  The two gentleman, who had known knowledge that the building was burning, were carrying on an intelligible conversation about the finer things in life.  The gents were only aware of their intrinsic danger once they were interrupted by firemen, as well as men from the floor under them, who had caught fire.  This hot spell of humor proved to be outrageously funny, with the final scene ending in a harmonious melody of "Ring of Fire" performed by the second firefighter (Musso) on his ukulele.
The list continues with "There Shall Be No Bottom," by Mark O'Donnel, directed by Bishop Lynch Senior Sarah M. and George Nicolas Rodriguez '16, with acting by Rodriguez, Ryan Schaffler '16, Alexis F., and Ralph Anguiano '16.  Taking the feel of an old British detective show, the play illustrates a man in his home who is soon met by a detective, who wants to ask him a few questions.  As the play continued, the characters mess up their lines (intentionally) and the man in the house tries to subtly tell the detective that he has skipped ahead in the script.  This then leads to another actor in the show getting stuck in traffic and not being able to come, so the last actor has to come into the scene, script in hand, to cover the additional part.  This diverse performance, which spiraled out of control at some points, all on purpose, succeeded in tickling the audience.  Ironically, the performance was about unprepared and mediocre actors trying to put on a play, but, in reality, there was nothing mediocre or unprepared about the acting in this show.
Another terrific show was "Time Flies," by David Ives, directed by Henry Ainsworth '16 and Nicholas Dart '16, with acting by Carson Ward '18, Katelyn I., Jared Butler '18, Jack Schwab '17, Matthew Cox '19, and Richie Malouf '19.  This performance portrayed two mayflies that come home to a lily pad.  The two mayflies start talking and decide to watch a documentary about swamp life on the tv, but are then targeted by some fireflies, who, in their attempt to attack the mayflies, are shot down by a frog.  From the documentary, the mayflies become aware of their short lifespan, having only a few hours to live.  With this, the pair fly off to Paris to try to escape the dawn which will bring their death.  This lively performance, while being witty and funny, also illustrated the beauty of life, in its brevity.  The audience laughed thoughout the whole play, but wept in the beauty of the story as the final scene ended.
Last on the list, but certainly not least, was "The Whole Shebang," by Rich Orloff, directed by Alonso Espinosa Dominguez '16 and Dow Zabolio '16, with acting by Allie B., Hannah K., Nick Fox '16, Gabby P., Carl Quist '19, and Anna Z.  The setting for this performance was on a college campus in which God, embodied as a young woman, is a student and working on the project of our universe.  In show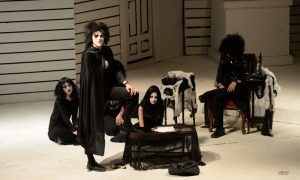 ing off a good human couple, God accidentally brings the wrong humans, who turn out to be trashy mediocre people.  The human couple, particularly the husband, argue with God about free will.  The professors give God a "D-" on the project, but the performance ends with God concluding, "I think it's good."  An outrageously clever play, the audience laughed throughout the whole piece, and at its end, laughed, cried, and clapped in emotional approbation.
The One Acts were outstanding this year and were wonderful demonstrations of theatrical art.  Make sure to complement the writers, directors, and actors on a job well done.  The curtain has closed for the 2016 One Acts, but the laughs, friendships, and good feelings it has created will remain with everyone for rest of time.