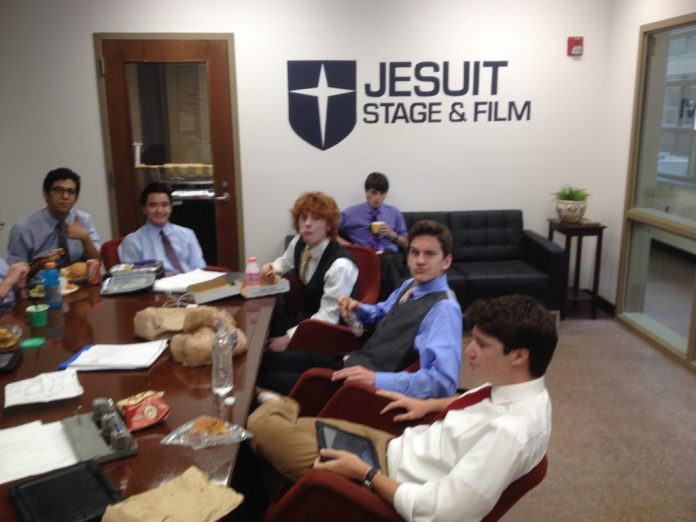 The word "action" is heard loud and clear, a soft click on a camera echoes. The whirring of the recording camera on a tripod sounds faintly. Finally those in front of the camera, along with those behind it, start to make the magic happen.
This May 8th and 9th Jesuit will host its very first annual film festival, opening each night at 7 p.m. with a half hour "Hilarity for Charity" comedy routine from Mr. Paul Kolker and several Jesuit staff. Mr. David Myers has led this process at Jesuit Stage and Film for the past few months, encouraging many students to submit their films.
"This is the first time that Jesuit has accepted film submissions from a world wide audience," said Myers. So much promotion and social media was used to recruit films that a staggering "55 entries from 17 high schools, 4 states, and 2 countries" make this festival an international affair.
John Darrouzet '16, a director in the filmmaking class this year and entrant into the festival, commented on the filming process. "While hard to find times to film because of the varying schedules of 3 or 4 people, the filming always turns out great," said John. The actors themselves often go off script, making the film "better because of their brilliant improvisation."
"I'm pretty lucky because I only have a few actors to work with while some guys have cast over 8 or 9 people," a large number of moving parts "making scheduling even tougher than it needs to be." The time crunch on the filming also affects John making it hard to get it ready for competition "but it also pushes us to work diligently."
Speaking on his competition, he remarks there is "some pretty stiff competition from the Jesuit guys". Especially from the class, "there are several talented guys that are making some really nice looking films." Their projects encourage John, making him "want to polish it up and make it better and better."
Expecting around 65-75 entries, "we take a team approach to this. Mr. Joe Howard is doing the design, the poster, the show program. Mr. Chris Patterson will assist with the logistics and being cool. Mr. Raymond Ochs and Mr. Jeff Murdter will assist with tech work. It takes a village to raise a film festival," said Myers.
Getting into the prizes, Myers says "we're giving a Black GoPro 4K to the grand prize winner, and silvers to the two runners up." He continued that there are also awards for "acting, post-production, and writing."
This idea is not a new one for Jesuit, Myers has had this in the works for some time now. Back in September, during the initial phases, he said that "Jameson McGhee '17 and I spent a lot of time surveying the websites of other festivals. We took the best of what we found and cobbled it together for Jesuit."
Myers is already "assembling a jury of alumni to judge the films." With some support already from the community they "have two alumni who are currently in film school, and we're in touch with a number of alumni in the film and television industry who are willing to help us."
Will you be submitting a film to the festival? Be there May 8th and 9th in the Lecture Hall at 7 p.m. to watch all the films and decide for yourself who is the best!