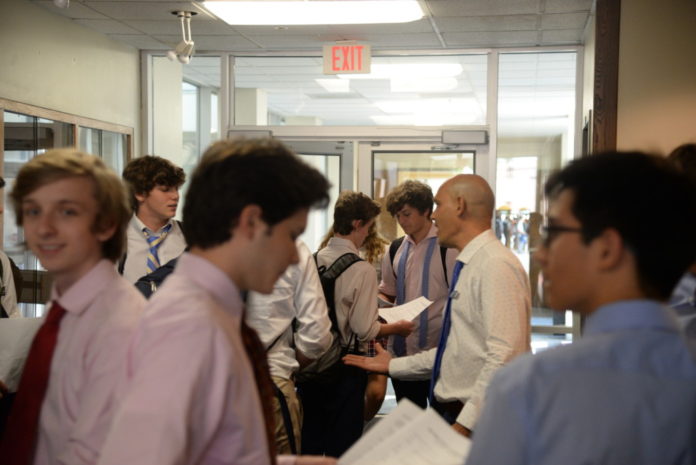 Photography by Ben Levis '21 and Sam Levis '21.
Walking out into the center of the stage, the spotlight gleams into the auditioners' eyes. The aroma of the director's fifth cup of coffee dancing in the air. The auditioners heart beats in his chest louder than the Jesuit's band. The actor's eyes reflect against the light as blood surges towards his face cheeks and turns mildly red. The director says "You may begin", and the show starts!
The Great Gatsby Audition Pictures
Interviews
Every year Jesuit puts on a show in the stage and film department. This first-semester performance will show The Great Gatsby by F. Scott Fitzgerald. Auditions were held last week after school on the 5th and 6th of September. I got a chance to see how much work and effort goes into the setup and planning before the play airs this December. I caught up with Mr. Acevedo and Mr. Patterson to interview them on their hard work thus far, as well as several of the actors that tried out. 
Every year you select a play, how much effort goes into the process of deciphering what play you want to do that year? 
Mr. Acevedo: "There's a lot of effort that goes into the debate of what plays occur during the year because this is a high school, so I need to look for what plays could be of interest to the school and the students. I want to do something that helps students grow,  and serve them as a learning experience for all students at Jesuit, so I'm doing The Great Gatsby this year and I'm doing it mostly because it's a book that is read by the sophomores here at Jesuit. So with that in mind, I want to do plays that actually bring a rewarding experience to the school that really gives something to show the school and not just building an artistic stage."
Mr. Patterson: "I try to make sure we have plenty of male roles, along with establishing plays that have a decent-sized cast so we can get a lot of people involved within the play. For example, if a play has 20 people, we're going to have 40 kids involved. Mr. Acevedo has also directed many more plays than I have, so he likes to watch and reinstate what he's done before in plays and that's been really successful." 
How do you narrow down design for the stage?
Mr. Acevedo: "That depends, I've been working for more than 20 years with a professional company in theater, I have performed and created many of the plays that we will perform here. Being able to have performed them on stage prior to this, I already have a set plan in mind so that I don't have design a whole new set for Gatsby, for example, Shakespeare, the play from last year, all I did was change it up a little bit so the design would work more fluidly with the stage here at Jesuit. I also have to consider that, I have two stagecraft classes that come in and do a lot of the work, so they have to be able to do something still challenging and impressive but not impossible to complete."
Mr. Patterson:  "We'll usually come together and discuss ideas, but again, Mr. Acevedo has done a lot of these plays in Puerto Rico so he has sets in mind that he's done in the past. still, with our plays there's a lot of creative outlets for us to step in and change something to try to get it to match the theme of the show, especially with Gatsby being so abstract, the play takes place across a bunch of different scenes. We'll be a little more abstract than most plays such as the murder mystery ones."
What is the hardest part out of the entire process of putting on a performance? 
Mr. Acevedo: "Definitely during the audition process, haha, When you have 60 talented students trying out for parts and you can only choose 25, you know we have to let go of a lot of talent. It's hard because the students aren't getting paid for this, this is something that students take upon themselves the responsibility of committing to theater. So it's difficult when you have to let some actors go."
What is the selection process of the actors look like?
Mr. Patterson: "Who's actually in the play is very difficult because we have many great actors. My Philosophy is to get the best people as actors in the play and trying to place actors that look like a particular character. Because Gatsby has a little bit of physical description, we kind of cheat some characters to see who would fit a particular role in the play. Interestingly it's never the same every audition, but it is a really challenging process." 
What's your favorite part of the theater  process. 
Mr. Acevedo: "It would have to be opening night, especially watching this massive group of kids that work extremely hard to get to the point of opening night. As a director, when you get to see that look in their eyes and bodies, we know that feeling! The actors worked very hard to get to where they are, and it honestly feels like winning a Championship, its the best."
Response from Mr. Patterson: "Seeing everyone actually come in and audition, we had close to 50 people which is really nice. When a bunch of kids here are very involved and passionate about something you're doing is cool. I also like seeing the freshman from both Jesuit and Ursuline to come in and get exposed to what we have to offer."
Questions for the Actors auditioning: 
Is this your first play tryout? 
Responses from:
Matt Kucera'21:  "No, it's actually my 5th." 
Jack Mandella '20: "I've tried out every year since freshman year, so technically my 6th tryout. Excluding Acts."
Mario Lopez'20: "This is my 3rd audition" 
Nick Wierman'20: "This is my 9th audition" (impressive) 
What brings you here?
Responses from:
Matt Kucera'21: "I really enjoy the Jesuit stage and film community here. Along with Gatsby being one of my favorite books, I love how FitzGerald portrays Gatsby in the book, as a very bright and yet ignorant character. As well as the sheer power and wealth gatsby had at his fingertips, I think he's fascinating."
Jack Mandella'20: "Where do I start haha, I enjoy being with the people here, the atmosphere is great, and I'm here with my friends. One more thing, I get to make people laugh."
Mario Lopez'20:  "A big reason is a lot of the people and friends I've met here, I'm typically an introverted person, but I gave this a shot and found out that this was really cool. I also agree with Jack Mandella'20, I love the people, atmosphere, and sense of community here at Jesuit stage and film."
Nick Wierman'20:  "I love being able to perform on stage, its something I love to do, and to be with my theater community"
What are you most excited about for this year's play?
Responses From: 
Matt Kucera'21: "show night! I love being able to stand on the stage with all the eyes on you, it's eccentric, also just having fun with your friends."
Jack Mandella'20: "I'm excited to see Mr. Acevedo's vision for Gatsby this year and how everything pans out"
Mario Lopez'20: "I'm excited to get the chance to meet more people and to connect with them" 
Nick Wierman'20: "Being able to mess around with characters and trying new things as well as getting into character with my boys" 
-Check back into the Roundup for more news on Jesuit Stage and Film