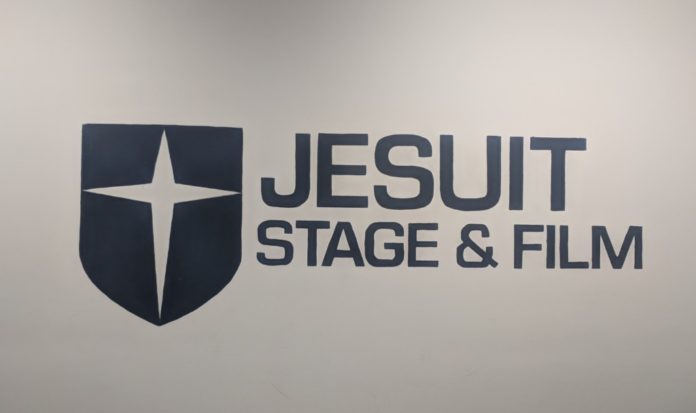 Jesuit Stage and Film announced its fall production last week: Shakespeare in Love, and if you have seen the posters around Jesuit this week, you might have noticed something strange. The posters ask actors to "sing the first few verses and chorus of any song" as well as "wear comfortable, appropriate clothing and shoes" to dance in.
This begs the question "what is happening to Jesuit Stage and Film?"
Last year, Jesuit Stage and Film hired a new director, Mr. Carlos Acevedo. The former director, Mr. David Myers, held a severe dislike for musicals, commonly saying he would not direct a musical because "this is Jesuit Stage and Film, not Jesuit Stage and Film and Glitter."
However, Mr. Acevedo wants to put on a musical at Jesuit "as soon as this coming spring or as late as the beginning of next school year."
Acevedo explained why he wants to put on a musical:
"I love directing musicals and I think that musicals are an important part of the theater experience and I think that the actors at Jesuit will really benefit from a musical. I also want Jesuit to be proud of what shows we put on and a musical could really impress everyone."
Jesuit Stage and Film has not performed musicals at all in recent years, and the Jesuit Theater community mostly rejected the idea of performing musicals.
Senior Mason Ward, when asked how he felt about Jesuit performing a musical simply stated "bad."
Andrew Brannon '19 cited his issue with musicals as a logistical one:
"I don't think it's the best idea. Our program doesn't really the infrastructure for it. We have limited backstage area and no area for a live band, so we'd have to rely on our sound system, which likes to not work."
Sophomore Lee Ochs was "appalled and couldn't be sorrier."
Acevedo, however, anticipated this reaction within the community.
"Before actors do musicals, they have a tendency to think 'oh, that's not for me. Getting up and singing is embarrassing!' They also like to think that musicals are girly. But, once they get on stage and start singing and dancing, they realize how much fun it really is," he countered.
Senior Jonathan Reagan, a musical veteran echoed Acevedo's opinion:
"Musicals got me into theater in middle school and inspired me to act at Jesuit. And I agree with Acevedo. Before I sang a duet with one of my friends in eighth grade, I thought I was going to embarrass myself on stage. But once I got up there, I had a blast."
Only time can tell what lies in store for Jesuit Stage and Film, but all signs point to a musical on the horizon. Could the singing and dancing at the auditions for Shakespeare in Love be Mr. Acevedo preparing Jesuit for its musical debut?
Jesuit's production of Shakespeare in Love will be performed this November.
Stay tuned to The Roundup for the latest Jesuit Stage and Film news!