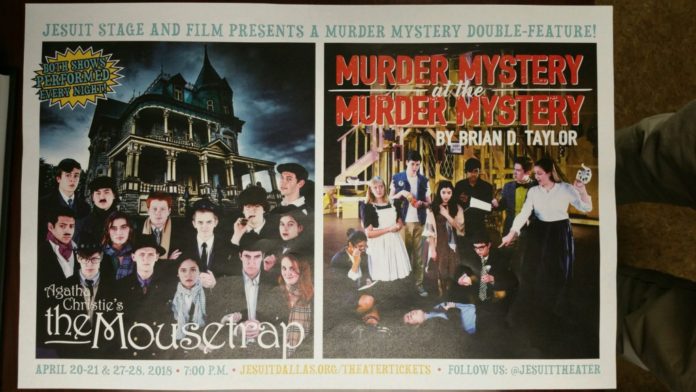 "About two days before we opened I was sure it would be a disaster. I'm really glad I turned out to be wrong" – Andrew Brannon '19 on the double-feature that Jesuit put on for its spring production.
On the weekends of April 20th and 27th, Jesuit Stage and Film performed their first double-feature, two murder mysteries. The first was Agatha Christie's Mousetrap, directed by Mr. Acevedo, the second Murder Mystery at the Murder Mystery, directed by Mr. Patterson.
Mousetrap involves a visitor at guest-house being killed, seemingly in relation to a crime that happened years before, and the investigation that follows.
Murder Mystery at the Murder Mystery follows a play's final dress rehearsal as one of the actors is killed. The play devolves from there, ending with the playwright's reveal of the events: he had written all their deaths for his own sick pleasure.
For senior Jared Butler, Murder Mystery was his last show at Jesuit, and he is very excited for the future of the Jesuit Theater he is leaving behind.
"It was bittersweet of course, but it kinda felt like the best 'last hurrah' I could've had. Both shows were great, the casts were big and full of camaraderie again…getting to work under Patterson for my last show was also a special blessing.
So on the one hand, the show was like a return to the farce comedies we used to do; but on the other hand, it felt like a taste of the new generation to come–both this play and The Outsiders were acted and directed much differently than previous years, and featured many new faces in high roles.
Watching and being part of a Murder Mystery filled me with hope and excitement about the amazing new plays I'm sure Jesuit will thrive at presenting in the coming years."
Cole Nelson '19, an actor in Mousetrap, was very happy with the shows. "I think it went well, both casts did a very good job. Each had its own strengths. Each cast did a great job handling the different shows."
Sophomore Santiago Nelson shared this view. "I think it was good. We all gave it our best effort."
Trevlan MacGregor '20 enjoyed the new experience. "It was a weird but fun addition to have two shows. I liked the concept overall despite some logistical problems."
Jack Bandiera '19 also had the same issues as MacGregor. "It was a little long, with some logistical planning issues, but it came out well in the end."
For Mr. Acevedo, the double-feature was also a new but successful experience.  "It went better than expected. It was an experiment. I haven't done something like this ever. It was a first for me. But, Mr. Patterson and I thoroughly planned it beginning in the fall semester, so it came out very well and its something I hope to do again in the future."
Stay tuned to The Roundup for the latest Jesuit Stage and Film news!