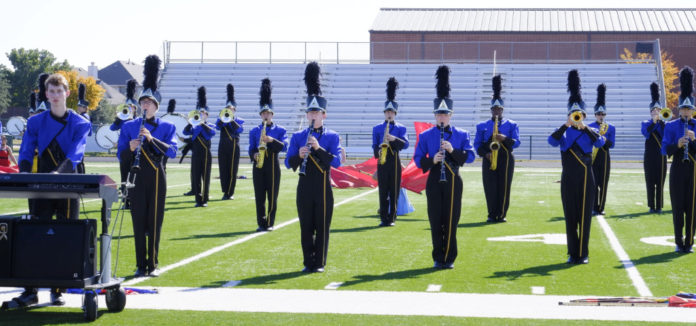 The sun beating down on the field, an army of blue and black marching onto the side, the mystical amplified voice of the judge drowning out nature's sound. On October 27th, the Jesuit Ursuline Ranger Band entered the stadium, focused and ready for the 2018 TPSMEA (Texas Private School Music Educators Association) State Marching Competition, held at Legacy Christian Academy.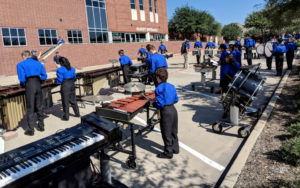 After competing in the Little Elm Classic on the Lake, the band was motivated and focused to keep working for this next competition. The TPSMEA State Marching Competition, where private school bands from across the state attempt to triumph over the others, is the culmination of the band's hard work and dedication.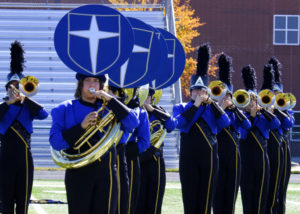 The Jesuit Ursuline Ranger Band is the largest private high school marching band in the state that attended the competition, placing them in Division 2. The band received a superior rating from all of the judges, a prestigious accomplishment.
As director Donovan Putnam stated, "The competition itself remained consistent from year to year since our goal is to earn a high rating from each of the three judges. The only thing that changes from year to year is the size of the bands that attend. This year, our band was considerably larger than the other private school bands. This can make earning a high rating difficult since each student must demonstrate a mastery of fundamentals during the performance."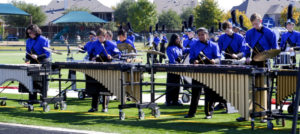 This season was very rough on all of the bands in the area because of the constant rain. As Putnam explained, "With all of the rain this season, the band really had a limited amount of time to learn and execute not only many marching concepts but also many musical fundamentals as well."
Many of the students in the band, though unable to perform the show, West Side Story, as much as usual due to the rain, still experienced a very productive and successful year. Band President Luis Lopez '19 said, "This year was quite thrilling since it was my last year marching with the band. It was exciting to play the show since it has been delayed by the weather. I felt pretty good in terms of our music and marching, but it was sad to march my last competition."
Vice President of the band, Ben Rodenbaugh '20, stated, "While we certainly had a great year, it could have been much better, but given our circumstances with all the rain, I feel that we excelled."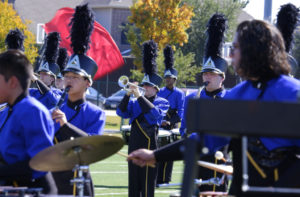 Alex Gibson '21, the band's Sophomore Representative, explained, "The TPSMEA competition was a great success. It is the culmination of our marching season, and I'm really proud of the band and everything we've done up to this moment. We could always be better, but it was a great success."
Stay tuned to The Roundup for more exciting news!