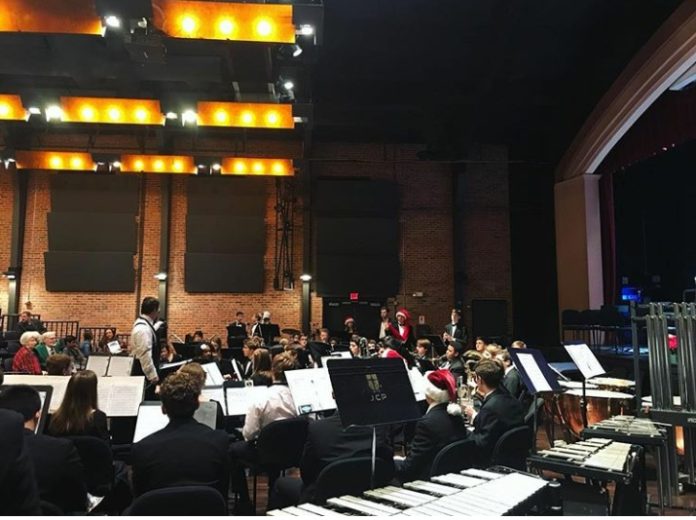 The lights dim. The crowd quiets. The conductor raises his baton as the band, orchestra, and choir begin their final performance of 2017. On December 10th, groups hosted another successful Sounds of the Season concert with selections ranging from Silent Night to the Polar Express.
Orchestra director Jane Chambers commented, "I, of course, am very biased, but I think all the ensembles gave outstanding performances!  Every ensemble tackled some challenging literature, and I was very pleased with the success of each group in the concert."
Each ensemble has been practicing for months. As band president Michael Miramontes '18  put it, "I thought the music selection matched the rigor of our band. Obviously a few of the songs we play every year, like Polar Express and Sleigh Ride, it's a bit of a tradition in the band. A few new songs, like the Nutcracker Suite, helped us get into the Christmas spirit, and were a welcomed addition."
Oboist Rachel Pierce, a junior at Ursuline, added "the songs were really interesting, one of my favorites being the Stars and Stripes for Christmas.  It has all the iconic march themes from Stars and Stripes Forever, which also hints back to our marching show, but also incorporates classic Christmas carols to make a fun mashup."

The concert ended with the annual group performance, featuring the band, orchestra, and choir, which is "something our different schedules don't allow for very often," said Chambers. " It is so fun to enjoy the talents of every musician in our schools.  That moment is made even more rewarding when we can invite our audience members to sing along on something.  What better way to bring families and friends together in Christmas song?  I just love it!"
Audience member and band mom Mary Fessenden agreed, stating "I wish that more songs would be played by the band, orchestra, and choir together!"
"My main passion for music comes from the beauty of bringing so many different voices and people together, each with their own talents, to create something amazing," added Miramontes.
All in all, the concert, and the entire fall semester were a huge success for Jesuit-Ursuline music programs. Coming up this semester is the TPSMEA All-State concert, where musicians from both schools will come together in Richardson for a wonderful performance in January. Stay tuned for more concert information on The Roundup!