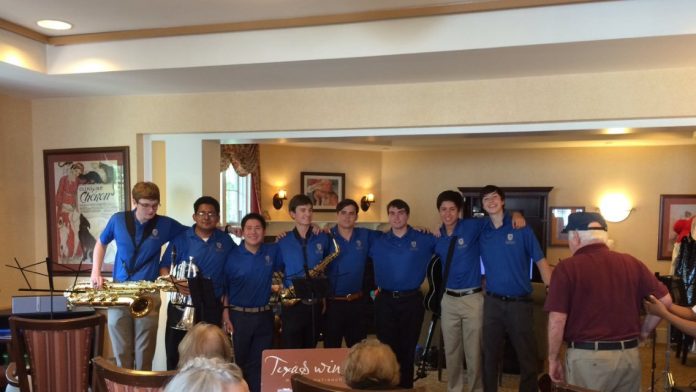 Every Wednesday, the Jesuit senior class disperses throughout the area to serve the community: from homeless shelters to hospitals, from schools to soup kitchens; the choices are innumerable. One group of musicians travels to retirement homes just to make music.
But is musical performance really service?
What is service?
According to Merriam-Webster, service is simply a helpful act – an act that can be met with music, as music is shown to relax people physically and mentally; furthermore, music brings joy and hope to all who listen. This is what the seniors in Texas Winds really do – uplift and cheer up the elderly.
The group is comprised of eight students with diverse musical talents. For euphonium player Jesus Medina '17, Wednesday starts like every other day: with band rehearsal. In fact, six of the eight Texas Winds members are in the band.  Jesus explained that after band rehearsal on Wednesdays "we perform two concerts." Martin Flores '17, a trumpet player and drum major in the band, added that "we rehearse beforehand and often arrange songs that we'd like to play."
This intense musical immersion, both with weekly rehearsals and performances may sound like a grueling experience, but that couldn't be further from the truth. Baritone Sax player Josh Terk '17 "love[s] bringing people joy through music with [his] friends," and says "[Texas Winds] is the best way to do it as a senior." "The residents and staff alike really seem to enjoy our humble show and that's particularly satisfying to see," added Flores '17.
Not only does the experience provide genuine excitement and pleasure for the audience, but it is also an eye-opening experience for the performers. "I would describe my Wednesday experience as very humbling. Having interactions with people that have been set aside by society really opened my eyes about just how much these people appreciate the simplest of things. Countless times I have thought to myself, I messed up so much in that song but the people don't care. They are so appreciative that they don't care if you mess up a few times. Just the fact that we go out there and play music for them makes them incredibly happy."  – Medina '17

"The amount of crowd interaction and enjoyment that we get" is incredibly inspiring; it's a privilege to play music to the marginalized peoples of our society who don't get to hear live music very often." – Flores '17
"It is very fulfilling to bring joy to the people that lack joy in their day to day lives." – Terk '17
Likewise, the group sometimes decides to spice things up too. "We were thinking of making a Christmas themed concert right before we leave for winter break so I look forward to playing something different than the songs we've already been playing," commented Medina '17.
The exciting lineup for the year will provide entertainment for senior citizens all over Dallas and an enriching experience for the participants. If you are currently a Jesuit Junior and are interested in Texas Winds for your senior service site, contact Mr. Putnam for more information.