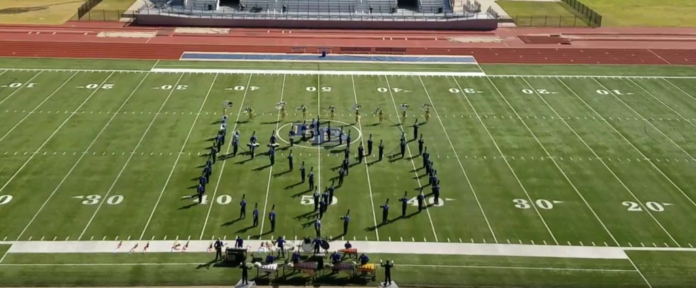 Music. It's what has been bringing people together since people have existed, and it's what brought people together on October 7 in Little Elm, Texas. There, the Jesuit Ursuline Ranger Band successfully performed this year's halftime show "Freedom and Brotherhood."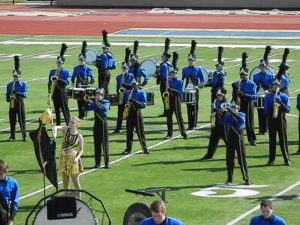 "It is the judges' feedback that we focus on the most," began Patricia Orendain, band booster president. "At the Little Elm Classic on the Lake Competition, there are 5 professional adjudicators that provide comments on different aspects of our show. These comments provide praise for areas where we are performing well in addition to suggestions for improvement in areas where we need improvement. Their input is invaluable in our preparation for the Texas Private School (TPSMEA) State Marching Contest later this month."
"I think the band did a really good job this year," commented assistant director Zane Crownover. "We were the only band in our division but we knew that going in. It's a great opportunity for us to go and not only get comments and adjudication from judges so we know what we can improve on but also watching other big bands to see what they're doing."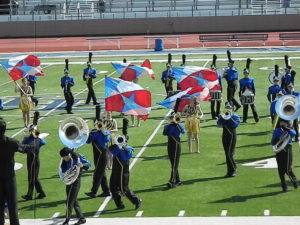 Color guard captain Aidan Stuart '19 agreed: "As a band I believe everyone did very well. We definitely have areas we all could improve upon and I think this experience will help us better ourselves for the TPSMEA Competition."
But the competition is more than just an opportunity for critique. As band president Michael Miramontes '18 put it, "it's also a really fun bonding experience with the band, definitely a good memory of mine."
Since the band has gotten the comments, band rehearsals have revved up in preparation for the most important competition of the season: the TPSMEA State Marching Competition.
"In order to improve for the next competition I just need to pay attention and focus on the small things that could improve the show overall," said band member Chase Sime '19. That's really all the band needs to work on at this point. The little details are what distinguish the good bands from the great bands.
Crownover continued, "We've now got the show completed and now we're going back through and touching up and cleaning what we've done – a lot of it based on feedback from the judges at Little Elm. We turned in our rough draft essay to Dr. Degen and now it has a bunch of red marks on it and we're revising it for TPSMEA," he explained.
"I think the band is going to be really well prepared this year," concluded Crownover. "We're on track to have a really good performance and a solid run through of the show. Everyone is working hard, you can tell they care about what they do. I think everyone's attitude is in the right place. They want to be good and they want to have fun."
Come support the band on Saturday, October 28 at Nolan High School or stay tuned with the Roundup and the band's YouTube channel for more exciting developments!