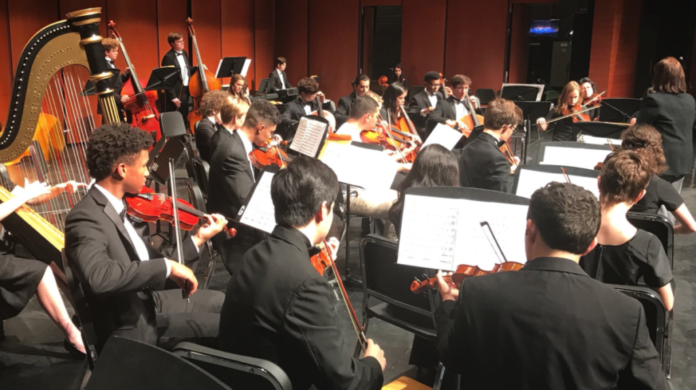 Taking place at Greenhill on October 23, the concert between schools ended with great success. It is traditional to have a concert at the beginning of the fall to welcome the cold season coming in. Jesuit, Ursuline, Cistercian, and Greenhill all intended to join in communion as they united to perform this fall concert. It alternates between Ursuline or Greenhill hosting the concert every year. The concert, having existed for over 25 years, has retained its original composition and meaning ever since its inception. Everyone who wanted to watch the orchestra play could have gone freely without paying.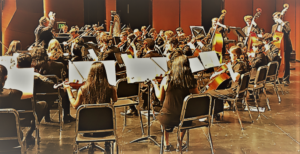 Coordinated and Conducted by Jane Chambers, the Concert demonstrated the joint contribution of each of the four schools and the incredible sound and music this created. The String Orchestra Concert consisted of students ranging from freshmen to seniors. The main composition of the Orchestra was 1st Violin, Viola, Harp, Cello, Bass, and 2nd Violin. Multiple rehearsals were orchestrated in order to perform at Greenhill. Greenhill's excellent music program demonstrated that the Jesuit-Ursuline Orchestra needed to practice twice as hard since they were unable to meet every day like them. The Concert started by 2 musical pieces from the Jesuit/Ursuline Orchestra then Greenhill performed and then all four schools played the final piece.
This year was Greenhill's turn to host the concert and many participants believed it was a greater success this year because of the great selection of music. Many believed that the interesting music motivated not only the students but also the teachers to try their best during rehearsals and the concert itself. Everyone during the concert was synchronized for they knew their cues and had practiced beforehand. The music was not only more engaging but made the show truly one to remember. Gabe Guerrero, 2nd violin, believed that it was "the best show he was in the three years in the Orchestra." All the students believed it was of immense success. Later on, Ms. Chambers added that "we played exactly like we needed. There is hope for the Orchestra." A member of the Concert and Orchestra myself, I believe that the great turn out of audience members, and the accuracy at which we were playing, truly showed that this show was one to remember.