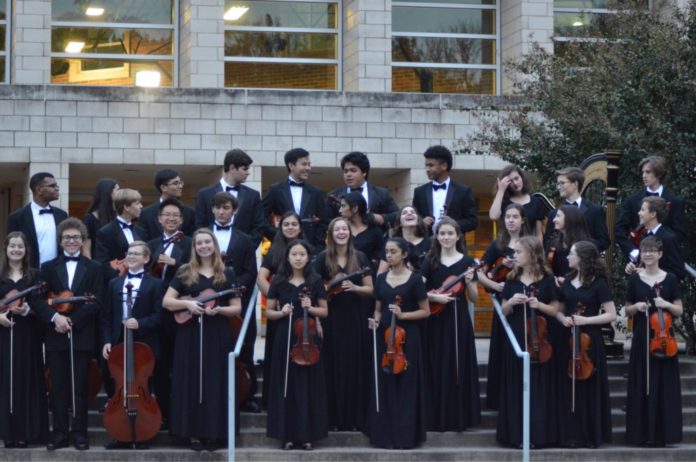 After coming off successful performances from the Fall concert of Ursuline and Jesuit orchestra, Ursuline Open House, and the TMEA Region Orchestra, the musicians played remarkably. In the Fall Concert, a few of the pieces included the Eine Kleine Nachtmusik and The Danzon.

Music Choices
The Eine Kleine Nachtmusik is a composition made by Wolfgang Amadeus Mozart, and it can be referred to as "a little serenade" or "a little night music." On the other hand, The Danzon resembles the official music genre and dance of Cuba. In the TMEA Region Orchestra, Jesuit's Will Nickols '20 played first violin, and Ursuline's Sonia Sadlier played harp.
Cellist Nick Stanley '20 commented on why he likes Orchestra, saying, "Orchestra is fun to be in and playing music from back in the day is a journey, and it also allows us to better understand how others made music."
Nick loves the cello because he says that "it's an interesting instrument [that] has a lot of different components of sound such as the violin and the viola, and it has the deep tone of the bass too."
Violinist Will Nickols '20 shares his unique perspective on the whole of being in orchestra when he remarked, "I just enjoy playing the violin and enjoy playing the instrument with others that feel passionate about music."
Orchestra truly is a timeless way to express music, lasting from the 18th century to the present day. Balancing the volume and tone of all the different instruments requires a trust between each individual. It exemplifies the Jesuit aspect of brotherhood because they come together with an interest and passion for music.

Upcoming Events
Striding into the future, the Orchestra team plays at the TMEA Region Orchestra all day Friday and Saturday. In addition, the Carols and Lessons concert with Ursuline choirs, where they will play Christmas hymns and meditations.
Also, people will read related Bible passages and prayers, while quiet reflections will be offered. Lastly, they will be playing more pop Christmas songs like Silver Bells and Twas the Night before Christmas medley at the Christmas concert with band and Ursuline Choirs.
Stay tuned to The Roundup for Orchestra updates and events within the Jesuit Community.