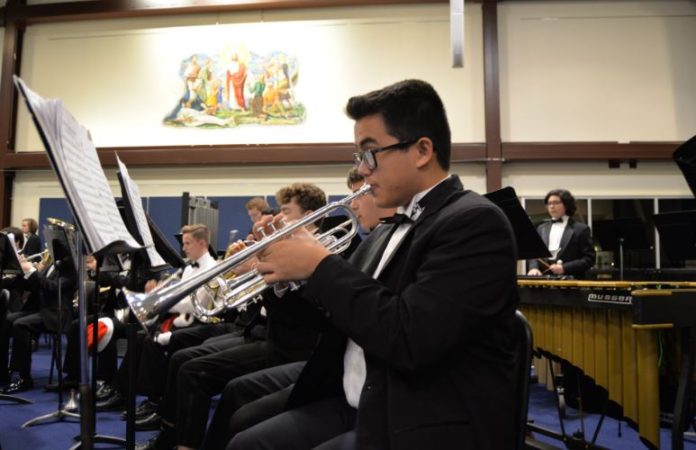 The crowd listens in awe as the music echoes throughout the room. The air fills with the sounds of the season, ringing vibrantly with joy. The smell of freshly baked cookies coming from the foyer combined with the holiday music reminded everyone that it's that wonderfully festive time of year again.
On Tuesday, December 5th, the Jesuit-Ursuline Ranger Band, along with the Jesuit Men's Chorus and the Percussion Ensemble, performed the annual Christmas Concert in the Terry Center. The concert consisted of a selection of festive Christmas songs.
The band played a variety of Christmas carols such as "Silver Bells" and other jolly tunes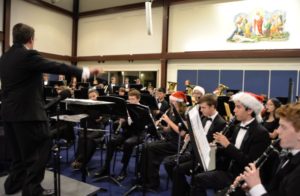 like a selection of songs from "The Polar Express." Other songs included "The Nutcracker Suite," "Sleigh Ride," "Stars and Stripes for Christmas," and "Stille Nacht." The Percussion Ensemble played two pieces titled "Carol of the Cowbells" and "The Christmas Song."
The Men's Chorus also performed some festive songs, including "Night of Silence," "Star of Wonder," and "Don't be a Jerk! It's Christmas." The chorus also performed "Christmas Pop Sing-a-Long" with the band; this song encouraged the audience to sing along, hence its name.
Throughout the concert, all of the music was performed beautifully, and, as band and chorus member David Schmidt '21 stated, "It was a great performance. My favorite pieces were 'The Nutcracker Suite,' 'Don't be a Jerk,' and 'Polar Express.'"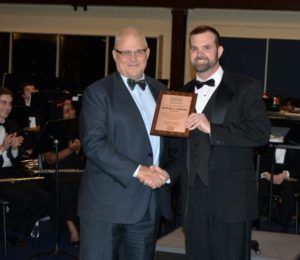 Many of the newer performers may have felt intimidated at first, but, Kevin Utz '21, who was "a little bit nervous" at first, said that he "loved it once we started playing Polar Express." He continued, "It was really fun, and I especially loved the train sound from the percussion." Utz then said that "The trombones played well in Polar Express and in Sleigh Ride."
The Christmas concert is always one of the best concerts of the year, as Reed Zimmermann '19 explained,  "The music is more challenging and more fun. The audience is more engaged than at most football games. I think we did an amazing job too!" Zimmermann also shouted out to "brass captain Joey Wong-Vermillion '18 who rocked Polar Express and Sleigh Ride on first trumpet," stating that "They are extremely difficult pieces" and that "professional musicians play the same arrangements." He continued, "Nevertheless he performed very well and helped make our Christmas concert what it was. Afterwards I heard a lot of positive feedback from friends, family, and teachers."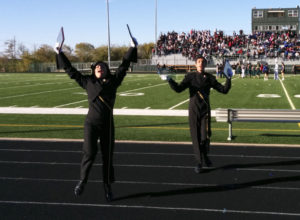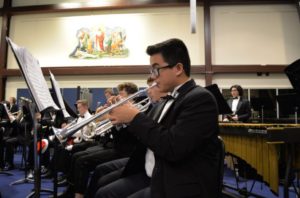 Also, on October 28th, the Jesuit-Ursuline Ranger Band competed at the TPSMEA Marching Band contest at Legacy Christian Academy. "The [competition] is the culmination of our season," Zimmermann said, "We drilled our technique-articulations-dynamics for months so that we could do well. And that's just what we did." He continued, "We performed our show, Freedom and Brotherhood, incredibly well and took home a couple caption awards." These caption awards, awards given to a band for a specific aspect of their performance, were for "Best Percussion" and "Best Drum Majors." Zimmermann concluded, "We also only lost by 1 point (out of 500). It was an amazing season and I have high hope for next year!"
Photography by Sir David Horton '18