"We don't take pictures with our cameras – we take pictures with our hearts and minds." (Arnold Newman)
Over the summer, the Jesuit Dallas Museum of Art has received ten silver gelatin print photographs, signed in pencil by the renowned photographer, Arnold Newman (1918 – 2006). Donated by Wally Stone and recommended for the Jesuit Dallas Museum by Russell Tether of Russell Tether Fine Art, the photographs are of ten famous artists:  Jacques Lipchitz, 1946, Hans Hoffman, Provincetown, Mass, 1952,  Pablo Picasso, 1954,  Alexander Calder, Roxbury, Woodbury, CT, 1957, Georgia O'Keeffe, Ghost Ranch, NM, 1968, Louise Nevelson, 1972, Jules Olitski, 1975, Henry Moore, Much Hadham, England, 1978, Joan Miro, Mallorca, Spain, 1979, and Christo, NYC, 1980.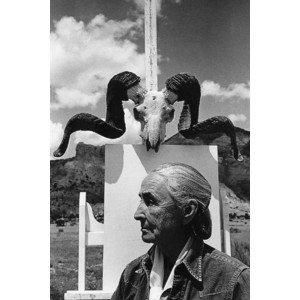 The late Arnold Newman was a gifted photographer who specialized in portraits of well-known people posed in settings associated with their work. Newman has been credited by many to be the first photographer to use so-called environmental portraiture, in which the photographer places the subject in a carefully controlled setting to capture the essence of the individual's life and work.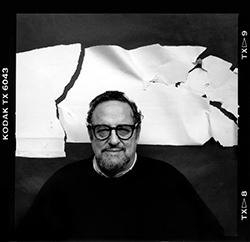 "I didn't just want to make a photograph with some things in the background," Newman told American Photo magazine. "The surroundings had to add to the composition and the understanding of the person. No matter who the subject was, it had to be interesting." He was emphatic that you don't "just simply do a portrait of a famous person," because that "doesn't mean anything." You can see this part of his personality in his work, as nothing within his lens is an accident or just something in the background.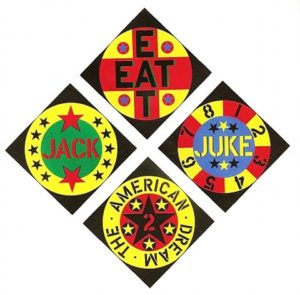 "We are very fortunate," Museum Director Mrs. Elizabeth Hunt Blanc emphasized. "Arnold Newman is one of the most famous photographers." The new pieces, located in the glass display case near the theater, will be up through Christmas break.
Another new piece added to the collection on display on the stairway by the reception area is a piece by Robert Indiana named American Dream #2, a part of his five-piece collection American Dream. As one of the central figures of the Pop Art Movement, Indiana demonstrates it well, as his piece features a media suite of four serigraphs representing the iconic American dream.
"They really are celebrations," Indiana explains. "It is a celebration of ten years of my life. At first, they were, let's say, very caustic – that might be a better word than saying 'cynical.'"
The piece showcases a Robert Indiana trademark, consisting of bold, simple, iconic images including short words. Common language appears throughout Indiana's work, which is often layered with coded meanings, coming from Indiana's biography.
"Robert Indiana's American Dream #2 is a great pop art piece," explains Mrs. Hunt Blanc. "It is incredible and complements other pieces in the collection."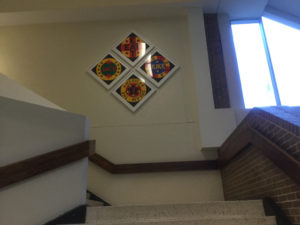 Blanc disclosed that "we have a Claes Oldenburg, Robert Rauschenberg, a Larry Bell, and now we have Robert Indiana," which all compliment each other in style, "so for tourists, we have a whole group of really important artists, so it's really a great addition to the collection."
Be sure to take some time during a lunch, free period, or passing periods to appreciate the great art in the school, thanks to the Jesuit Dallas Museum!