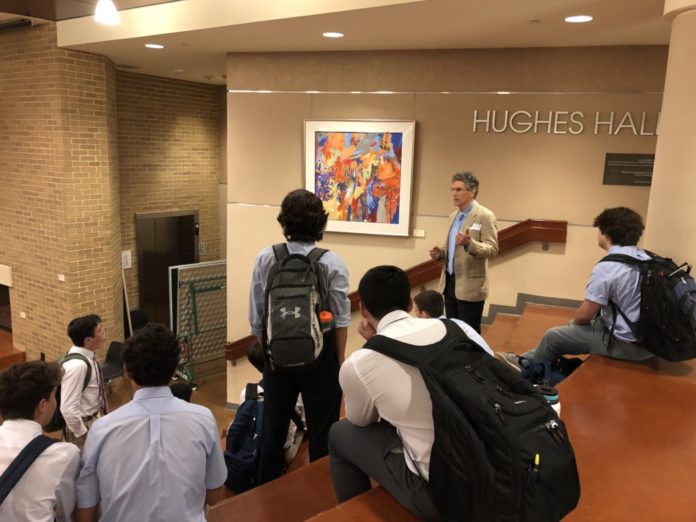 The artist picks up their utensil, whether it be a paintbrush, pen, or even their hands. This may be their first piece, last piece, or one in between. However, only the artist knows what this one will entail.
Sure, technically anyone can be an artist, but every artist has their own personal touch that makes their pieces truly unique.
Painter and member of the Jesuit graduating class of '84 David Collins paid his old school a visit and we were fortunate enough to ask him a few questions about his style, inspirations, and career.
-The Roundup: Your art seems to have a lot of sharp edges, layered elements, geometric shapes, etc. How would you describe your style, and was it always like this or did it evolve into what it is today?
-Collins:
"The quick answer I always give to that question is Geometric Abstraction. I think the term is broad enough for me to fit into.
My style certainly evolved over time. When I was young I experimented with different approaches, alternating between painting the figure and an abstraction akin to color field paintings. The paintings eventually became focused on the figure. I had some success with a number of these when I concentrated on solitary figures in a simple setting. Eventually, I began to feel constrained by this approach and unattached to the subject matter.
When I moved from San Francisco to New York City I began to make monotypes, a printing process that allows for quick and loose images to be made one after another on a printing press. Each print made in this way is unique. I used cutout shapes of Mylar and torn pieces of wax paper to create elements that floated in expansive atmospheric spaces. I liked how the richness of color and painterly marks balanced with the technical aspect of printmaking. I loved how the press produced an image fused with the paper. I chose to work on Asian papers for their beautiful handmade quality and durability. These prints greatly informed the paintings I began to make.
I continued using paper in my paintings including wallpaper from family homes and 100 year old letters between my relatives as collage. I like to imbue each work with some personal element. The forms I used in my paintings became harder edged and geometric, but never rigid and without the human touch.
My painting are full and fragmented with a sometimes kaleidoscopic sense of space, but not without balance."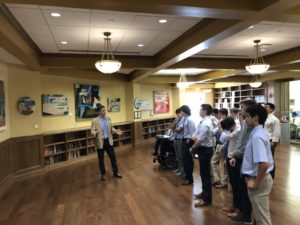 -The Roundup: Where do you draw your inspiration from? (You seem to have a story behind each piece!)
-Collins:
"Inspiration for an individual painting can come from many places. Sometimes listening to a particular piece of music or looking at a painting by one of my heroes will spark an idea to begin a painting. I try to be aware of how I am affected by the places where I live. At one time I looked back to growing up in Texas and the places that left an impression on me. Other times it was the light and hills in San Francisco, then the congestion and complexity of Midtown Manhattan. Now I am in the country surrounded by green, open skies and water. Some works are distinctly interior looking and come from memories of rooms or homes."
-The Roundup: What was your experience at Jesuit like? Did you always have an interest in art? What made you choose art school? Describe your experience.
-Collins:
"I had an early interest in art and was fortunate to have been taken to art museums, such as the Meadows at SMU and the Dallas Museum of Art, early and often by my mother. We also had paintings in the home growing up. Although I drew quite a bit as a kid, I wouldn't say I excelled at it. In fact I didn't take art making seriously until my Senior year at Jesuit. I had a very positive experience during my time at Jesuit. I loved the ceramic studio led by Ms. Havilland and Brother Rivet. I will always remember the all night wood stoked kiln burn at the Old City Park downtown. During Senior Seminar class taught by Ms. Anne Brocket I was encouraged to push myself further with my drawing and painting. Ms. Brocket and her husband Jack Brocket, a textile artist, encouraged me to apply to art school and helped me put my portfolio together for the Rhode Island School of Design. I entered RISD with the idea to be involved in the arts in some way, but the life as an artist seemed unreal. I am grateful for the intense and immersive experience of RISD."
-The Roundup: After college, how did you enter the art world and begin your career?
-Collins:
"After RISD I moved to San Francisco where I took every opportunity to show my work. I showed slides of my work to all the galleries in San Francisco I thought would possibly be interested. I exhibited with Gallery Paule Anglim in a show focusing on young talent. I submitted work and participated in curated shows held by non-profit arts organizations.
To the degree that I could, I tried to learn about all sides of the art world. I wanted to be surrounded by art and artists. I worked in art galleries and for the De Young Museum. It was valuable to see how these parts of the art world functioned. Later, I worked for an art handler where I learned to build crates for private collectors and large scale museum shows. I worked for the San Francisco painter John Meyer who was a friend and mentor.
While in New York I was a member of the Elizabeth Foundation for the Arts Studio Program for 15 years. The EFA Studio Center is a converted Garment District building providing studio space for some 60-70 artists of all disciplines. This was an invaluable time for me to build my community of friends and colleagues and to develop my personal style. It was at this time I began having solo shows."
We would like to thank Mr. Collins for taking the time to answer our questions. To anyone reading this, if you are roaming the hallways sometime, make sure to look out for one of his paintings!