NSPA First Class Rating with One Mark of Distinction
Kudos, Roundup staff on your news site! You've put together an outstanding publication…You are doing such outstanding work reaching out to your readership and including them. You are an advocate for your school community and really serve as a leader. Advocate change where you see it needs to happen and commend others in your school and community for the good they do.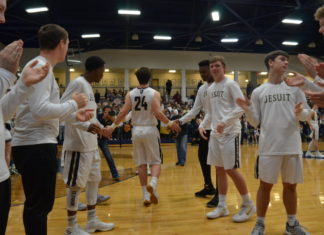 This is it. The Senior Varsity players have finally made it. After four years of hard work, dedication, and team spirit, the seniors marked their last win of their regular season Jesuit career at their own home field. Tears of joy, sadness, and relief were all present from the...