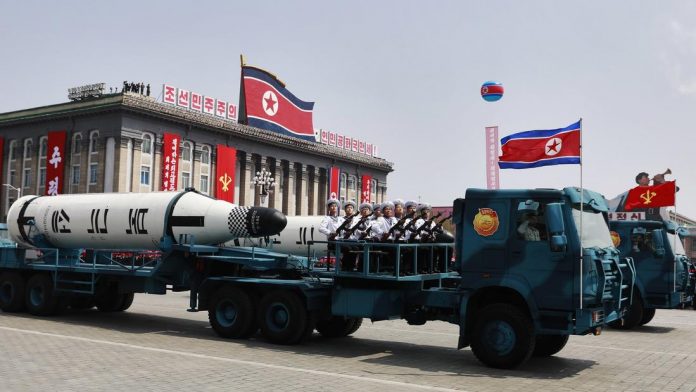 (photo of Pyongyang, by How Hwee Young, EPA)
Parading through the streets of Pyongyang, festooned with colorful banners in a sea of uniformed soldiers, the Democratic People's Republic of Korea (DPRK) flaunts its increasingly advanced missile technology.  The lavish occasion, which marked the 105th birthday of North Korean founder, Kim Il-Sung, was meant to display North Korea's advancing nuclear weapons program as a show of power and defiance towards the West.
While tensions have always run high along the Korean Peninsula since the 1953 armistice ending the Korean War, they have become increasingly volatile in the last few months as North Korea continues to ignore international condemnation and US sanctions by continuing its efforts to test and develop an intercontinental ballistic missile to threaten the United States and its allies.  In a statement to the Associated Press on April 14 by North Korea's vice minister of Foreign Affairs, Han Song Ryol declared "If the U.S. comes with reckless military maneuvers, then we will confront it with the DPRK's preemptive strike. We've got a powerful nuclear deterrent already in our hands and we certainly will not keep our arms crossed in the face of a U.S. preemptive strike."
This statement, which asserts that North Korea will take action in the wake of a perceived US first-strike, is quite troublesome given the recent unpredictability of the Trump administration's actions, such as their willingness to preemptively strike a Syrian air force base earlier this month.  In fact, President Trump had vowed against this kind of interventionist action during the Obama administration, when it was discovered that Syria had used chemical weapons in 2013 against civilians.  In the wake of the U.S.'s response in 2013, Trump tweeted "What will we get for bombing Syria besides more debt and a possible long term conflict?", expressing his disdain for U.S. military intervention.  However, President Trump, now faced with the realities and complexities of international affairs as the commander in chief has made a complete policy shift in recently ordering an interventionist missile strike on a Syrian government air strip.
The growing concern is not so much that President Trump will change his policy positions, but that no official or diplomat will be able to navigate and understand his administration's reckless unpredictability.  With Trump's sudden aggressive strike in Syria, which contradicted his former policy position, North Korea has ample reason to be concerned about spontaneous U.S. military action.  The unpredictability of the Trump administration will only augment North Korea's unyielding paranoia about U.S. intervention, which in turn shall further embolden the DPRK to pursue nuclear weapons to fend off what it fears to be a recklessly threatening United States.
In addition, with the rerouting of U.S. warships and an aircraft carrier, the Carl Vinson, into the Korean peninsula, the world holds its breath to see if President Trump will strike first as he recently did in Syria, and how the North Korean government will act in the meantime as tensions escalate.  Ultimately, what is genuinely terrifying is that the fate of the region and the possibility of nuclear war lay in the capricious decisions of an erratic and spontaneous leader. Should President Trump make such a jeopardizing choice to strike North Korea, DPRK government officials have affirmed "We will go to war if they choose."