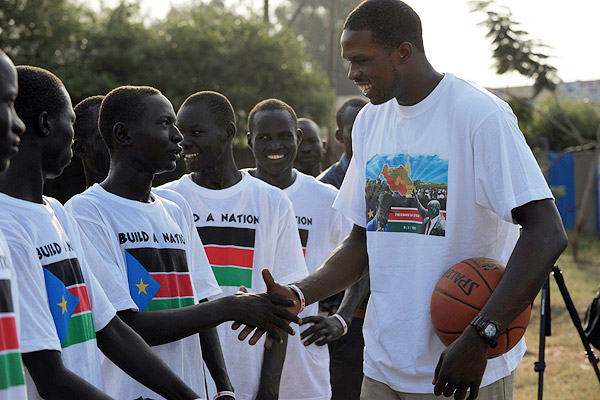 Perhaps you've been following the most controversial action yet enacted by the Trump administration: the decision to temporarily shut down the Office of Refugee Resettlement and, to prohibit foreign nationals of seven nations from entering the United States. Although a federal court has suspended the enforcement of the executive order, its legal future remains uncertain. In addition, upcoming executive actions regarding immigration policy have been promised, and thus this entire scenario is quite fluid.
Nonetheless, the recent executive order enacted by President Trump has brought about a tense political climate, one that is simply unbearable.
Yes, the arguments between both the affirmative and negative sides of the debate have made me sick.
Perhaps I am allergic to fruitless, vague dissertations regarding the executive order, empty monologues that appeal to my ears as much as rigid legalese appeals to my eyes.
As a bibliophile, I am enamored by narratives. Personal stories are much more effective in communicating complex truths than are streams of bland text. And the latter is exactly what we have seen on the news: The rhetoricians have failed to concretize their claims. (That is, excluding the fictive Bowling Green Massacre citation.)
So no more hypothetical terror attacks. No more hypothetical refugees. To fully comprehend the severity of these issues, let's start by telling stories. And let's start with stories about real people, about real refugees.
As strange as it sounds, we can start with professional basketball.
Take, for example, Luol Deng, a long time NBA player and philanthropist. His sick jumper and ability to spread the floor enabled him to rise to prominence as a small forward for the Chicago Bulls. Despite downgrading to Los Angeles (sorry Lakers fans), Deng still manages to execute his game with intense skill and passion. But his athleticism isn't the only reason they call him the Man from Sudan.
Born in the pastoral village of Wau, South Sudan, Deng's transition from an impoverished town to the courts of the world's most elite basketball league seems at first glance like an unbelievable legend. But for Deng, the journey wasn't always glorious.
Before he was even able to reach puberty, Deng's family had to relocate due to the Second Sudanese Civil War. You know, the one that resulted in 2 million deaths. The one that forced about 4 million people to flee their homeland. The one with some sort of political pretext, which became so blurred that the entire scene just became an uncoordinated killing game. The one that severed deep wounds into the flesh of countless children, leaving behind russet streaks upon desolate corpses, similar to what fuming fires left of previous rows of straw huts along the Sudanese countryside. That is why people become refugees.
Anyway, Deng and his family pursued safety by flying directly north to Egypt. It was there that Deng miraculously became acquainted with Manute Dol, a Sudanese NBA retiree. After undergoing extensive basketball training under the prowess of this mentor, Deng relocated to Britain, became a citizen, and subsequently moved to New Jersey to attend a basketball academy.
As a senior, Luol Deng's name was etched into the rankings of high school basketball players, second only to LeBron James. He received a scholarship from Duke University, and immediately entered the NBA draft upon the culmination of his first year.
Deng's rise to being a top player in the league did not happen immediately. But nonetheless, he patiently endured and worked his way up to becoming one of the Bull's key chieftains, eventually racking up enough experience to join the All-Star sodality in 2012. On the court, he is best known for his high-scoring capabilities and his impassable defense—indeed, pity the player guarded by Deng.
Deng became a household name in Chicago, not only as an athlete, but also as a charitable force. His philanthropic career was kick started by his assistance to Basketball Without Borders and the UN Refugee Agency (UNHCR). He eventually established the Deng Foundation, the projects of which include Deng's namesake basketball academy and participation in dignified work like feeding Chicago's hungry and blessing Sudanese orphans with a Christmas celebration. Due to Deng's departure from Chicago, the current status of the foundation is unknown—regardless, Deng has returned to South Sudan to administer hope and basketball to children adversely affected by the violence.
Adding to his history of refugee-oriented activism, Deng took to Twitter to indirectly condemn the executive order. In two concise paragraphs, Deng boldly portrays the refugee psyche and communicates solidarity with all the human lives fleeing danger. Referring to himself as a #ProudRefugee, he enriches the emotion of the hashtag by writing, "I would not be where I am today if it weren't for the opportunity to find refuge in a safe harbor." NBA superstar Chris Paul retweeted the mini-essay, summarizing it with the hashtag #BiggerThanBasketball.
I would similarly contend that issues like these are Bigger Than Politics. We must avoid conflating our transient political views with our undying moral obligations. Luol Deng elucidates this appeal, saying, "It's important that we remember to recognize the experience of others." Indeed, a political climate that incites hysteria must be checked by people who elevate the principle of human dignity.
So in approaching the controversy behind the executive order, let us steer clear from the customary demonization of politicians or the invocation of hypothetical people. As Luol Deng's story demonstrates, refugees are real people. It is imperative that this fact be institituted as the foundation of our approach to refugee policy.
Until then, we'll just keep telling stories.