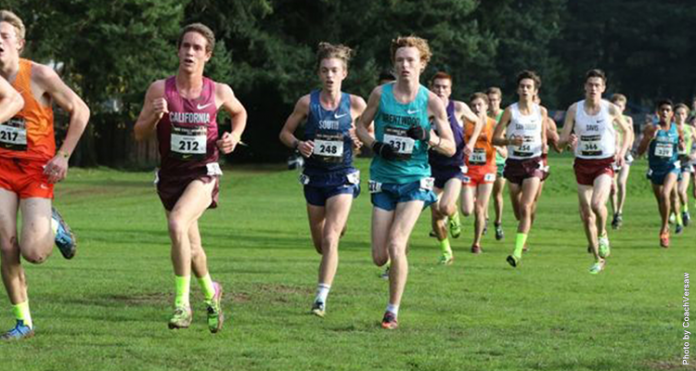 The clammy mist settles into the gray but brightening atmosphere filled with low and heavy breathing. Pounding feet trample the fresh, green grass as a stampede of runners mixed in with cheering parents, coaches and supporters sprint down the field. An intent observer here and there slips in a slimy, brown puddle of mud while struggling to take a picture of the flurry of runners that passes by them.
Connor O'Neill '17 ran in the Nike Cross Nationals race in Portland, Oregon on Saturday, December 3rd. He received an incredible time of 16:05 and made his way all the way to the 24th spot in the rankings out of 195 runners in his race. This was the first time that a Jesuit cross country runner qualified and ran in the nationals race.
O'Neill had the rare chance to participate in an event that contained many runners and teams from all across the country. He commented on his experience in Portland, saying that "it's very different running with the best athletes in the nation because everyone else is just as good as you… However, Texas was extremely competitive as a state this year, and I was fortunate enough to run against some of the best in the nation all season." He was very excited to participate in the race but was mostly excited for the flight, hotel room, and gear that Nike paid for him. O'Neill conveyed his enthusiasm when he acknowledged that "one of the main highlights…was definitely the gear that Nike gave us. It was special going to this meet on an Olympic year because Nike gave us some Olympic-caliber gear."
When O'Neill was a freshman, he was inspired to reach his goal of making it to state no matter what it took to get there. He reflected on the past four years of his high school life at Jesuit, noting that he has "always been motivated to go to this meet. Since freshman year, I've been watching the live stream of this race, so it's been a goal of mine for four years. I am very grateful that I had the chance to go this year since I've worked so hard to get there."
Coach Robinson, who trained O'Neill and watched him grow into one of the top runners in the nation since his freshman year, communicated his thoughts about the race, mentioning that "it was a proud moment when Connor qualified for the Nike National Championships…Watching Connor train over the past 4 years and observing his commitment to running and his motivation to being the best he can be really puts into perspective how special that moment was when he qualified for the…race."
Training for the season starts at the beginning of the summer in June, during a program that Coach Robinson offers for any runners from past seasons and any guys who want to join for the coming year. He acknowledged that this process and the workouts are "a challenge that I embrace. It is a great experience when it all comes together. However, as a coach, I know along the way there will be setbacks and obstacles. How a team deals with those setbacks is the true test of a team's character."
Marcy and Sean O'Neill, O'Neill's parents, discussed their son's performance at the nationals race and how they are "very proud him for going up there as an independent runner…and qualifying as an independent runner, and having the ability to block out all the teams and not be intimidated and finish in the top 25 in some very difficult conditions." They mentioned how they have supported O'Neill through every race and season since he began running at Jesuit as a freshman and how they motivated him to keep going no matter what. The two parents said that they "know that he's got the best coach in the state of Texas so we know he's in good hands and we leave the coaching to Coach. We are there for his moral support and for areas of encouragement, [and] just keeping him focused on what the priority is and where he belongs."
Even though the race was challenging with the fastest runners in the nation running alongside each other, O'Neill pushed through to the 24th placing even as he participated as an individual runner. He did not give up or stop training to achieve his goals because of his constant determination and motivation.
Coach Robinson formed this aspect of the runner and communicated about how "the best training comes when an athlete sees the gains in [a] race and discovers that his performance benefits the team. That creates focus and unity…the qualities I look for with prospective athletes are perseverance and the desire to be the best they can be. I'd rather have guys that are motivated to succeed as a team than a team of individuals who are in it for their own personal success. Those motivated guys will find a way to win." He also mentioned that these aspects are what he looks for in future runners for the upcoming seasons.