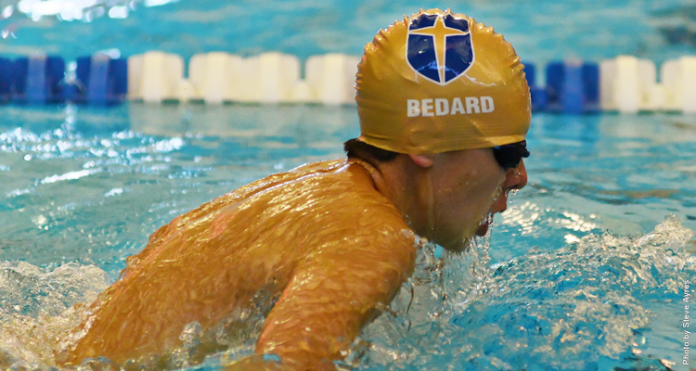 Glancing nervously at his opponents climbing onto the starting blocks, the swimmer secures his goggles and takes a ready stance. The piercing whistle propels him into the water, and his muscle memory takes over, his smooth strokes carrying him to victory.
The Jesuit Swim teams, both varsity and JV, have been very busy, competing in three meets in the last couple of months  in preparation for the biggest meet of the year, the district meet. In November, the JV squad faced off against Greenhill, followed by a meet against Flower Mound and Plano West in December, and most recently, a varsity meet against Frisco in early January.
Greenhill (11/30/2016)
In the meet on November 30th, the Ranger JV came up with a huge 129.5-38.5 win against Greenhill. The team was able to secure first and second place in the 200 medley relay as well as the 400 free relay. Particularly impressive, Ivan Lopez '20 and Charlie Day '18 both won two individual events; the 200 free/100 back and 200 I.M./100 free respectively.
Sophmore and team chaplain Braden Barale commented on the group's performance saying that "although the water was murky," they "came together as a team to defeat [their] rivals down the road."
Flower Mound/Plano West (12/6/2016)
In a disappointing loss, the Rangers fell 208-77 against Flower Mound and 172-114 against Plano West. The challenging meet, despite the pair of losses, saw a few top finishers with blue and gold caps. The 200 medley relay of Charlie Day '18, Noah Nguyen '18, Patrick Daniels '17, and Ivan Lopez '20, brought home second place, and a 400 free relay would take the third place spot.
Josh Betanzos '18 reflected on the meet saying that the team "[has] really grown thoughout the year," and that although they fell short against Flower Mound and Plano West, the "upperclassmen have made huge contributions to the team's success along with a surprisingly talented group of freshmen."
Frisco (1/10/2017)
The swim team bounced back in its double meet against Frisco and Frisco Lone Star, defeating both teams 99-67 and 92-70 respectively. Their strong performance was propelled in part by a first and second place finish in the 50 free by Jack Ayers '17 and Patrick Daniels '17. Also with notable performances, Ivan Lopez '20 and RL Hoover '18 secured a first and third place finish in the 100 fly.
Barale praised the upperclassman swimmers who he said had "outstanding last swims." In their final meet before districts, the seniors certainly came up clutch.
These meets have readied the swim squad for their district meets and they look to continue their success there.