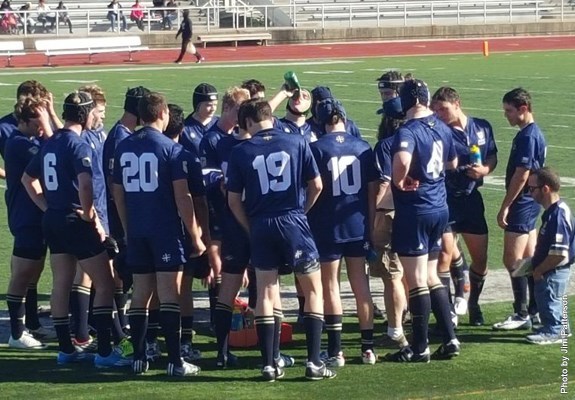 In any sport, triumphs and setbacks are to be expected. "You can't win 'em all," goes the mantra. Rugby has seen its great highs and unfortunate lows after beginning its season in February.
Varsity has secured a respectable 1-3-1 record while JV is currently 4-1. Both teams faced off against Allen, Plano, Lake Travis, and Quin Colts in February.
Varsity rugby fought Allen to a stalemate on the 3rd, tying them 17-17. Allen is the top team in Jesuit's division this year, so future match-ups will be must wins for the team. Coach Matthew Ortiz commented, "We had the better team play; they had a few athletes who made big breaks, big runs. But, all in all, that was a pretty good showing. It set us up pretty well for the year."
Against Plano, varsity pulled out a "dramatic" 14-12 win, according to Ortiz. "There was a lot of frustration on the field," he admitted. However, he said that the Rangers were able to remain focused even though they were down 0-12 at halftime. Jesuit battled back to win, Alex Telfer '17 putting them ahead by 2 points in the final seconds of regulation.
On the 17th, the varsity team, unfortunately, suffered its second loss of the season to Lake Travis, 7-24. Lake Travis, however, is the best team in the conference, and Jesuit did not play scared. "We were in it the whole way, and that boded a lot of confidence for the team," said Ortiz. Jesuit suffered a major blowout last season, so the fact that they closed the gap this season also bodes well.
Against Quin Colts, Jesuit lost 33 to 45 this past Saturday, February 25th. Ortiz called it "heartbreaking" in a way because the varsity Rangers were in the lead 33-31 with only 7 minutes to go. "We just made too many penalties, too many mistakes, and allowed them to come back." Jesuit will need to win its next meeting with Quin to stay in the playoff picture. Hopefully, all of the Rangers will be healthy for that meeting. Varsity has not played with a full, injury-free roster all season.
As for junior varsity, they won 3 of their 4 February games to earn a 4-1 record on the season. First, at Allen, they triumphed 31-19. Their second win came against Plano on February 9th, 10-7, but they fell to Lake Travis 10-17 the following week.
They finished out the month with a win over Quin Colts. Junior varsity's performance thus far is commendable. With upwards of 30 players to rotate in, they have still managed to not only compete but also win consistently.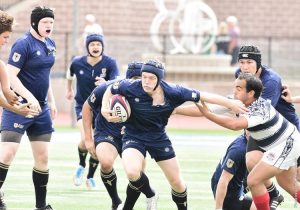 Both teams face off against Rock Rugby in Round Rock tonight. Stay tuned to see how they do!