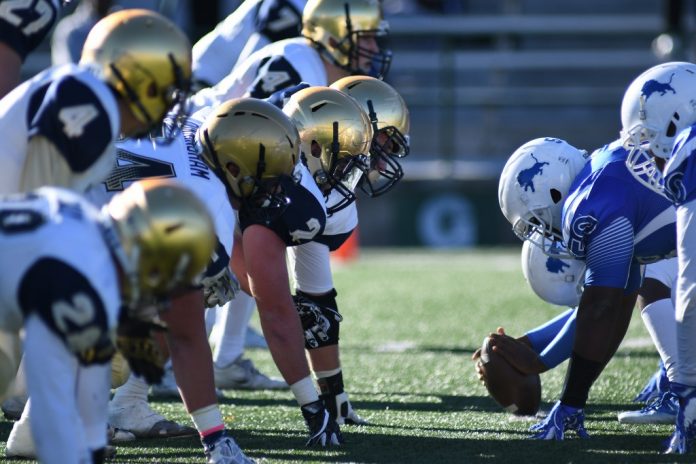 Outgunned by a high-powered John Tyler offense led by dual-threat quarterback Bryson Smith, the Rangers suffered a 69-21 Area round defeat, eliminating them from the playoffs and ending their season.
Jesuit (8-4) saw an 8-game winning streak come to an end at the hands of District 11-6A Champion Tyler John Tyler Lions (11-1) at Mesquite Memorial Stadium on the Saturday before Thanksgiving.
John Tyler's offense gained 579 total yards while the defense held a Jesuit offense that had scored 40 or more points in each game over an undefeated district schedule to 21 points. John Tyler's Smith, who is committed to the University of Houston, showcased his athleticism with a monster performance, racking up 404 total yards and six touchdowns.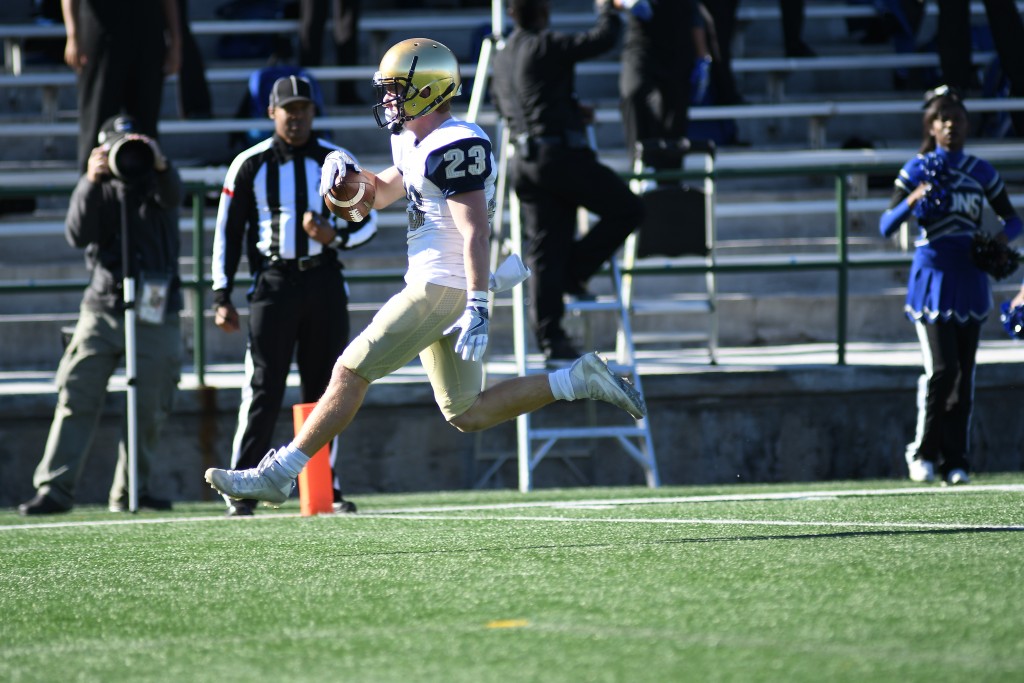 For Jesuit, John Wunderlick '17 picked up 97 yards and 2 touchdowns on the ground in addition to 79 receiving yards, while running back Evan Jackson '17 netted 108 yards and a touchdown. On defense, Luke Nolan '17 recorded a sack and led the team with 8 tackles while Jack Lynch '17 recorded a pair of interceptions.
The Lions grabbed the momentum on the opening kickoff, as two Jesuit 15-yard penalties were tacked on to a 40-yard return, giving John Tyler possession at the Ranger 25 to start their opening drive. A touchdown rush five plays later put John Tyler ahead 7-0.
The Rangers' offense came out strong on its first drive as QB Jacob Palisch '17 completed 3 of 4 passes for 31 yards and Wunderlick ran it in from the 26 to tie the game at 7-7.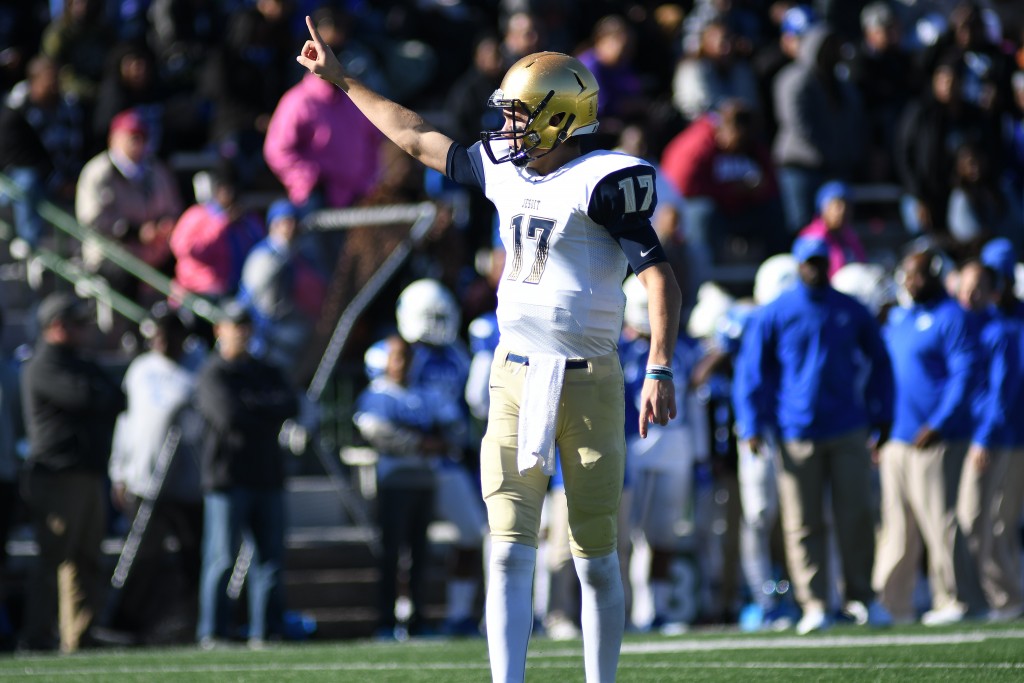 John Tyler quickly retook the lead with a sequence highlighted by a 32-yard completion and a 22-yard touchdown rush by Smith, putting them ahead 14-7 and giving them a lead that they would not relinquish for the remainder of the game.
The Rangers made a push in the third quarter. scoring on consecutive drives, but, down 55-21, it was too little, too late, as John Tyler sealed the 69-21 victory to advance and send Jesuit home.
"[John Tyler] had a dynamic quarterback that made a lot of plays," linebacker Michael Schoettmer '17 said. "I give them a lot of credit. They had a game plan and came out and executed it. They clicked on all cylinders. We just had one of those games where nothing went according to plan and unfortunately for us, this game was a win or go home game."
Jackson said, "they had a really athletic team, and we expected our offense to come out and carry the team, and we didn't do that."
"Despite the outcome of the game, it was one of the most memorable games of football I have ever played in," commented wide receiver Fletcher Rosenbleeth '18. On the season, Rosenbleeth said, "At first, we clearly started out rough. However, we used those first few defeats as fuel to push us through the district season undefeated."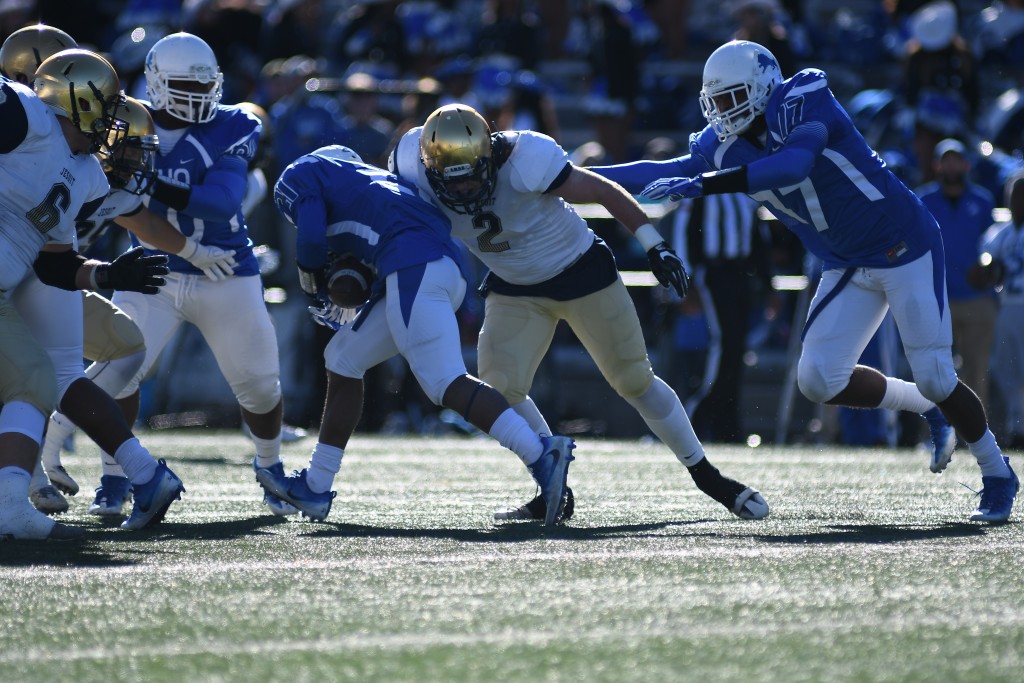 Defensive Coordinator Coach Billy Thompson said, "I was very proud of our defense. We always talk about leaving it all out on the field and that is exactly what our kids did. They played the first play as hard as the last one. From a coach's perspective,  you want to win the game and advance to the next round. I can speak for the entire defensive staff when I say that we wanted to win simply to be able to coach those kids one more week. They are a special group and I am proud to have been a part of it."
"Even though the season did not end how we wanted it to, it was still a great year," remarked linebacker Matt Eubanks '17. "We achieved a lot as a team and although we would have liked to make a deeper run in the playoffs, we had a great year and are very proud of it."
Schoettmer agreed, saying "overall, we had a very successful season. We are the first Jesuit team ever to win back to back outright district championships going 14-0 and that is a lot to be proud of. A lot of people look at our first 3 games as a negative because we went 0-3 but we gained a lot from those games. We grew together as a team from the adversity we faced."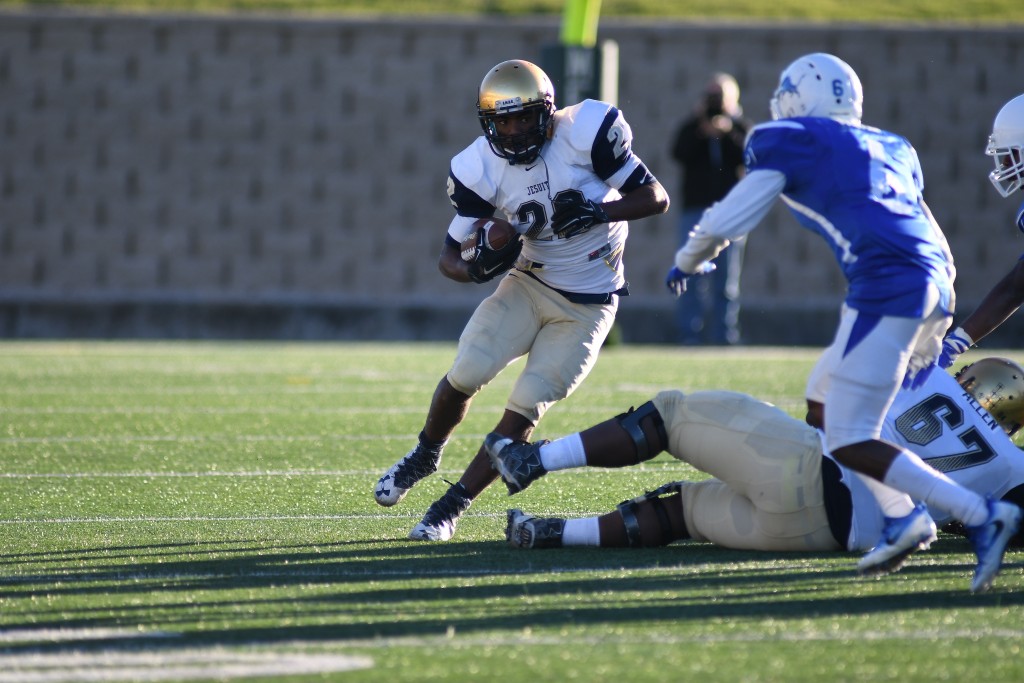 "I had a lot of fun with the guys and a lot of great memories," Jackson said. "I'm glad I got to be in the same class as this group of guys, especially this group of linemen." Over the course of the year, he said, "I learned that it doesn't matter how talented you are, but if you work harder than the other guy, you can beat him. I worked really hard and I'm glad I got to see the fruits of my labor." The Brown commit finished the season with 1172 yards and 16 touchdowns rushing in addition to 225 receiving yards with 2 touchdown catches, earning him District 9-6A Offensive M.V.P. honors.
Palisch was awarded District Player of the Year as he overcame a shoulder injury to finish the season with 1831 yards and 12 touchdowns through the air, and proved himself as a rushing threat with 337 yards and 9 touchdowns.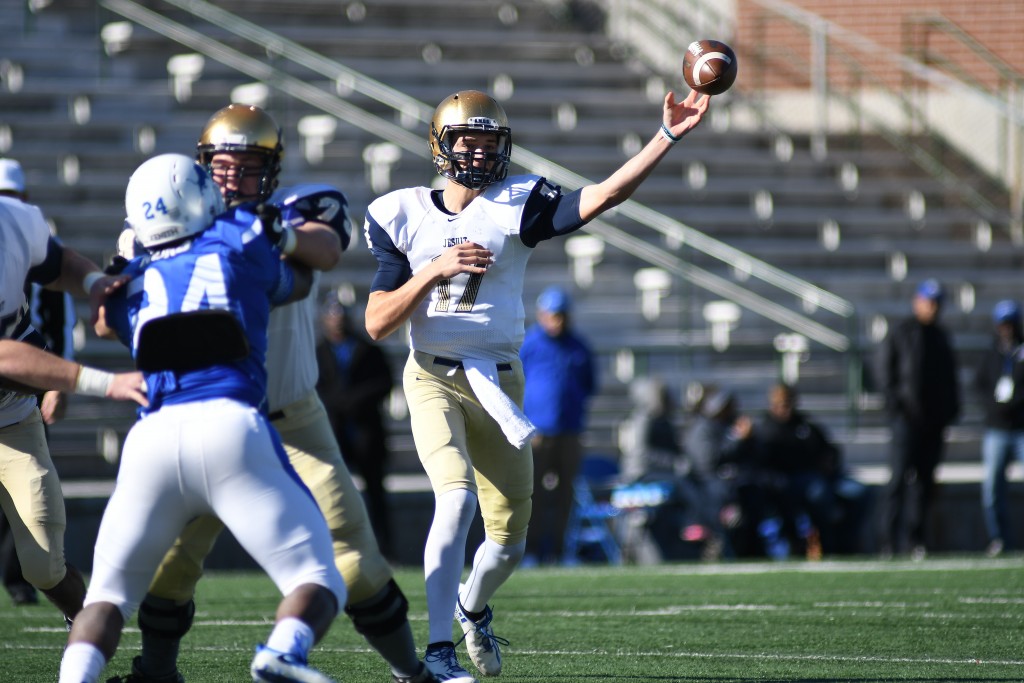 Defensive end Andrew Miskell '17 was voted Defensive M.V.P. of the district after he led the team with 7 sacks and was second with 12.5 tackles for loss this season before exiting the regular season finale with a season-ending knee injury.
Wunderlick's 1101 rushing and 642 receiving yards for 16 total touchdowns (not counting his two passing touchdowns) earned him First-Team Running Back honors, and offensive linemen Dalton Allen '17, Vance Holub '17, Max McLeod '17, and Dean Eikenberg '17, as well as wide receiver Connor Jackson (502 yards, 5 TD), who joined him on the First-Team Offense.
Defensive lineman Jack Metz '17 was a steadfast leader on the defense, recording 34 tackles, 9.5 for loss, a performance which earned him a spot on the District's First-Team Defense.
Rounding out the Rangers' First-Teamers was kicker Israel Ollarzabal '18, who finished the season 15-17 on field goals, including a long of 47 yards, and a perfect 55-55 on extra points.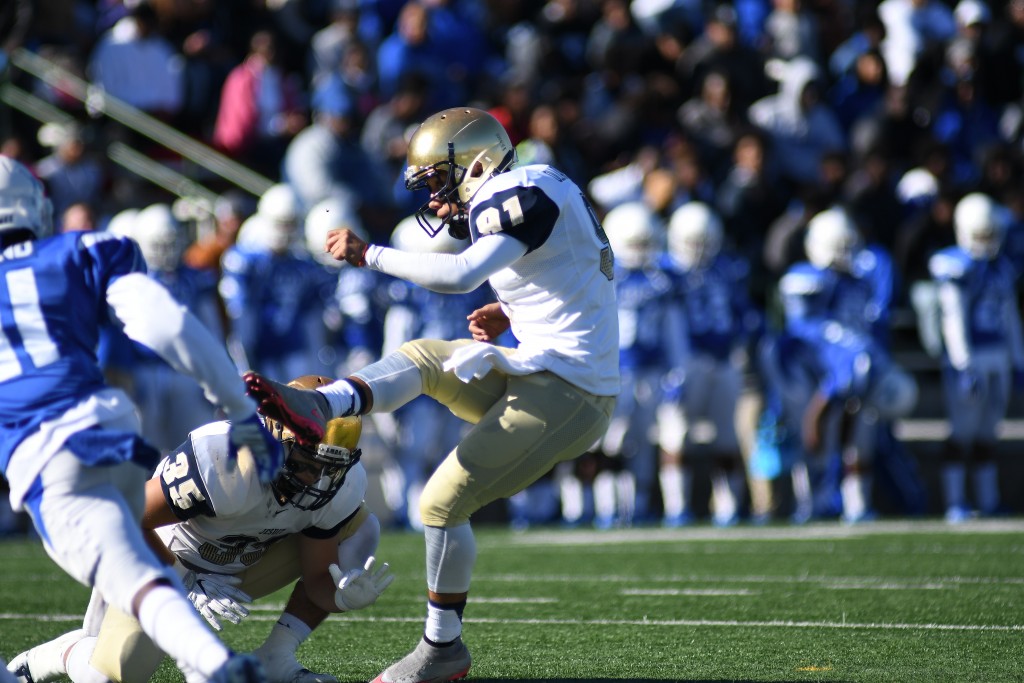 "I was proud of the 'never give up' mentality our kids displayed, and we played hard until the end," said Head Coach Brandon Hickman. "It wasn't our day and I have to give credit to John Tyler and kids for playing well. Our kids handled the tough loss with great character and class which makes me proud. I told them after the game that this one game doesn't define our season and thanks for everything they have done for our program. It was a great year and fun ride for sure."
He continued, "I'm very proud of this team and all we accomplished this season. These seniors definitely left their mark and raised the bar for the next senior group to follow. Our coaching staff wanted to thank our seniors for all their hard work and dedication they put into the program. They are all outstanding young men who are going to be very successful in life."
Jesuit finishes 8-4 overall, including a 7-0 district record that gave them the District 9-6A title, and a first-round bi-district playoff victory. This impactful season left many memories for outgoing seniors, but provided enough inspiration for many returning members of the team next year.