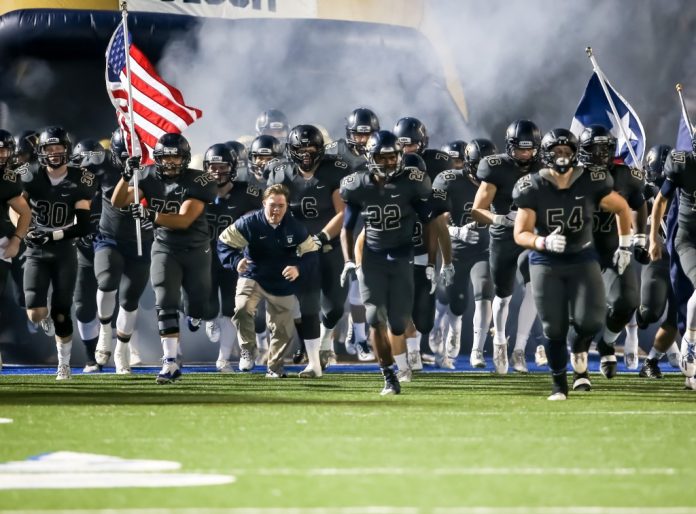 A navy blue-out student section replete with hand-clapper noisemakers contributed to a buzzing playoff atmosphere as Jesuit played its first round game in front of a home crowd after going undefeated during district play to earn a top seed.
In a battle of Rangers, Jesuit (8-3) defeated bi-district opponent Garland Naaman Forest (5-6) on Friday night. Led by senior tailback Evan Jackson's 100 yards, a trick play, and a dominant defensive performance, Jesuit advanced to the Area Round for the fifth consecutive year.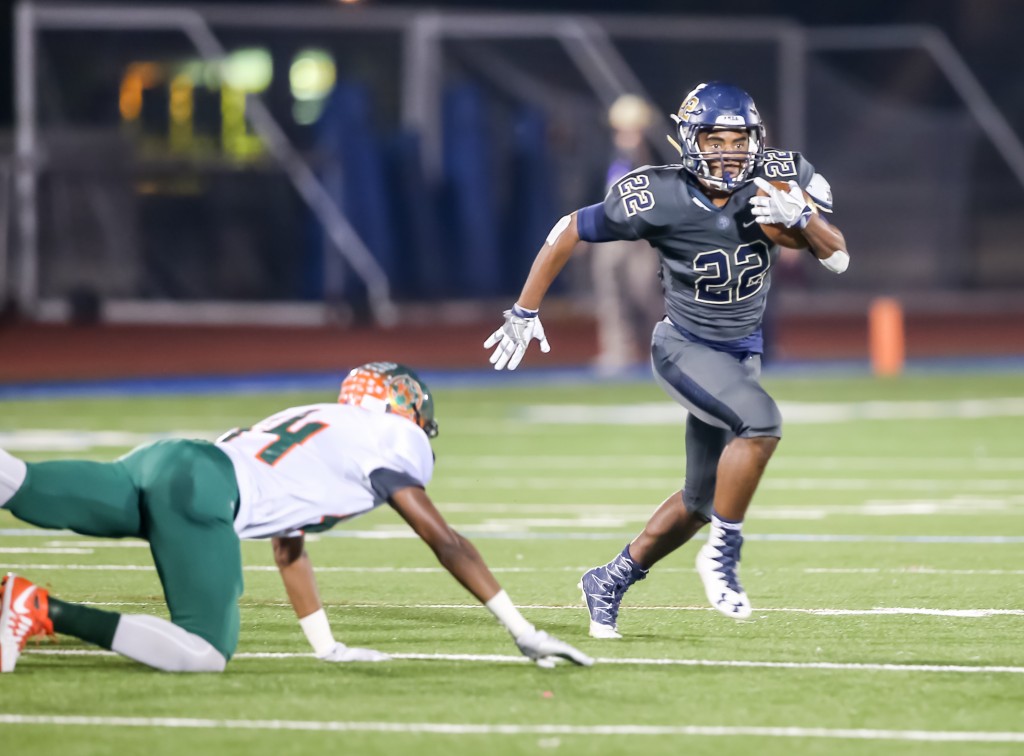 Jesuit jumped out to an early lead, marching 65 yards on 13 plays, capped by a 10-yard completion from Palisch to receiver Connor Jackson '17. The defense maintained the momentum, forcing a fumble on third-and-one to give the offense the ball at Naaman Forest's 32. However, the offense was stopped in the red zone, and kicker Israel Ollarzabal '18 punched a 22-yard field goal through the uprights.
Jesuit continued its staunch defensive effort, highlighted by a Luke Nolan '17 sack on third down to force a three-and-out and a punt. The offense gained a first down on a 28-yard Evan Jackson reception, but was then stifled and forced to punt.
The Jesuit defense picked up where it left off, forcing another three-and-out, and an errant snap on the punt turned the ball over to Jesuit on downs at the Naaman Forest 13-yard line, which the offense turned into another field goal, this time from 27 yards.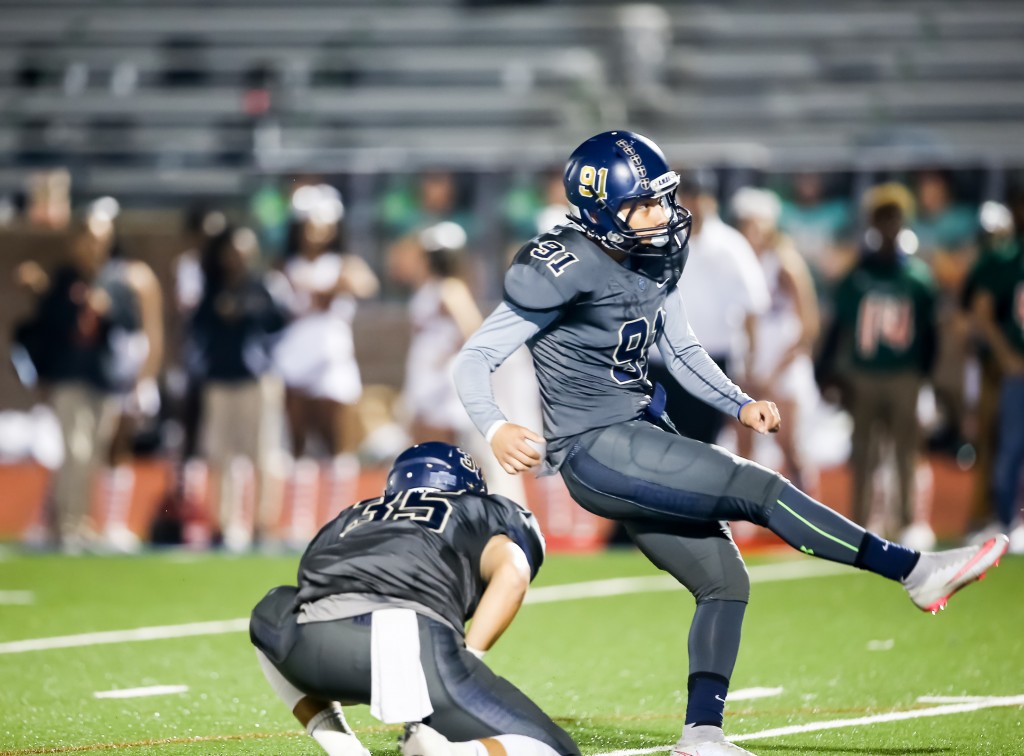 Smothering special teams coverage on the kickoff pinned Naaman Forest at their own 13, and more strong defensive play forced a quick punt, giving Jesuit the ball back in enemy territory. Evan Jackson kicked the drive off with a 16-yard run, as the offense moved the ball to Naaman Forest's one-yard line. On 4th and goal from one yard out, Jesuit decided to go for it and succeeded with a Palisch one-yard rush.
Still unable to solve Jesuit's defense, Naaman Forest again went three-and-out, punting to give possession back to Jesuit with 1:16 left. While the offense quickly moved the ball to the 26-yard line, they were unable to stop the clock in time to attempt a field goal as the half ended with Jesuit leading 20-0.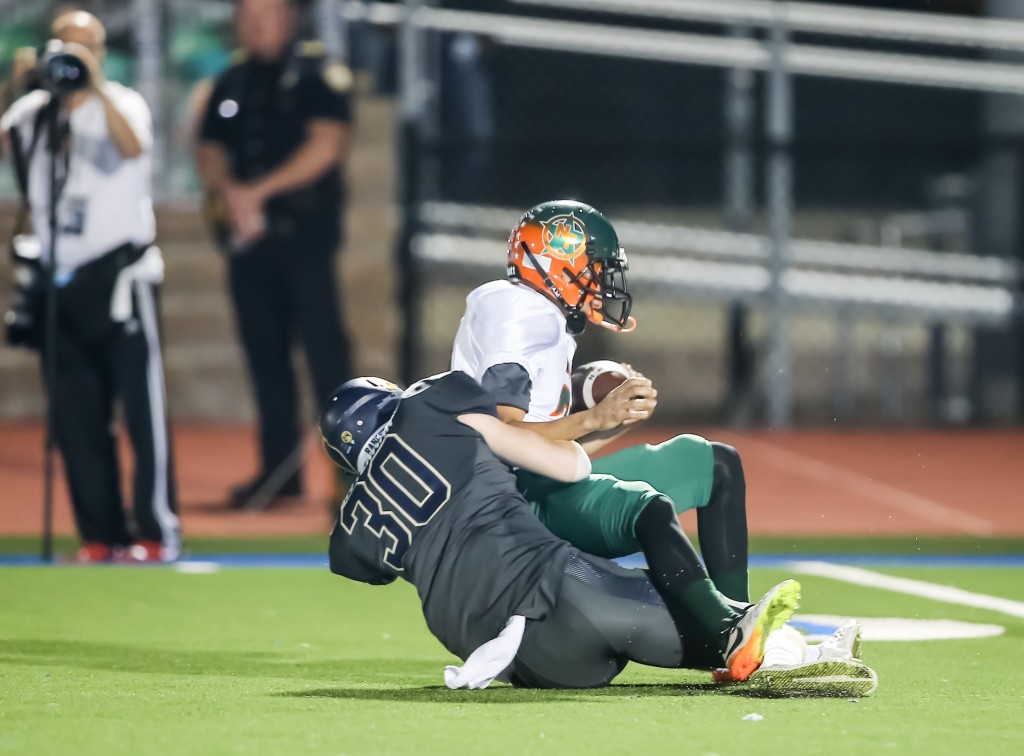 Naaman Forest was unable to gain a yard against the Jesuit defense on their first possession of the second half, punting after a three-and-out. However, they intercepted a Jesuit pass, converting the opportunity into a touchdown before Jack Metz '17 blocked the extra point attempt to retain a 14-point lead. The teams then traded fruitless possessions before a Jesuit double pass resulted in a 64-yard touchdown pass from Wunderlick to wideout Alekzander McGlone '18.
A Naaman Forest penalty on the ensuing kickoff started their offense at their own 5-yard line, and after a tackle-for-loss by defensive lineman Jordan Rice '17, Naaman Forest was forced to punt from their own 2, the punter pushed to the back of the end zone. Another errant snap resulted in a safety, giving Jesuit a 29-6 lead going into the fourth quarter.
Sacks by linebackers Lucas Kincade '17 and Nicky Prendergast '18 on Naaman Forest's next possession, followed by another Ollarzabal Field goal from 20 yards out sealed the 32-6 victory for the Jesuit Rangers.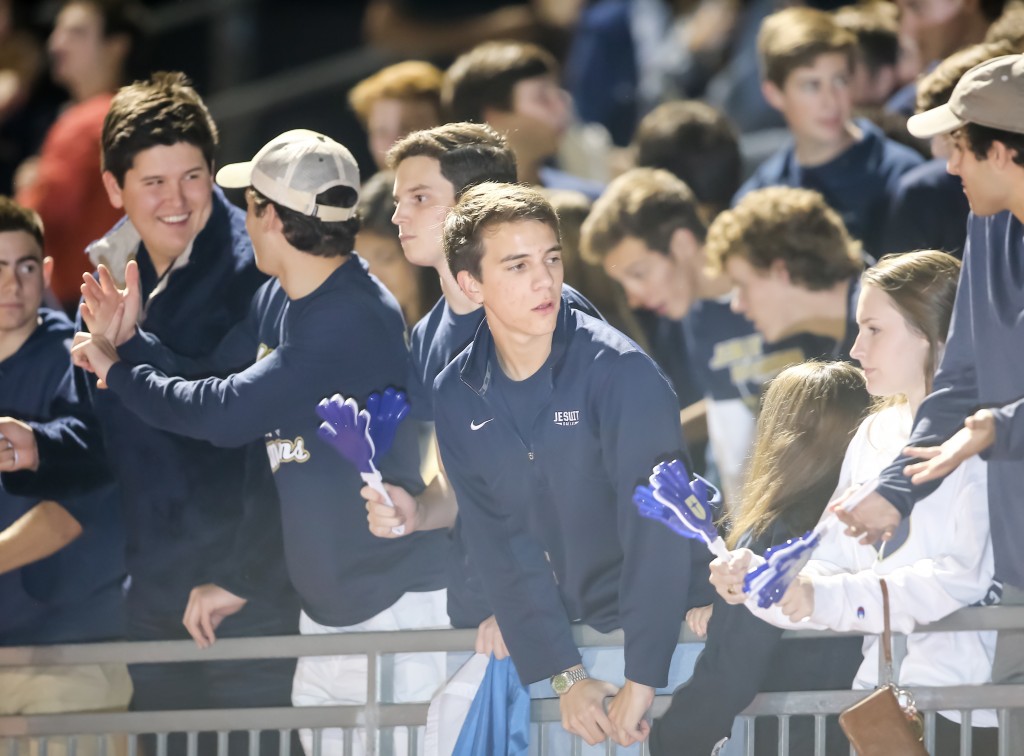 This was the last home game for Jesuit, as the rest of the playoffs will be held at neutral sites. "For us seniors, this was the last time we had the chance to play on our home field," said Matt Eubanks '17. "We all wanted to play our best and leave it all on the field for our last home game."
Senior defensive back Jack Lynch also commented on the home field advantage, saying "it definitely helped our defense because we felt like we had the whole stadium behind us."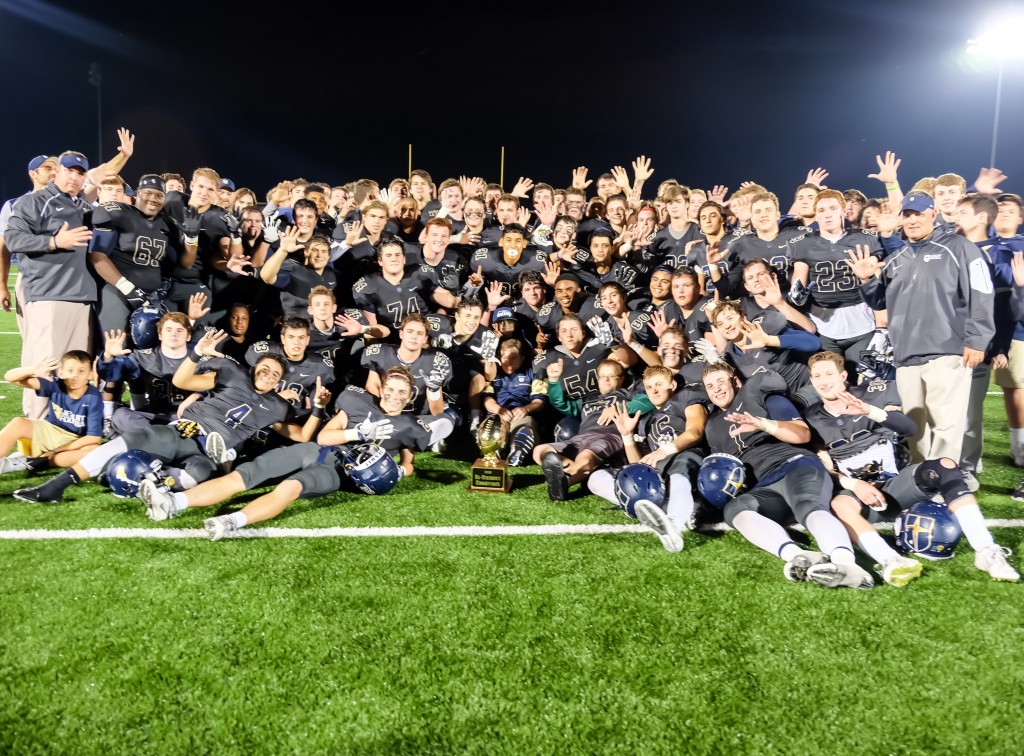 "Our defense's main focus against Naaman Forest was to shut down their run," Lynch continued, "and we did that by putting ten guys in the box and filling the gaps that needed to be filled."
Head Coach Brandon Hickman praised the defense after the game, explaining, "We had to lean on our defense during the game, and our kids stepped up and made some big stops and caused multiple turnovers. In the playoffs you have to rely on each other, and our goal every week is to move on to the next game."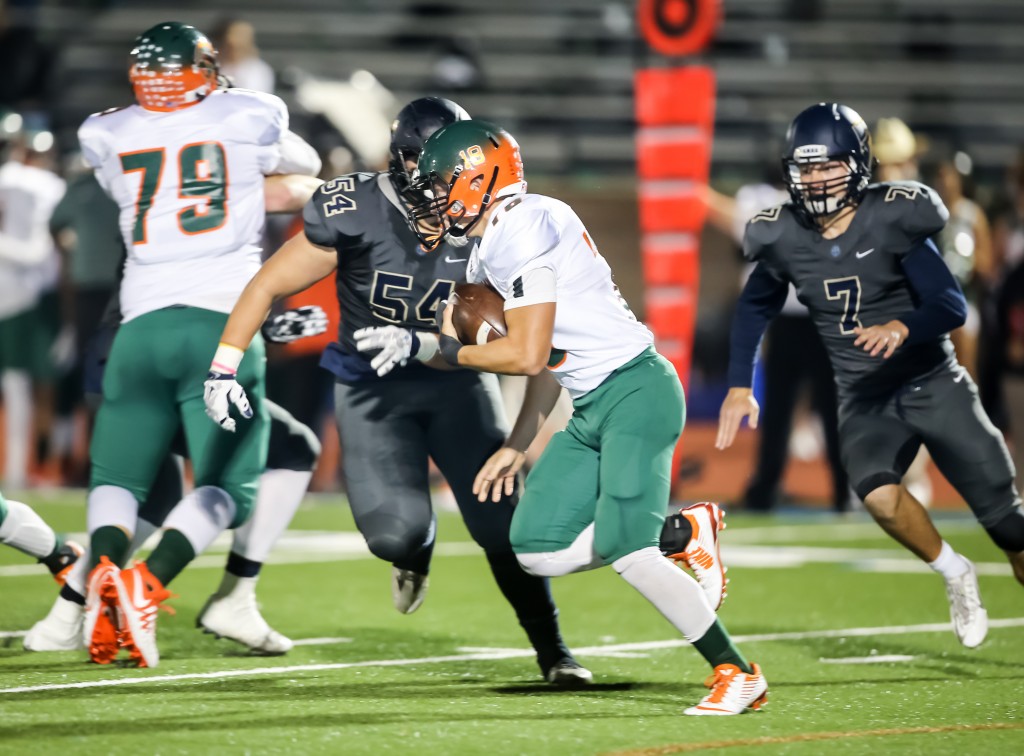 Offensive lineman Dalton Allen '17 said, "The biggest focus for our team was to maintain positive and high energy throughout the game as well as doing our individuals jobs on the field in order to help the overall team win."
Looking ahead, Hickman remarked that the team can succeed by "winning the play on every snap and being able to adapt and overcome when faced with adversity.  We also have to get momentum turning in our favor during the game and use that to our benefit whether it's a big turnover on D, big play on offense, or a big special teams play."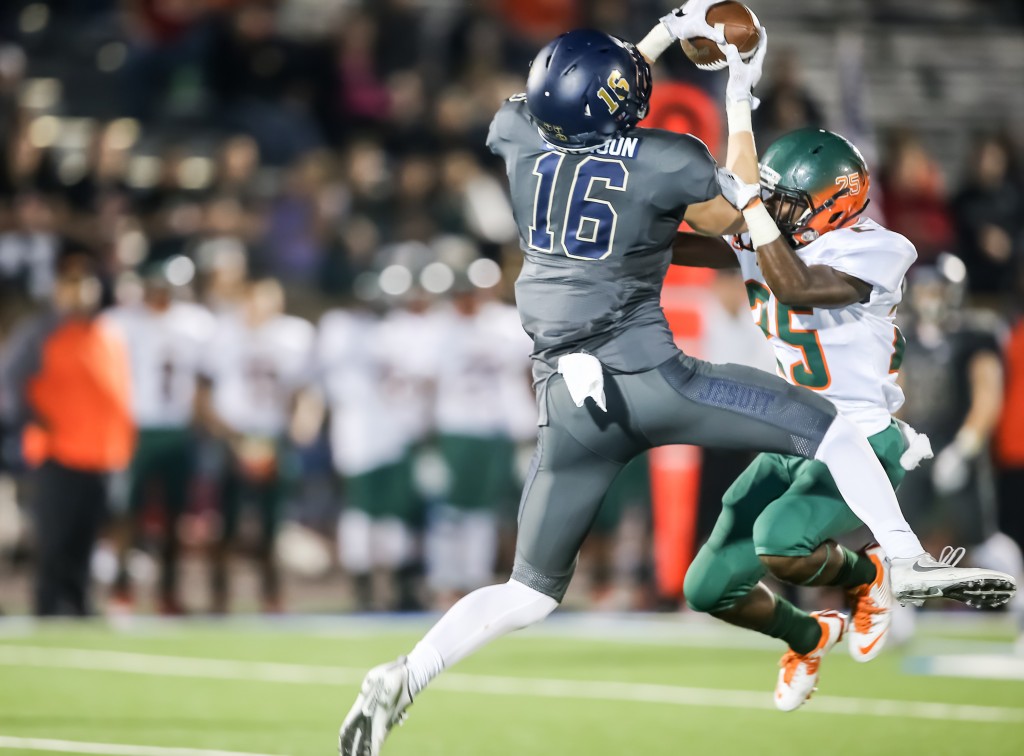 Asked about next week's area round game, Lynch said, "We are confident going in that our offense will drive down the field and put up a lot of points so it is up to our defense to get some key turnovers and stops to win the game."
"Our mindset is to win every play and play every play like it is our last," Allen said, looking ahead to next week's matchup. "Keeping that in mind we want to also maintain positive energy and intensity on the sideline no matter how the game is going in order to help us succeed in winning the game against John Tyler."
"Our guys have waited a year for this opportunity and we are going to play as a team with great focus and energy Saturday," said Hickman. "I'm excited to see our players go out there and have fun."
Jesuit takes on district 11-6A champion Tyler John Tyler (9-1) in the Area round at Mesquite Memorial Stadium on Saturday.