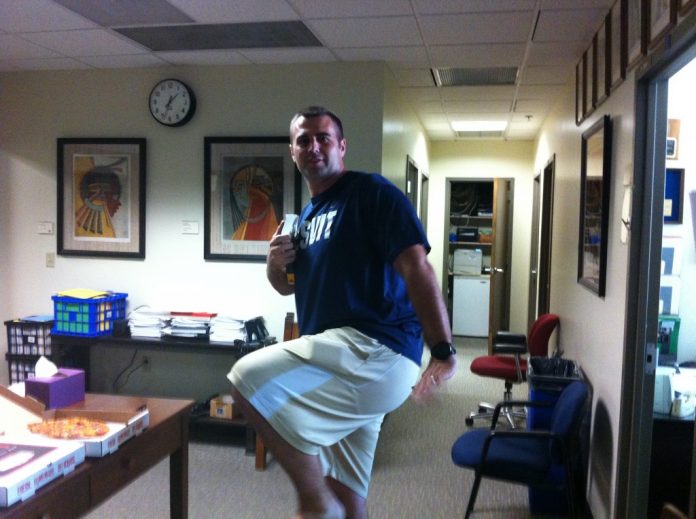 Jesuit has welcomed yet another freshman class into its halls, where they will wander as many before them have as well.
As the new student steps out of the car that first morning, he is timid, frantically scanning the car to ensure that nothing is left behind. He takes a nervous glance around him, searching for a familiar peer. He softly grasps the hands of the seemingly towering Mr. Marr and Mr. Host, who welcome him to the next four years of his life.
Class of 2017, meet your new English teacher, Mr. William Thompson.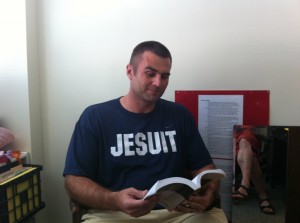 Mr. Thomson will not only be new to the freshmen as an instructor, but to the entire school community.
Mr. Thompson has met his share of new faces in his lifetime. He has lived in seven different states. He has lived as far west as the small, rural town of Bend, Oregon, which has a population of only 76,639 people, and as far east as a suburb just outside of the vibrant and ever-bustling New York City, which has a far larger population of 8,336,697 people.
"[Living in New York City] was a huge culture shock for me," reflects Mr. Thompson. "I moved from a very small population, a little bit remote, to a school that was thirty minutes outside New York City. That was huge."
"I was there for about a year-and-a-half. My dad worked at the World Trade Center. Then, we moved from there to Atlanta, Georgia, and that was another huge shock for me. He transferred jobs there, and from there I went to the University of Maryland, my parents moved to Colleyville, and I transferred to TCU. I actually lived in New England for six years after that, and then came back down here. I've lived a little bit, and all of those experiences help me to relate to different people."
It was this final move that brought Mr. Thompson within the vicinity of Jesuit, to where he decided to apply for a teaching position, in part due to a familiarity with Coach Hickman, who is the head coach of the football team.
"[Coach] Hickman was my college roommate. We played together at TCU, so we go back a little bit. Originally, my very first teaching job in Texas was at W.T. White. I taught [there] for five years. I was always very aware of Jesuit. We played Jesuit. I had a lot of respect for Jesuit."
Now entering his thirteenth year of teaching, Mr. Thompson is also quite experienced in educating the youth of our society. Residing in and teaching in a multitude of very different environments, Mr. Thompson emphasizes the need to "strike a balance," a balance that he must implement in his job.
While the freshman class will soon know Mr. Thompson as a teacher, many students already know Mr. Thompson as a coach. Although he will begin teaching English 1 next school year, Coach Thompson has already been actively involved with the football team as its defensive coordinator.
Although he admits that managing two roles might prove challenging, Mr. Thompson emphasizes that "education always comes first. Football has a season, and teaching does not." But even though the worlds of the academics and the athletics might appear distant and far apart, Mr. Thompson believes that the role of a teacher, who guides his students, and the role of a coach, who guides his athletes, is "one in the same."
"I think coaching is teaching. It's the same process that you put a kid through. You see success in both. You take something that you're passionate about, you try to master as much of the fundamentals as you can, and then you pass [on] the fundamentals," a term that can be ubiquitously used to describe the rudimentary language skills that a student gradually acquires with proper instruction or the rudimentary athletic instinct that a coach instills into his players, "onto a student, who then builds confidence and excels."
"Football is something that I've always had a passion for," says Coach Thompson. His passion for literature is equally as vibrant.
"I have a passion for literature, and I've always enjoyed reading. I think that you try to carry that over to the kids. I think that a lot of kids aren't really excited about reading. I really enjoy taking a piece of literature and showing kids just what it is about it that I enjoy."
Mr. Thompson, in the upcoming year, will face many of the same challenges as his freshmen. He expresses some trepidation about simply "finding his way around and the schedule, which [he's] still trying to get [his] head around. Just meeting new people, knowing who to go to when [he has] questions, and obviously meeting new kids." These concerns sound vaguely similar to the fears that our new student might encounter on his first day of class.
But, of course, the experience of being the new man on campus can be equally exciting and invigorating. "It's really exciting," expresses Coach Thompson. "I've gotten to meet the football kids. I've spent a lot of time around them over the last two months, and I'm really excited to meet the rest of Jesuit."
Mr. Thompson's excited to fully join the school community next year. He's equally excited about the opportunity to fu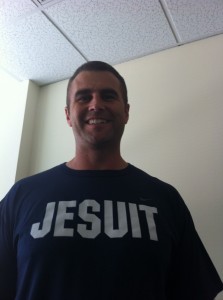 rther the mission of Jesuit. "The number one thing that drew me to the school," states Mr. Thompson, "was the mission of the school, just being a 'man for others.'" The chance to impact his students, forming them into servant leaders, is the "reason why [he's] here."
But Mr. Thompson believes that, aside from impacting the community, the community will also impact him. It has often been expressed that, even though young and juvenile, children, who are more untainted or unadulterated than adults, possess wisdom that can also impact the lives of their superiors.
"The students have already made an impact on me. The kids here made me want to work harder for them. They come every day with such a willingness to learn, a drive. It makes me want to do my very best for them and give them every resource to make them their best."
So freshmen, the Class of 2017, if you're reading, don't fear Mr. Thompson. While meandering through those seemingly menacing halls, ignore his ostensibly over-bearing figure, standing broad and tall. Although a tiger, wildly striped and apparently harmful, might seem hawkish, its care for its own cubs is unceasing.
So students, athletically inclined or not, heed the wisdom of Mr. Thompson and welcome him into the community, the warm den comprised of students and faculty. As Jesuit welcomes another teacher, who will receive a formal greeting at one of the first few prayer services next year, be "open to growth," so to speak. One of the characteristics that makes Jesuit a special place to learn is the bond that is fostered between the student and his teacher; and this bond, continuous since the school was founded just a few years back in 1942, is unbreakable.