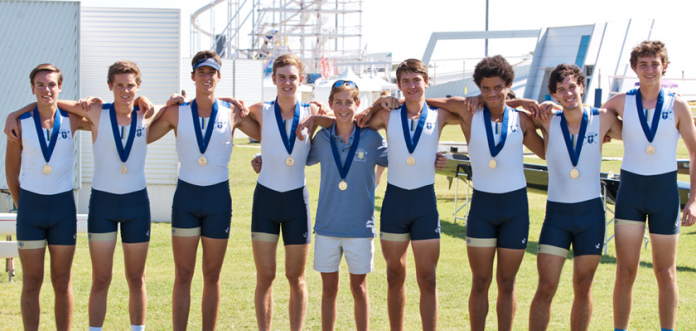 The familiar rhythm of the paddles coming in and out of the water, the mist spraying, the coxswain yelling commands. The boat propels through the water as competitors close in on either side. Jesuit crosses emblazoned on the navy paddles flash above the water before being plunged back in. Pulling with every ounce of strength, the team eyes the finish.
The Jesuit crew team competed at the OKC Invitational Regatta on the Saturday of March 18th. The competition hosted by the OKC Riversport Club, contained 6 clubs including Jesuit.
Starting off the day, the Varsity boat fell just short of OKC finishing second with a time of 6:10.86 in the Varsity 8s race. Next, the JV squad also finished second in the JV 8s race with a time of 6:32.72. In the 4-man race, Varsity came in third with JV right behind with times of 6:54.68 and 7:07.78 respectively. Later in the day, freshmen boats took first in two 4-man races, finishing with times of 7:21.15 and 7:33.60.
This regatta kicked off the Spring for the crew team and head coach John Fife commented that the regatta revealed "a lot of areas [the team] can improve on." He added that "The freshman squad had a fantastic day of racing which shows a lot of great potential for the future." A strong freshmen showing certainly does bode well for the crew team in the coming seasons.
Coach Fife continued by saying, "I think we could have been better prepared and more aggressive with the competition," changes which are sure to be taken into effect before the next competition. Despite a slight struggle in this meet, Fife is confident "our entire team has the potential to do very well late in the season at our championships in May and June."
The team will continue to work hard each day during practice and get faster and faster as the season progresses. Their next regatta on April 8th will be the next test.