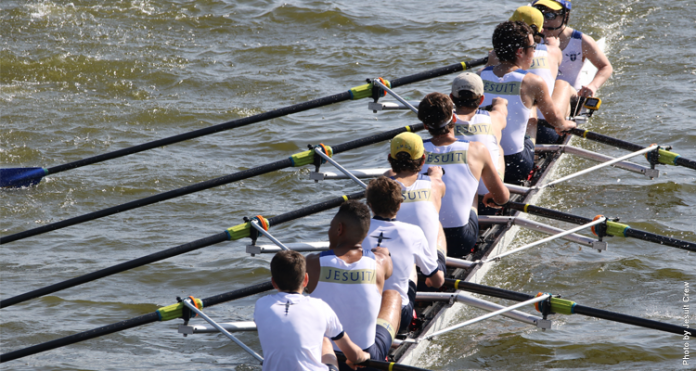 Eight Jesuit freshmen work in sync to propel the narrow boat forward at surprising speed. The coxswain barks commands and encourages the rowers while glancing at the competition on either side. The combined effort of the young men begins to show as the opposition falls behind. They relax as the boat glides through the finish, capturing the first place title.
The crew team traveled to Cincinnati on April 8th to compete in their second regatta of the spring slate following an impressive showing in Oklahoma. In Cincinnati, the varsity boat improved substantially from its race in Oklahoma, and the freshmen boats continued to impress with fast times against tough competition.
The varsity eight boat saw its first action in the qualifying heat, where it placed 3rd to earn a spot in the finals. The boat was the only boat from Texas to escape the qualifying round. In the finals, the team narrowly missed an overall 3rd place spot, coming in just behind New Trier High School from Illinois. Still, the squad performed very impressively against some of the best teams around.
The freshmen boat was able to secure a first place finish in the time-trial before taking first place in the qualifying round of the novice eight race, where they won by a margin of 4 seconds. In the final competition, they made quick work of their opponents, this time besting the field by about 6 seconds. These young rowers continue to impress with their speed on the water.
Varsity coxswain James French '18 said about the meet: "We raced some very intense competition but the guys handled it well, securing fourth place behind New Trier High School." His positive sentiments are surely a good sign for the remainder of the crew's season.
The team will look to ride the success from this meet onto the next one on April 22nd in Middletown, Delaware. Stay tuned for coverage of that regatta!