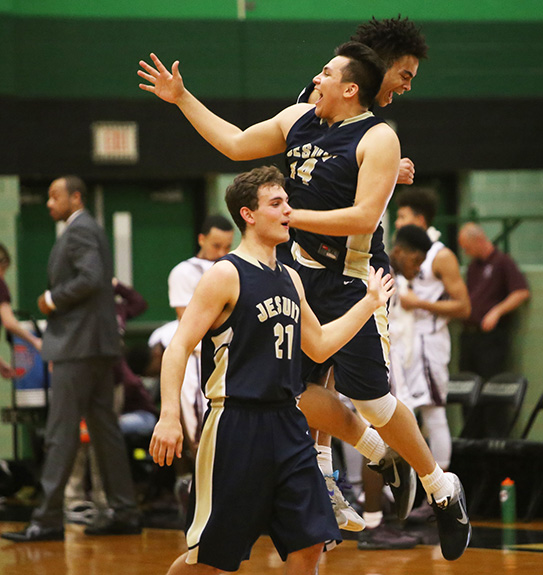 Returning to the site of last year's bi-district round, the Rangers looked to avenge the heartbreaking first-round exit of last season.
Jesuit (21-10) took on an athletic Rowlett (21-7) team that, while placing third in District 10-6A, finished behind the 3rd and 9th-ranked teams in the area, and ended the season ranked 15th in team offense. Led by a pair of juniors, 6'6 forward Braden Bell (14.9 PPG, 6.9 RPG) and guard Joel Murray (14.1 PPG, 3.3 APG), the Eagles went 21-2 in the regular season against teams other than South Garland and Lakeview Centennial.
The Rangers entered the game coming off a 3-1 finish to district play that included wins over Richarson and Berkner that cemented their playoff berth as a number 2 seed.
Jesuit came out with an uncharacteristically cold shooting performance in the first half, going only 2-11 (18.2%) from beyond the arc, a far cry from their regular season 40.2% 3-point percentage.
"We are definitely a three point shooting team, so it's difficult for us to get going when our shots aren't falling," said guard Mitch Prendergast '17, who led the team with 9 first-half points. The Rangers' deficit was as great as 15 with 4:37 remaining in the first half, and they went into halftime down 33-21.
"Halftime was a really weird point for all of us," commented guard Reid Hatzmann '18. "Down 12 in a big playoff game, one can expect that a locker room at half would be angry or frustrated and almost hopeless. In our situation though, we were all calm and composed and we realized that we were fine we just had to fix a few things."
"[Coach Hill] just told us to stay positive and keep the ball moving," Prendergast said. "We knew our offense would come so we wanted to really make an effort to limit them to as few second half points as possible."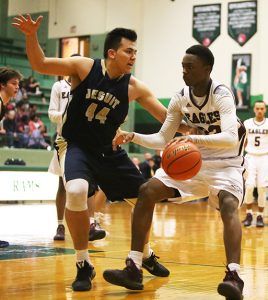 The Rangers came out of the half with a fury, outscoring Rowlett 24-4 in the third quarter to take an 8-point lead going into the fourth.
"I thought the guys changed their mentality," said Head Coach Chris Hill of the third quarter turnaround. "We were really wound up in the first half and not playing our game at all. The third quarter we calmed down, started playing together on both ends of the floor and it helped calm us down. Then we made some shots, got some stops, and got some confidence.  I was really impressed with the guys, being down 12 in that environment and then to completely change your mindset and execution is really tough to do."
Jesuit held on to the momentum in the final frame, stretching the lead to 14 with 5:37 left and holding off a final charge by the Eagles to win 65-61.
Hatzmann (10 points, 4 assists) commented, "when shots aren't falling it puts a little bit of pressure on our team, of course, but the key for us there is that we collectively realize we need to find other ways to score. Whether it's getting the ball inside, slowing down the tempo, or running a specific play, we just realize we need to take a second and refocus and adjust. While it can be challenging on us as a team, it's important we stay together and I think we have done a great job of that in some of the games we have had where we haven't shot as well as we would like."
Guard Marcus Hill '18, who scored a team-high 18 points, said, "we still had confidence in our ability to make shots because we've seen ourselves make shots so many times this year in games and practice and it's that repetition that creates that confidence."
Jesuit will take on the 1 seed from District 12-6A The Woodlands (22-10) in the Area round. The Highlanders took a 64-42 win over Mesquite Horn in the Bi-District round after winning 9 of their last 11 to close the season.
"The most important thing about this game is that we realize that while we beat Rowlett, moving forward we can't afford to waste a half playing poorly," said Hatzmann. "Our mentality needs to be 100% focus the whole game ready to attack at all times. I think we are ready and able to do that in this next game."
"[The win] gives us great confidence in our ability to go on a long run because Rowlett is a very talented team that has beaten several very good teams throughout the year, and the win was truly a great team effort that is repeatable, both offensively and defensively," commented Hill.
Jesuit takes on The Woodlands in College Station in the Area Round tonight at 7 p.m.