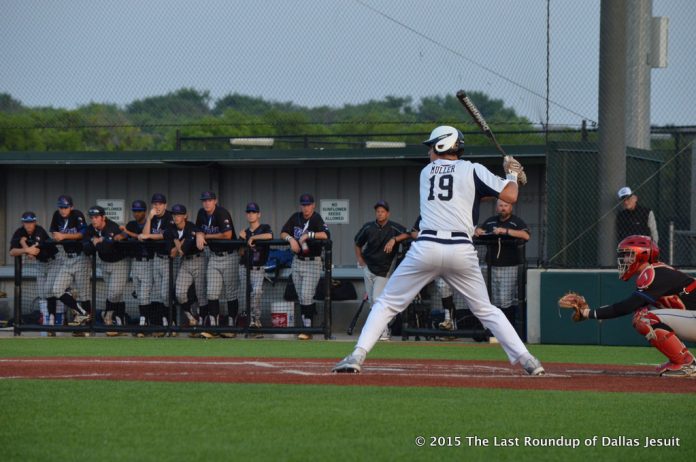 As the curve ball slowly traveled towards the catcher, the JV sophomore focused deeply on the ball, knocking the ball over the right field fence. This March, JV Baseball proved its resiliency and dedication through their craft, throughout the wins and the losses, the baseball team carries a swagger that cannot be stopped.
From March 2, 2017, to March 4, 2017, the Jesuit Rangers participated in the Hebron Baseball Tournament, hosted at Hebron High School. During the tournament, the blue and gold scored an aggregate 32 runs over five games and only allowed an astonishingly low four runs. Lead by the 12-0 thrashing of Hebron on their own field, Jesuit managed a three-game shutout streak against Frisco Centennial (7-0), Hebron, and Creekview (6-0), all three teams that offer staunch defenses.
"[We] performed really well," Ethan Lee '18 commented. "It was a great experience that was just a lot of fun for us." Lee vocalized their successes by explaining that "once we get into a rhythm, we are hard to stop."
On the flip side, the team struggled during the Jesuit Round Robin Tournament,  as they went 1-3 at home. The only saving grace was a 10-2 win against Prosper, while school rival Highland Park put up 9 runs against the Rangers. Jesuit also lost in a fiercely competitive game versus Rockwall-Heath, a disappointing end to the home tournament.
"This was a testament to our character as a team," Luke Przybylski '18 explained. Although "plagued with injuries and rough slumps" like the tournament, "the drive to win shined through our weak spots as we pulled together." The junior praised his team's efforts, commenting that "a mark of a good team is one that can pull together wins through injury and slumps and that was put on full display this year."
But, as March drew to a close, the JV Baseball team accumulated a series of impressive wins, showing off the bats in a number of big wins. Winning 11-1, 8-0, 5-1, and 5-1, Jesuit didn't have a lack of big performances from everyone on the squad.
Stay tuned for the latest news on your Jesuit Rangers JV Baseball Team at the Jesuit Roundup!