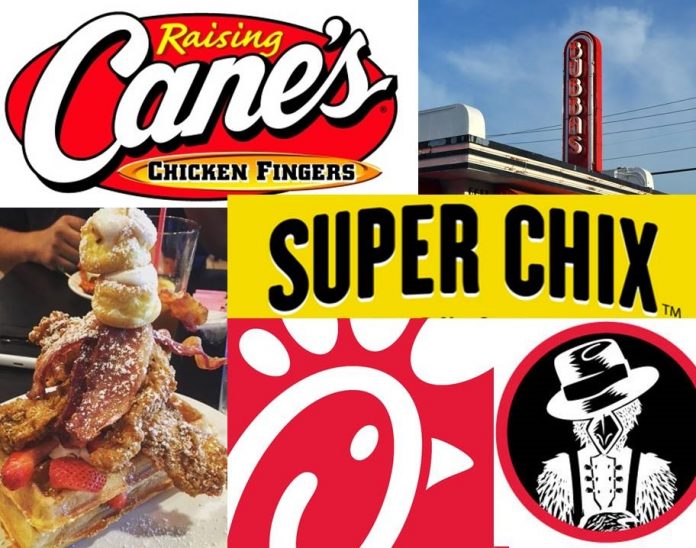 Fried Chicken. A testament to the American dream. A staple to Sunday Night football or ravenous late night Whataburger excursions. Originally a Scottish dish, fried chicken has pervaded this nation's culture from the ground up. In the early 19th century, Southern farmers introduced the delicacy to the population as a replacement to the boring broiled norm. Infusing their culture's traditions, African cooks incorporated their imported varieties of spices and seasonings into the dish as well, creating a culinary masterpiece.
In this article, I will explain the variety of fried chicken available in North Dallas area, and distinguish the bad from the good, and the good from the damn good. To ease the burdens of decision-making, I've separated the recommendations by quality and type. If anyone believes that there are any discrepancies with my recommendations, I would be happy to defend my reasoning. Pull me aside in the hallway anytime, and let's talk.
Stay tuned to the end where I also disclose the best Chicken and Waffles in D-Town and an exclusive interview with Jesuit President, Mr. Earsing.
On a Budget (Less than $8):
Raising Cane's Box Combo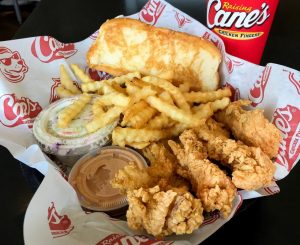 Oh, Cane's. With your barebones box combo, where can you go wrong? Three crispy tenders, a bed of crinkle-cut fries, a saucer of sweet coleslaw, a more-than-ample sized piece of Texas toast, and, of course, the coup de gras, the cup of Cane's Sauce – this is the American Dream… in a Styrofoam box. Now your price can turn some off ($7.00 for a 3 piece), but for those who are dedicated to the Southern notion of a solid meal, this place stands as the Mecca of North Dallas off Central Expressway. A more satisfying alternative to a 1 AM Whata-run, oh Canes, you never disappoint.
Pro-Tip: Ask for a Doggy Treat next time you're there, they're for free.
Chick-Fil-A #1 Chicken Sandwich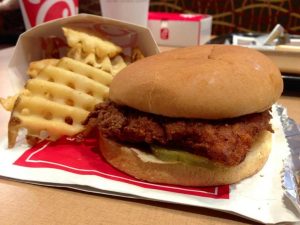 Chick-Fil-A, in every sense of the word, is a blessing to Dallas Jesuit. It's an integral part of the composite JCP experience and even plays a role in an 8th grader's high school decision. I think that it should be included in the Profile of the Graduate due to its undeniable importance to this institution. (Partly) due to the 28 Acres, our Inwood location has been rumored to be one of the top-grossing stores in Texas. Yes, the whole state. It's truly hard to leave the restaurant NOT feeling refreshed and relaxed, mostly due to their unmistakable over-the-top service. Now as for the sandwich, what's not to love? A steadfast rock in the turbulent life of the typical Ranger, the restaurant's claim-to-fame never disappoints a hungry Jesuit student. A testament to the majestic power of simple ingredients – the #1 proves to not only be consistently delectable but also not too filling. This light sandwich can fit into any time of the day, and with the addition of some sweet Chick-Fil-A Sauce, you have a masterpiece again, and again, and again, and again. There's a reason why Masters Champion Jordan Spieth insisted on this after his glorious 2015 victory at Augusta.
Traditional: Momma's Southern Fried Chicken (State Fair Variety)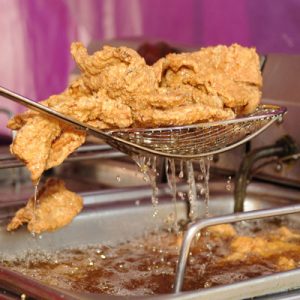 Now, under normal circumstances, I wouldn't include an establishment that's only open for 28 days out of the year, but in Momma's case, it's worth it. Why such the short window of opportunity for such an immaculate delicacy? Put in Momma's words, "I got four kids, honey! I can't be runnin' a full-on restaurant and takin' care of them. But we love the fair though! Yessir, we love the fair!" Only serving chicken wings, Momma and her crew (comprised of her sons and daughters, sisters and brothers, nieces and nephews) crank out over 16,000 wings each year! The traditional meal – two wings, fries, and a slice of Texas toast – is made complete with a healthy douse of Lawry's Red Salt over it all, giving it a familiar Southern kick. The Chicken and Waffles are worth noting too. Although the waffle and syrup don't match the superb quality of the wings, the flavor combination is still nothing short of divine.
Pro Tip: If you ask very nicely, you can forgo the fries and toast for a three piece chicken at only 9 tickets (which, at the Fair, is a bargain. Trust me.). Also, be sure to see if Michael's there, he plays O-Line for Desoto, and loves to talk about playing Jesuit.
Middle Tier Prices ($8-$10):
Slim Chickens Tenders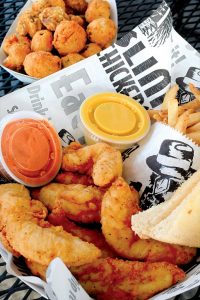 New to the 214, Slim Chickens reigns from Fayetteville, Arkansas, and built an empire there off of fresh tenders and a plethora of dipping sauces. A sit-down establishment, this clean, friendly joint is great for lunch if you're over in the Northpark area. The helpings range from the "Chicks" plate with three tenders, to the "Slims" plate with five tenders, all the way to the "Hungry" plate with seven tenders. All these come with any side, which includes fried okra, coleslaw, mac & cheese, mashed potatoes, etc. But what gives this place that extra kick is the sauces. With over 15 different options, one might feel like they are at a wing place, rather than a tender-joint. My personal favorites are the Slim Sauce (ketchup, mayonnaise, a bit of mustard, and some other spices) and the Ranch (pretty self-explanatory). These go great with all the food on the plate. Just beware, the tenders can be so fresh, they will actually burn you if you bite too soon. Fair warning.
Super Chix "Simple" Chicken Sandwich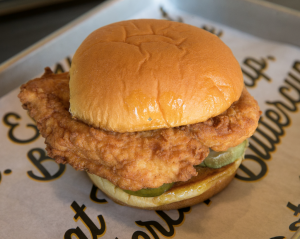 The hottest joint on Preston Road, Super Chix now stands as a beacon of deliciousness and hospitality. A newcomer as well, the chicken establishment has only been around for three years, but it has definitely made its mark on the North Dallas culinary scene. The restaurant's menu looks eerily similar to that of Chick-Fil-A, but since it's open on Sundays, I'm not gonna start pointing fingers. What distinguishes Super Chix from their rival sister chicken operations is simple – the Chicken to Bun Ratio. Instead of having to take a big bite to get to the meat of the sandwich, you have to take a bite to get to the honey-glazed bun. Complete with an ensemble of simple sauces, like Honey Mustard, Spicy BBQ, Sweet & Sour, and Signature – this place makes a strong case for the tenders category as well.
Bubba's Cooks Country Fried Chicken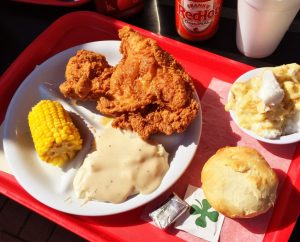 A Highland Park icon. Synonymous to Chick-Fil-A's significance at Jesuit, Bubba's historic red neon sign stands tall as a mecca to multitudes of SMU students seven days a week. In fact, the restaurant even predates the Park Cities ban against drive-thru establishments. Food-wise, Bubba's doesn't turn heads with any outrageous culinary combinations. But its beauty comes from the classics. It simply stays true to its Southern origins with the standard dinner plate – two pieces of their famous traditional fried chicken, a side, and one muffin-style roll with butter and honey. Since Bubba's hasn't strayed far from its roots over the past 35 years, the kitchen has perfected everything from the gravy to their breakfast biscuits. Always packed, Bubba's churns out the good stuff from 6:30 AM to 10 PM right in the middle of Snider Plaza. This tribute to the long-lost tradition of quality Southern Comfort should be on every foodie's must-go-to spots in the DFW.
High Class ($10+):
Houston's (Hillstone) Secret Menu Chicken Fingers: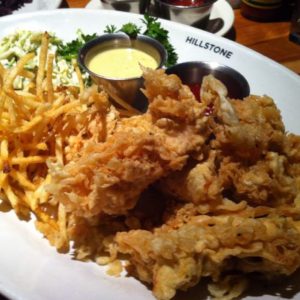 A modern day American delicacy. Marked by secrecy, this highly coveted dish isn't even on the menu – you have to ask the waiter for it (with confidence, I might add). Houston's dish isn't anywhere close to your normal, frozen kids meal tenders. At this high-class eatery, where, on a normal weeknight, there's at least an hour wait, some might say – "what's the big idea? Why can't I just go for the steak?!" To those impatient individuals, I would say – just try it. If you don't like it – I'll pay for the plate ($22). However, I can say with confidence per my many experiences here, the five chicken fingers, fries, and coleslaw are worth it. So what makes it so special?! Well, it's not easy to describe, because there's not a word to describe it by. The batter used to fry the chicken is a homemade concoction that doesn't resemble anything else. It's light and fluffy like tempura, but still crispy enough to get a satisfying crunch. The large amount of breading doesn't take away from the monstrous portion of meat in each tender as well. This combination of weight and fluffiness proves most effective with the barrage of dipping sauces included as well – honey mustard and buttermilk ranch. Even after the long wait in line, the meal must be enjoyed slowly, because, without caution, the entire plate will disappear in a matter of minutes. Both the tenders and especially the fries can be enjoyed at home as well; for best results, reheat them in a toaster oven to revive that distinct crunch-factor. I heard from a Jesuit guy's cousin's girlfriend, who was a hostess at the Preston Center location, that the chefs are sworn to secrecy with their recipe. For the duration of the company's existence, they are legally bound to withhold the precious information.
Pro Tip: Make this meal a big time one with your parents – and if you want to skip the line, try to dress like you're in your twenties and they might give you a seat at the bar. Maybe.
East Hampton "Chicken Jack" Sandwich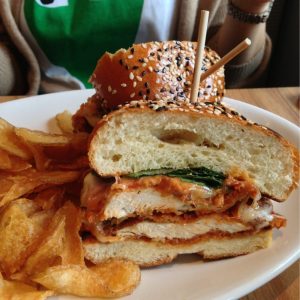 A new face in the Jesuit neighborhood, East Hampton has taken 12345 Inwood by storm. Captivating girls and guys, parents and businessmen alike, the gourmet sandwich eatery have proven itself to stand with the best of them with their profound dedication to quality in both their food and their service. Recommended to me by an affable manager on the day they opened back in March, the Chicken Jack astounded me from the get-go. A simple sandwich, fried chicken breast with pepper jack cheese, bacon, tomato, avocado, and (a delicious) jalapeno cream sauce, combines the best fresh ingredients with the traditional chicken sandwich to create an incredible taste. Rather than the other sandwiches aforementioned, this meal is lighter and more "fresh", which (in my book) translates to healthier as well. Complete with homemade chips, the Chicken Jack has been my go-to at the new Jesuit staple and will remain that until they run out of it.
Street's Fine Chicken Traditional

*This choice has faced some scrutiny in the vetting process, mostly due to the restaurant's relatively new status. However, I'd like to reiterate that these choices are for the Jesuit student population, thus North Dallas is the geographical barrier for such establishments. Not Oak Cliff, not Lakewood, not Plano.*
"Now don't y'all touch that quite yet, it'll burn the taste right off your tongue," warned our waiter at the original Oak Lawn location of the newly-founded Street's Fine Chicken. Blissfully ignoring his advice, my brother, Matthew '19, proceeded to dig right into the eight-piece pile of fried glory. "Ow!" He exclaimed upon merely cracking into the heavenly crispy brown skin, "It's really hot!" "Told you!" Our waiter says as he whizzes by the table, "We make each order fresh, every time!" The man did not lie. The massive drum sat there on Matthew's plate for a solid three minutes steaming. The skin, with its incredibly crispy texture, wasn't overly greasy or soggy at all, while the chicken beneath still maintained a perfectly juicy texture. Each bite into my two pieces continually amazed me. During normal circumstances, two pieces would be just an appetizer for me at Popeye's or Golden Chick or wherever. But at Street's, the pieces are massive. They aren't overly big like a turkey leg either. It's mainly just the density and quality of each piece that leaves you feeling stuffed after only a drum and thigh. Paired with the Gouda and Brie Mac N' Cheese, this meal can commemorate anything from graduation to a straight A report card to getting engaged to a 50th anniversary to just getting through another Monday – it's a meal fit for anytime.
**Street's is coming to Forest/Inwood, right next door to Liberty Burger (since they are started by the same culinary mastermind, Mariel Street).**
The Anomaly: Maple Leaf Diner's Chicken and Waffles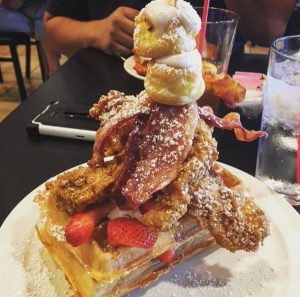 Originally, I wasn't going to include Chicken and Waffles in this classification. But after a heated discussion with Mr. Wester about this dish's impact on American society, I've decided to include the restaurant that does this Southern dish best. An American delicacy, this dish emulates our national diversity with its sweet and salty mixture. It unites the most diverse places: Texas, California, Mississippi with its unmistakable deliciousness. Here's the weird part though, the best chicken and waffles in Dallas are made by a Canadian diner. Canadian. Maple Leaf is, in my honest opinion, one of the most underrated, yet most consistent restaurants in the North Dallas area. With their heaping portions and culturally-accurate friendly staff, this diner is one of the biggest sleeper picks of the century. Now the dish. Their "Chicken, Bacon, and Waffles" item is not only true to its name but it's also the best-selling dish in the entire restaurant. And that's saying something when everything else on the menu is really good too. When brought out to the table, the tower of deliciousness is actually pretty overwhelming. Complete with two cream puffs on top, the plate has a perfect equal balance of fried chicken and Belgian waffles. The chicken tenders are superb for a breakfast establishment, juicy and very thick with a light fried batter on the outside that retains that salty texture. And the waffles (this is where most chicken and waffles dishes fall short) are divine. Light and fluffy, they hold the whipped cream and syrup with ease. However, my favorite part of the whole dish is the cream puffs and strawberries. Adding a bit of a fresh taste, they bring a certain lightness to the normally overbearing meal.
I'll say it once and I'll say it again: Maple Leaf has harnessed this American beast and made it their own, mastering it while improving upon it as well. It is definitely worth the trip over the (metaphorical) border, which is open for breakfast all day long.
The President's Pick:
"I've always liked Chicken Express" – Mr. Earsing, Jesuit Dallas President.
Photo Credit: Yelp.com
Title Credit: Matthew Brewer '17