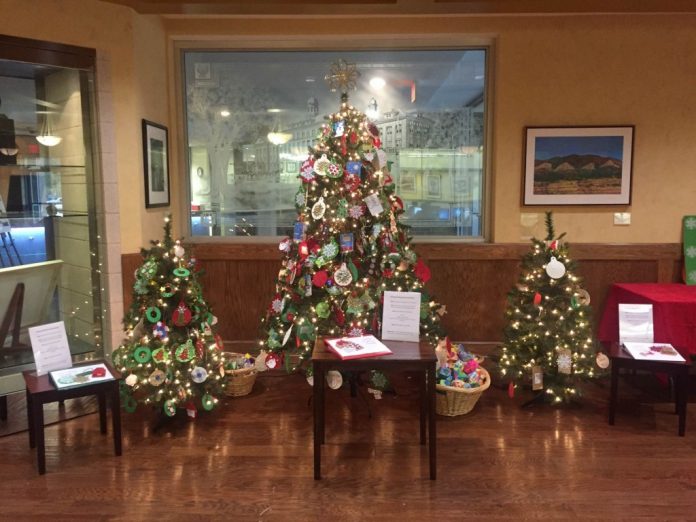 "As we enter the Advent Season, stop by the traditional library to explore the Jesuit Angel Tree Forest. Enjoy a cookie while selecting among the 600 handcrafted ornaments that were designed by the Ignatian Leadership Corps and the Refugee Resources Club."
The Advent Season gives Jesuit students a sense of proximity to one of the most celebrated holidays among the school, of course, Christmas, and also the anticipated jolly days of the winter break. In this season of giving and gifting, an opportunity at Jesuit's traditional library has been presented. As a recurring annual community service opportunity, the Jesuit Angel Tree provides the chance to help families and children less fortunate and in need with a sense of company and care.
Mr. Richard Perry, this year's director of the Jesuit Angel Tree Forest at the library, says that, with the help of the Ignatian Leadership Corps and the Refugee Resources Club, Jesuit is sponsoring refugee families through Catholic Charities, the residents of AIDS Services Housing, and children from the Dallas Advocacy Center. In addition to his commitment to this yearly opportunity, Mr. Perry says that "[he's] met many of the people through the AIDS Services, but the other two don't allow disclosure due to privacy reasons because many of them are families."
Throughout the 10 years that this service opportunity has been continued, Mr. Perry notes that this year "we committed to one hundred more gifts than last year." On account of prior years' number of gifts donated through the Jesuit Angel Tree, he mentions that "last year, five hundred gifts were donated through these services," which include winter gloves, hooded jackets, shoes, and other clothing.
When asked why he thinks Jesuit students choose this service opportunity from others, Mr. Perry enthusiastically replied, "because it makes a direct impact with over 600 people who are in need this Christmas season." Greg Yared '19, from the Ignatian Service Corps, describes this year's service project as "a great project to be part of, specially bringing gifts to children," and further relates his part as "something positive to their lives."
Finally, Mr. Perry would also like to ultimately acknowledge other's contributions to this service project. He further recalls some of the people who helped him organize this year's Jesuit Angel Tree; "I'd like to give credit to the three sophomores from the Ignatian homeroom, and Mr. Riemer," as well as "the Ignatian Leadership Corps and the Refugee Resources Club," he adds.
Make sure to stop by the traditional library and pick up an ornament before donations are due! Make a direct contribution to your community and be a Man for Others with this unique opportunity.