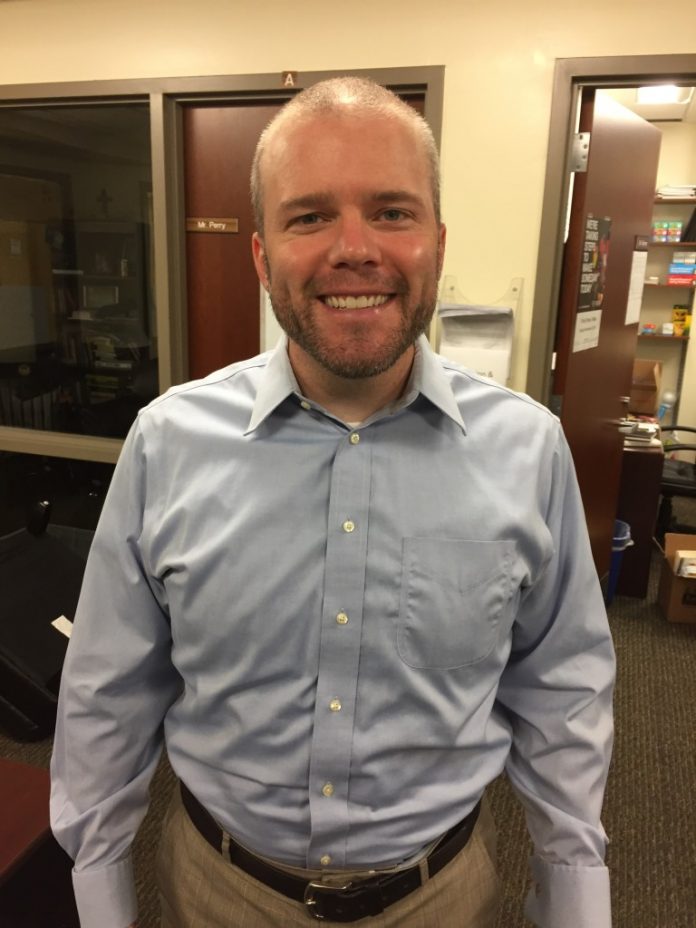 What's the one thing that separates Jesuit from other schools? Is it the iconic wings on Thursdays? Ranger Day? Freshman Khakis? Those are good guesses, but many people would agree that it is service, and this is because it plays a vital part in a student's time at the school. Not only are they encouraged to help the community in any way possible, but they are also required to meet a certain quota of service hours. Many of them spend their weekends and valuable time giving back and continuing the push for social justice across the world. As such, a responsible leader is needed to guide students through this difficult task, providing them the resources to complete their service work. This is where Mr. Michael Riemer enters.
Mr. Riemer has not only been a faculty member at Jesuit for 6 years but a grad as well, graduating in 1996. Currently, he teaches "Intro to Programming" and also plays a big role in the yearbook. Recently, with the departure of Mr. Mattachione, a new position had opened up in the community service department, and Mr. Riemer was up for the challenge, accepting the many responsibilities the job entailed.
The official name of his position is Community Service and Social Justice Program coordinator. Operating from the Campus Ministry offices, he basically runs the logistics of community service work at Jesuit. One of the primary tasks he has is to ensure that all students meet their requirements for graduation. This mainly involves overseeing student's progress as they undergo their 4-year journey and providing various ways for them to go out and serve the community. Summing up his job description, Mr. Riemer stated: "I track where guys are, but also cultivate opportunities so the guys can meet their graduation requirements." In this sense, Mr. Riemer is basically a student's counselor for the Social Justice and Community Service aspect of their Jesuit experience.
To supply students with the most opportunities, Mr. Riemer searches all over the area for organizations that offer volunteer work or places that need all the help they can get. These service jobs range from a variety of areas, but he mostly assigns work dealing with marginalized communities, highlighting the importance of social justice at Jesuit. Detailing the various types of opportunities, he explained that "a lot of our work is in education so we have a lot of guys doing tutoring and mentoring in low-income schools. A lot of kids do really enjoy it. We also work with special needs kids and adults. Additionally, we do a lot of work with refugee ministries or outreach services. Most of the work kids enjoy are relationship-based service. They like spending time with people and goofing around." To him, the most important type of service involves personal connections, service that allows students to truly express their love for the community.
Also, with this job comes many challenges. Finding opportunities definitely proves a difficult task, but one of the most demanding responsibilities he has is recording all the hours for students. Highlighting this detail, Mr. Riemer stated that "it's a lot of information. [There're] lots of numbers, and it can be pretty overwhelming." Additionally, he constantly maintains a busy schedule, dealing with many students throughout the day. Describing this, Mr. Riemer explained that "there are always kids coming into my office trying to sign up for things. There's never a moment where I'm not doing something." The job requires a lot of him, and it can be pretty exhausting.
Despite this, Mr. Riemer finds great joy in his position, and one of his favorite parts of the job is connecting with the students. Sharing this feeling, he stated, "it's a lot of fun interacting with students. There's a lot of kids that I have never met before or interacted with. It's kinda cool because I meet kids everyday that I've never even talked to." Just like his belief that connecting with people provides the best service work, he also enjoys developing relationships with the people that he helps too, and this opinion is shared by many students in the community. Mirroring this sentiment, Andrew Thresher '17 stated "Mr. Riemer is one of my favorite teachers at Jesuit. He's a very open and fun guy, and I love spending time chatting with him in his office. He connects with the community so well." Additionally, Bill Cox '17 stated that "Mr. Riemer is one of those guys that you feel like you can talk about anything with. From the start of freshman year, I found myself hanging out in his office talking about an array of topics."
Finally, through all the work he does in this position, he strives to achieve one main goal, conveyed through his statement about the purpose of the community service and social justice program; "The bottom line we want for students is for them to leave here with a sense that one of their primary obligations in life is to do all that they can to serve and care for the people around them. We want them to try to use their intellect and their skills and their knowledge to the benefit of the community and the people around them, particularly those in need. I think often times we get this notion that we're here at Jesuit to get this great education so we can go to a great college and then have a great career. That's not a bad thing, but if one does that and their main priority is not to help people, then we haven't done our job. We want to help kids see that life and career and success have really nothing to do with themselves. It's all about how they can use that to help other people." This edifying proclamation perfectly emulates the purpose of a Jesuit education, and it proves that Mr. Riemer is more than fit for his community service position.
Overall, Mr. Riemer coordinates and records all service work for students at Jesuit, and if a student is ever looking to find volunteer opportunities, a friendly face to talk to, or even someone who can tell you what community service is all about, he's the guy to go to.