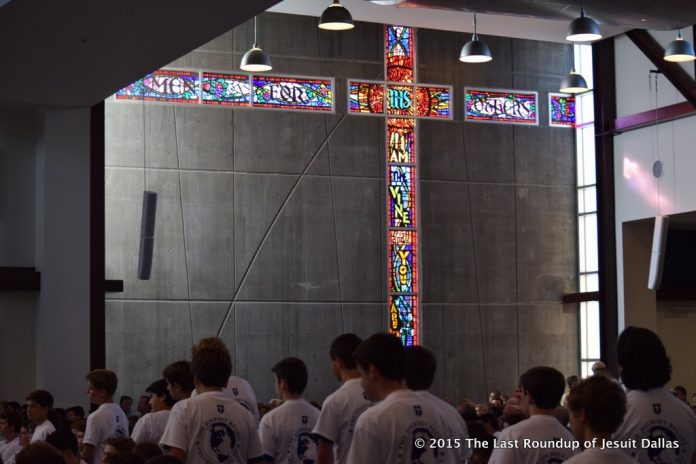 Dallas Cowboys quarterback Dak Prescott, the center of the camera shot, rests quietly on the otherwise chaotic sideline sipping a cup of ice-water. He finishes his water, looks over his shoulder, and flips his paper cup towards the trashcan, only to miss. Unaware that he is the focus of the main TV camera, Prescott immediately walks over to the trashcan, picks up his trash and places it in the bin before returning to the heat of the game.
This small righteous act of the new quarterback picking up his trash immediately caused the video clip too soon go viral. Dak's "Gatorade-cup" incident was the first example of making ethical choices in the real world used by Mrs. Stell, the Executive Director of The Shelton School, and organizer of the annual Shelton Ethics Symposium.
On Wednesday, February 22 ten ambitious students from Jesuit's 24/7 sophomore leadership and peer mentoring club represented Jesuit at the 17th Annual Ethics Symposium at the June Shelton School in Richardson, Texas, along with thirty other student leaders from the DFW area. The mission statement of the symposium, as written by Executive Director Suzanne Stell was to "further explore the importance of ethics in everyday living." This goal of heightening the students' awareness of the importance of daily ethics was present in a set of insightful guest speakers of varying profession and collaborative group activities.
"My objective is to take a group of kids who have said they are interested in leadership type experiences, like 24/7, and offer them another voice. Somebody who's going to talk about moral choices that they make as adults. Hopefully put into reference of the teenage life" said Leader of the 24/7 club and sophomore councillor, Mr. David Williams.
First, the students were split into interschool table groups and participated in a myriad of decision-making activities. Each activity centered around how to respond ethically to a unique scenario. In these scenarios, the students were subjected to choosing between two "correct" solutions, making it increasingly difficult to decipher which resolution is more ethical.
"We learned about the importance of making tough decisions despite what people may think of you," said attendee Andres Quevedo.
For example, the students were put in the shoes of a commercial airline pilot who mid-flight receives information that a passenger onboard is suffering from a heart attack. The pilot, wanting to save the man's life, calls the radio control tower to request access to land but is told the runway conditions are simply too dangerous. Should the pilot land in the risky conditions to attempt to save the man's life? Or does the pilot continue his flight to ensure the safety of the others onboard?
Precarious situations similar to the pilot's dilemma were utilized to spark student's thinking about the challenges of making ethical choices, including the repercussions of each choice one makes. Nicholas Bertulfo, a Jesuit 24/7 member noted that "the Ethics Symposium helped me learn about myself and my moral code."
Then, student groups listened to occupational organized lectures on the "Real World Ethics Panel," spending fifteen minutes listening to lectures via the guest speakers pertaining to the importance of ethics in their profession. Ethical situations and problems were addressed in four fields: Business/Law, Media, Religion, and Education.
Each speaker was tasked with explaining their current occupation and past experience, how ethical issues play a critical role in their field, and how they have personally have been confronted with ethical decisions. "The symposium opened my eyes to the various ethical problems that exist in various aspects of our life, including education, law, and religion," said sophomore Jorge Lopez.
When asked about his favorite panel of speakers Mr. Williams said, "the conversation about religion" was his favorite. "There were three different faiths represented," Mr. Williams explained. "There were clear differences but it was just an abundance of respect. I think it was a really good modeling example for our guys."
Ultimately, Mr. Williams thought the largest take away from the Ethics Symposium was "this idea of moral fitness, that it has to be practiced over and over again. It's about practicing everyday, making decisions– those small ones lead to big ones later in life." Upon returning, the members of 24/7 arrived to Jesuit with new insights on how to live more ethical lives and how to incorporate the skills they have learned to better be Men for Others.