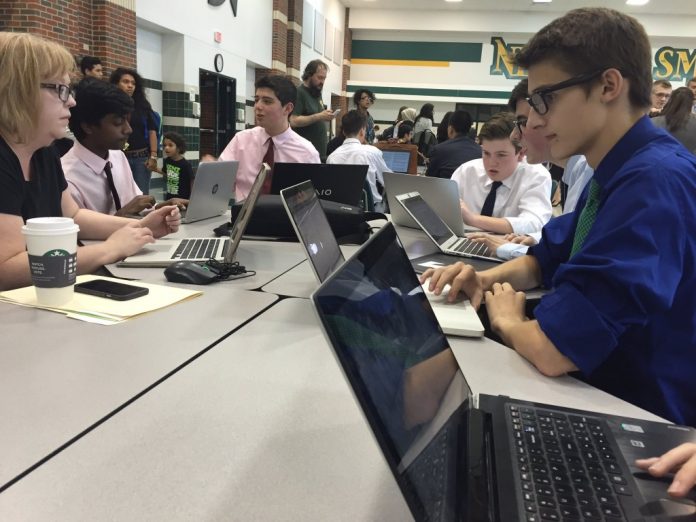 Over 800 miles. Over 200 of the best debate teams in the entire country. This was the biggest competition of the entire fall semester.
On the weekend of November 19th, three pairs of Rangers traveled to the cold city of Chicago for the Glenbrooks Invitational, Jesuit's largest debate tournament of the semester, and all three came away with winning records. The pair of Seniors Beomhak Lee and Alandro Valdez made it to the elimination rounds, an impressive feat that only thirty-two teams achieve. As for seniors Jake LoRocco and Emmanuel Ruiz, they missed the elimination rounds by only about .6 of a speaker point, but both were extremely strong even against the stiffest competition in America.
Finishing the prelims 5-2, Lee and Valdez lost to the team that would go on to win the entire tournament in the first elimination round. Lee said that "Personally, the most memorable moment of this tournament was Round 7. It was the break round where if we had lost that round we would not have cleared to the elimination round… I was very nervous to face this very competitive team from Westwood high school from Austin. Winning that debate was a moment of beauty."
LoRocco and Ruiz likewise went 5-2 in the prelims before being narrowly edged out of the elimination rounds. They still secured a top forty seed, however. Additionally, the pair of Jack Moore '19 and Zach Watts '17 posted a 4-3 record in the prelims but could not make it to the elimination rounds.
Coach Dan Lingel feels very happy after the tournament: "We were excited in one way that we clearly have two teams in the top forty in the country, but we were a little disappointed that both of them didn't make it."
Echoing that positivity, Lee remembered the positive aspects of the tournament. "Given the size and the competitiveness of the tournament, I was very nervous before the start of the tournament. However, even after our loss in Round 1, we managed to come back strong from the back and managed to clear with the record of 5-2. I am very proud of the performance because of that," he said. He spoke on how he will still work on improving and getting even stronger.
Lingel looks forward optimistically after seeing how "November solidified that our seniors, in particular, are very, very good both locally and nationally. There's a lot of state points to be had for the other teams."
Stay tuned to see just how the Ranger debaters progress on their quest for the state tournament.