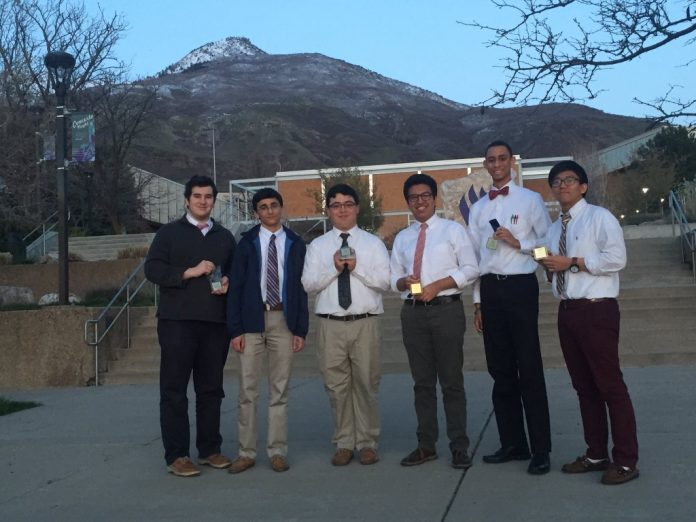 Two teams of debaters stand across from each other, preparing arguments and possible counter-arguments for their opponents' position. A judge presides close by with sheets of paper in front of him, waiting to take notes on each team's performance. One team offers their position on a controversial topic, citing evidence and presenting conclusions based on facts. The other team then rebuttals the opposing team's argument, providing their own evidence with new conclusions. That exchange occurs for an allotted time, until finally, after reviewing each team's statements, the judge presents a verdict on who won the contest.
This scene displays the process of a high school debate, and every year, many tournaments are held that exhibit hundreds of these matches which pit one school against another. The Jesuit freshman and varsity debate teams compete in many of these competitions each year, and both groups ended their seasons this April.
The Jesuit varsity debate team participated in the National Debate Coaches Association (NDCA) National Championship, which was held from April 7-10 at Weber State University in Ogden and hosted 85 teams from 15 states. In this tournament, the team of Jack LoRocco '17 and Jack Moore '19, the team of Beomhak Lee '17 and Alandro Valdez '17, and the team of Zachary Watts '17 and Emmanuel Ruiz '17 finished among the top 20 teams in the country.
Each team had a 4-2 record coming out of the preliminary rounds, and they all made it to the elimination stage. Unfortunately, they all lost in the first round of elimination on difficult 2-1 decisions, ending their run in the championship. In the end, Jesuit received team honors, and Ruiz and LoRocco were both ranked amongst the 170 competitors, 18th, and 26th respectively.
After the tournament, two of the debaters as well as their coach, Dr. Lingel, offered thoughts on the debate season. Commenting on the 2017 year, senior Beomhak Lee '17 gave his personal account of the preparation and work he needed to succeed; "The season, for me, was a question of consistency. I personally established a goal to become a successful nationally competitive debater. With such an ambitious goal, obviously consistency of my debate commitment needed to be there."
Further, he expanded on his aspiration for the team and himself, stating, "I think my satisfaction will never be quenched unless I win some sort of championship or something. Don't get me wrong, my and the team's accomplishment have been phenomenal. But one can always strive for more."
In addition to the season, sophomore Jack Moore '19 articulated his personal experience in the April tournament, "I've debated at many national tournaments this year with my partner Zach Watts. What was different about the NDCA was that it was only my second tournament debating with Jake LoRocco so we were still trying to get in the rhythm of a good partnership and master that partner dynamic."
He then offered his thoughts on the results, commenting, "It was a little sad that the seniors, who are all fantastic debaters, didn't get to make it farther in the tournament, but clearing at this tournament is extremely difficult so each of the three teams really did accomplish a lot."
Finally, giving his opinion on the team's outing, Varsity coach Dan Lingel shared that "we were a little disappointed, and thought that [we] could do better. However, he ended on a high note, stating that "it was pretty exciting having three teams place top 20 in the country. There are a lot of schools who wished they could be in our position."
Also, since the season has come to an end, students shared the role of debate in their lives, as well as their goals for the next year. Explaining the profound impact that the varsity sport had on him, Boemhak Lee '17 shared that "debate changed my fundamental beliefs and paradigm of the world. It carved me into a more critically thinking person, a more intelligent one, and most importantly, a person who cares about the world as everything we discuss in debate relates to the problems in the real world. Despite how I couldn't even speak English well given that I immigrated to U.S. during 6th grade, debate challenged me to push forward and step outside of my comfort zones." According to this student, debate changed his life for the better, playing a crucial role in his Jesuit experience.
Reflecting his affinity for the sport, James Moore '19 shared his thoughts on the future: "It makes me excited that I get to debate for two more years and hopefully have similar or better competitive success."
Alongside varsity's participation in the NDCA National Championship, the freshman team engaged in the St. Marks Round-Up Invitational. This was a unique tournament with 30 teams from California, Florida, Georgia, Illinois, Oklahoma, Coppell, Denton, Austin, and Waco competing in a four-pod round robin with two judges deciding each preliminary round. Two freshman teams represented Jesuit at this competition, and their efforts produced a combined 30-4 ballot count.
In a historic event for Jesuit, one of the teams, consisting of Max Arroyo '20 and Adam Hall '20, won the competition, a first for Jesuit in competitive debate. In addition to this astounding victory, the individual debaters were also placed among the top ten speakers, Hall ranking 7th and Arroyo earning 5th among 60 debaters. Finally, an interesting part of this tournament is that seniors are allowed to serve as judges, and many Jesuit seniors took on this responsibility, presiding over six debates as well as helping the freshman on their own.
Sharing his thoughts on the two freshman team's performances, Mr. Lingel stated, "It's pretty remarkable. It's one of those tournaments coaching wise that I was really proud of." He then praised the senior judges from Jesuit, commenting "They were unbelievable. It was very Jesuit-like, big brothers helping little brothers."
Ultimately, in the month of May, both the freshman and varsity debate teams finished their seasons with stellar performances. The freshmen made history for Jesuit with their first place ranking in the St. Marks Invitational, and the varsity, while not achieving their full goal, placed three teams in the top 20 of the nation, a first for Mr. Lingel in all his years coaching at the school.
With the successes of a great varsity team, which includes seniors who offer great teaching as mentors, and the potential exhibited by the freshman in their final performance, Jesuit looks forward to a promising 2018 season.