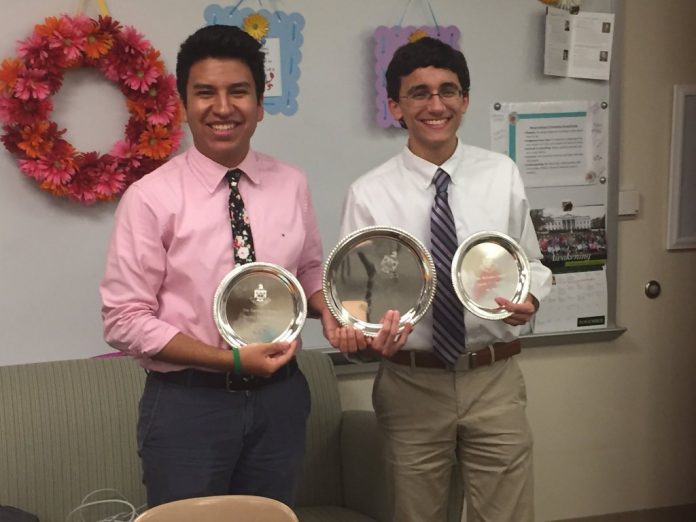 As the saying goes, when the going gets tough, the tough get going. Jesuit debate is no exception. With cunning counterplans and ready rebuttals, the Rangers have been dominating in the month of November.
Jesuit students debated as far away as Los Angeles and as close as Hockaday this month, and their efforts yielded win after win. Two senior teams won on the national stage in California, and the team as a whole crushed the local competition at Hockaday.
Notre Dame High School/USC Invitational
From November 5th to the 7th, Jesuit debaters competed in Los Angeles. Even in the less familiar environment, they exceled against some of the stiffest competition in America as the tournament drew more than 100 teams from 15 states from every corner of the country.
Both of the senior pairs that attended placed: Jake LoRocco and Emmanuel Ruiz got 3rd and Beomhak Lee and Alandro Valdez 17th. LoRocco and Ruiz managed to end the prelims with five wins and only one loss. After moving onto the elimination part of the tournament, they won against Rowland Hall St. Mark's School (UT), Head Royce School (Oakland, CA), and San Dieguito Academy. Having reached the semifinals, they faced Liberal Arts and Science High School (Austin, TX) but lost.
Lee and Valdez's 4-2 preliminary record also catapulted them to the elimination rounds. Yet, they were bested by St. Vincent de Paul School (CA) in their first match. This performance by Jesuit debate is the best since current History teacher John Hill and his partner finished 5th in 2008
Coach Dan Lingel spoke on why debate goes to these sorts of tournaments: "We also try to go to tournaments where we can 'double-dip'…and get the guys some college visits or some contact with college people." In addition, he spoke on how the Los Angeles area is one of four main debate "hubs" in the country that attract the best of the best. Luckily, our metroplex is a hub as well.
Hockaday Invitational
The next week, from November 12th to the 13th, a host of debaters—Jesuit's largest single entry in a tournament this fall—visited The Hockaday School for the Hockaday Invitational. Mr. Lingel called this the most competitive local tournament in the fall. "We always use it as a measure to see how we're stacking up against other teams in the city," he explained.
Here, LoRocco and Ruiz finished in 1st, undefeated. This win gave them enough points, fourteen of the requisite twelve, to qualify for the state tournament in March. Ruiz also won 3rd best individual speaker, and LoRocco won 4th.
This tournament saw a remarkably large amount of Rangers debating: twenty four students in total. Five other varsity teams, more than any other school, made it to the elimination rounds: Lee and Valdez, Zach Watts '17 and Jack Moore '19, Ethan Jackson '19 and Chris Tran '19, Jack Madden '19 and Pete Weigman '19, and Logan Kim '19 and Nico Wilson '19.
In what Lingel called a "moment of Ranger carnage," these pairs all lost their first elimination matches, many on 2-1 decisions. Lee, Weigman, and Tran all won 6th, 9th, and 13th individual speaker awards, respectively.
Valdez had both positive and negative feelings about the performance: "For me, I most enjoyed being at Hockaday with such a large contingent from the debate team. That was the most teams at one tournament all at the same time that I had ever seen throughout my Jesuit debate career. Having that many Rangers on the campus at the same time, all fighting together, was exciting." He continued, "I least enjoyed our pre-mature loss in the octo-finals. That being said, our finish was still respectable and I much rather lose in the elimination round than in the prelims." He was proud that he and Beomhak Lee were able to recover from a first round loss in preliminary competition.
Jesuit debate's novices were able to compete for the first time at this tournament. The three freshman teams were Javier Arroyo and Garret Nagorzanski, who won 5th place; Jacob Clarkson and Marshall Mann; and Thomas Cluck and Marcus Charalambopoulos. Two, Arroyo and Cluck, won speaker awards. Arroyo earned 6th, and Cluck earned 7th.
Debaters are excited moving forward as the state tournament looms ever closer. "I think that this particular tournament also helped us to see a glimpse of what the state tournament will look like in March, helping us to orientate ourselves towards our long term goals," said Alandro Valdez.
Dan Lingel concluded that debate has "had a fun November." Indeed, they stacked up well against the best teams in the nation, one pair even qualified for state, and freshmen are getting valuable experience. Only time will tell which pairs make it to the state meet.