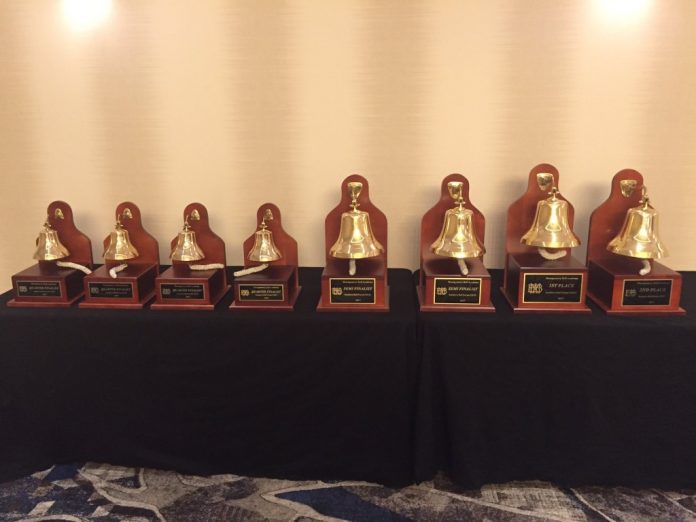 You don't need to attend a debate tournament to see that it's one of the most difficult activities at Jesuit. It requires hours of preparation, a quick mind, and some serious note-taking skills. That is what makes Jesuit Debate's continued success so impressive.
The debate team welcomed 2017 by traveling first to Montgomery Bell Academy in Nashville, Tennessee, and later to Coppell, Denton Guyer, and Richardson High Schools.
Montgomery Bell
The pairs of seniors Jake LoRocco and Emmanuel Ruiz as well as Beomhak Lee and Alandro Valdez shined at the nationally competitive Montgomery Bell tournament, finishing ninth and eighteenth overall, respectively. Coach Dan Lingel called Montgomery Bell "the Wimbledon of high school debate," so the team's performance is remarkable, Jesuit's best performance since 2011.
LoRocco and Ruiz came out of the prelims with four wins and only two losses to debate teams from Peninsula California, University School of Nashville, Bellarmine Prep (CA), and Greenhill, securing the twelfth seed going into the elimination round. Unfortunately, they lost to Glenbrook North (IL) in their next match, finishing ninth.
Winning against pairs from Wayzata Minnesota, University of Chicago Lab School, and Niles West Illinois, Lee and Valdez were given the eighteenth seed, but were unfortunately kept out of the elimination round, which only accepts the top sixteen.
Coppell
Jesuit earned three more top ten finishes at the Coppell tournament, in which three teams tied for fifth. Jack Moore '19 and Zach Watts '17, Jack Griffiths 19 and Riler Holcombe '19, and Ashik Amar '19 and Gio Ferrer-Falto '19 each earned two state qualifying points with their performance.
Going up against seventeen other teams from the Dallas-Fort Worth area, the three teams all had two wins and one loss. Coincidentally, pairs from Greenhill beat all three Jesuit pairs in the quarterfinals.
Denton Guyer
Jesuit dominated at Denton Guyer, where forty teams from North Texas competed on the weekend of January 14th. Varsity had four top ten finishes and another team qualify for state, and the Jesuit novices closed out (finished in first and second).
Lee and Alandro Valdez finished in fifth, at long last qualifying for state. They are Jesuit's second team to do so. Also, Amar and Ferrer-Falto earned fifth place, and Greg Miller '18 and Greg Tan '17 tied with Logan Kim '19 and Nico Wilson '19 for ninth.
The novices had a great showing, too. Freshmen Javier Arroyo and Garrett Nagorzanski finished in first, and Thomas Cluck and Adam Hall finished second. This was the first time that these freshmen won and closed out a tournament this season.
Richardson
On Saturday, January 21st the debate team was able to qualify an incredible three more teams to state, making for five Jesuit pairs going to the spring state tournament. "[This] puts us in a category with two really huge public schools down in Austin," said Mr. Lingel.
"When your a small private school like us and you're putting up those kinds of numbers, it's kind of a sign of your depth." Watts and Moore, Miller and Tan, and sohpomores John Madden and Pete Weigman are the newest Rangers going to state after their performance at Richardson. There are a few more teams close to qualifying, so there is time to qualify them and "make some history," according to Lingel.
Return to The Roundup to follow Jesuit Debate's continuing season!