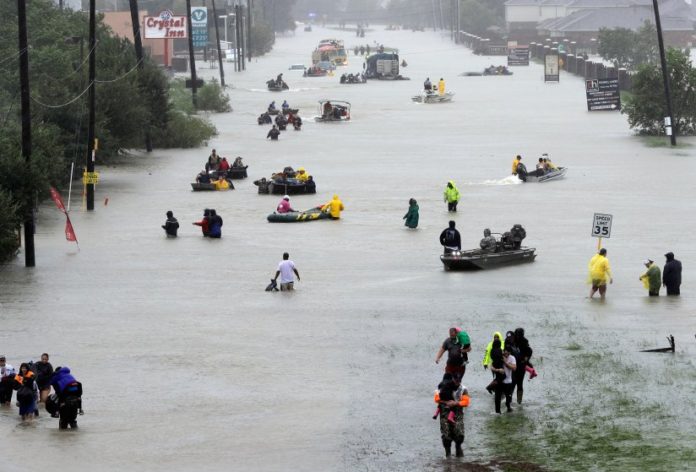 The devastating flooding suffered by Houston this week has been impossible to ignore. Every day, more and more gut-wrenching images of entire neighborhoods submerged in water and families fleeing their homes appear on the news. Hurricane Harvey has killed over 30 people, and that number is likely to rise if the flooding doesn't subside.
All of this is unfolding just over 200 miles away from Dallas, and our city is beginning to see some of the storm's effects, too. Many displaced Houston residents have already made it here to shelters around the city, and gas shortages have been reported due to the volume of people traveling north.
The Jesuit community in particular has many ties to Houston: relatives and friends and fellow Jesuit schools, Strake and Cristo Rey, have all been hurt by Hurricane Harvey. Jesuit Dallas is already in the process of coordinating a response to the storm.
Jesuit's close ties to the area make the tragedy personal for many on campus, especially those with family members that have been put in danger. Senior Jack Barone said that the first floor of his relatives' house in Houston has been flooded: "We're keeping them in our prayers."
Similarly, Silas Hartman '20 has been worried about his aunt and uncle. "I feel bad for [them]," he said. "They moved in less than a year ago…and today were forced evacuate."
Matthew Vincent '20 also has an uncle in Houston who is ninety years old: "He lives in a high rise, and recently he was trapped on the 24th story of the high rise with no electricity. The flooding isn't too bad where he lives, but other facilities are down which makes life difficult for him in his old age."
Having grown up in Houston, a family friend of Reed Zimmermann '19 elaborated on the difficult situation the city has faced due to Harvey. She spoke about the city's controversial decision to not issue an evacuation order: "What's important to note is that a mandatory evacuation for a city like Houston is not only impossible but also harmful… I-45 was completely inundated within 8 hours. Had a mandatory evacuation been invoked, [evacuees] would have most likely been flooded in traffic along with millions of others.  Mayor Turner saved thousands of lives by not calling for a mandatory evacuation."
Her parents still live in Houston and are safe, but it pains her to see the damage being done down there. "It's so hard not being there, and it's so hard seeing so much of my community completely destroyed. There's a sense of survivor's guilt. There's a constant feeling of wanting to do more, but not knowing what to do." She continued, "I want to stay connected, but it hurts to see my city so devastated and to be so far away."
But Jesuit students are not the only ones tied to the devastation in Houston. Faculty members like Theology teacher Matt DuRoss '05 have family members that have been affected. His brother in fact works at Strake Jesuit and is part of the effort to evaluate the needs of those in the school and in the city for relief.
Mr. DuRoss spoke about what goes into coordinating a response to such a devastating storm in such a large and complicated city. "An immediate concern will be finding housing for all the displaced families," he said. "Those lucky enough to have not lost their homes have still been met with difficulty and frustration. The roads were impassable in many places, and grocery stores were not able to be restocked. Many families were not able to leave their homes for almost five days."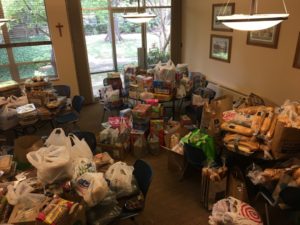 As for what Jesuit Dallas will do to help Strake, Cristo Rey, and all of Houston, the school released a statement, saying in part, "We know that many in our community are eager to assist. As we receive the specific requests from these agencies [the Jesuit Central and Southern Province, our brother schools in Houston and New Orleans, and the City of Dallas Emergency Management Department], we will make their needs known and invite you to join us in the relief effort."
Jesuit has already committed to bringing meals to displaced families currently taking shelter in Walnut Hill Recreation Center. A request for meals sent out this week in the Jesuit Today newsletter was filled well within an hour. The Community Service department has said that another request will be sent out at some point in the coming weeks. Jesuit is also storing hundreds of blankets for the shelter until it is ready for them to be delivered next week.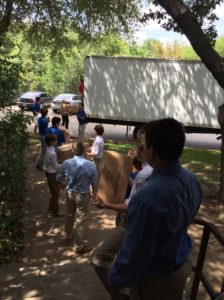 While talking to the senior class this Wednesday, Community Service Director Richard Perry emphasized the importance of a "concerted" effort. This echoes the idea of assessing the needs of relief organizations and specifically meeting those needs.
Houston needs our help. "Strake has been closed all week and they had to cancel things like their first home football game of the season and the Mass of the Holy Spirit. It will be a long time before the people of Houston experience anything resembling their normal routine," said Mr. DuRoss.
However, he ended on a hopeful note: "I know our students and families will go above and beyond to help the people of Houston. Please pray especially for our brothers and sisters at Strake and Cristo Rey Jesuit."