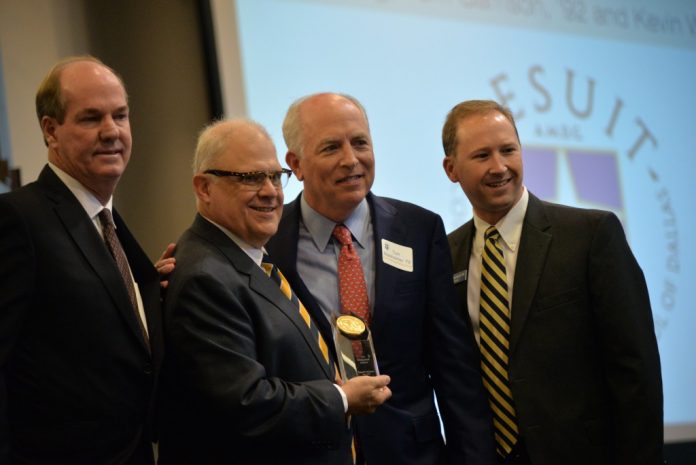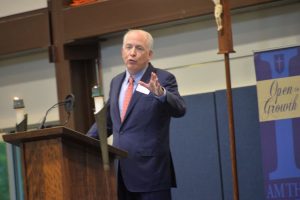 Now one of the most "sought after Trial Lawyers in the country," freshman Tom Melsheimer, marked by a stutter and incessant perseverance,  began his Jesuit career with a dream to play college basketball. So how does this seemingly impossible equation produce one of the most decorated trial lawyers of today? Melsheimer not only met these obstacles, but improbably, soared to new heights.
Thomas M. Melsheimer's '79 integration of the Profile of the Graduate at Graduation into his eminent legal career earned him recognition on Thursday, November 4th as Jesuit's Distinguished Alumnus of 2016.
A graduate of the class of 1979, Melsheimer attended the University of Notre Dame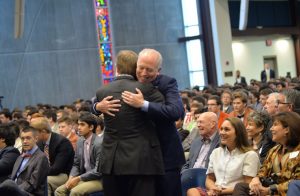 and went on to graduate magnum cum laude three years later at The University of Texas School of Law in 1986. From there, he worked for the Texas Law Review, a student-run law review within The University of Texas at Austin, and was selected to Chancellors, the most prestigious honor society in the UT School of Law. Melsheimer also served as legal clerk for Honorable Homer Thornberry immediately after law school. Thenceforth, Melsheimer has remained at the forefront of his field, representing high-profile companies and individuals such as Mark Cuban, Texas Instruments, and Bank of America; he serves as Principal of Fish and Richardson.
Aside from his prominent legal career, Melsheimer has generously given time, talent, and treasure back to his alma mater. He has served on the Jesuit Dallas Foundation Board of Trustees as well as the legal committee and advisory board. In 1999, he also founded the Albert H. Melsheimer Memorial Scholarship that provides need-based financial aid to students currently attending Jesuit. His devotion of time, talent, and treasure shows Melsheimer's tenacious dedication to those things important to him.
His full biography can be accessed here.
The introduction at the start of the Prayer Service was by Jerry Fowler '79, a Distinguished Alumnus himself (2008) and classmate of Melsheimer's. "I can talk for hours about Tom,"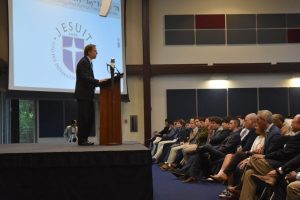 Fowler began, "and it's a funny coincidence that Tom can also talk for hours about Tom."
These playful quips displayed the bond between the two, who joked and laughed just as they would as high school freshmen in 1974. Melsheimer explained after the ceremony, "I think that you're making some of your best friends for life [at Jesuit]." Their relationship forged within the walls of Jesuit, Fowler expounded on his friendship with Melsheimer: "Through that whole time, I looked upon Tom as kind of an older brother."
However, no compliment would be complete without teasing his old friend, since "[Tom's] always been a little bit taller than me, always been a little funnier than me, always been a little better looking than me, or he was until all his hair fell out." Fowler concluded on a more serious note, assuring the audience that  "If I had to trust my life or, more importantly, the lives of my children to any one person, it would be to Tom." This core value, though flanked by playful jabs authored by Melsheimer's classmate and friend, concluded Fowler's introduction and welcomed the Distinguished Alumnus to the stage in front of 1,200+ audience members.
Thanking the Alumni Association and his classmate for his "complex introduction" to the sound of scattered laughter, Melsheimer humbly stated that he "[views himself] as an improbable recipient of this honor." Noting current rarities in the world, he began his address by talking about his "improbable career at Jesuit." Initially seeking glory as a college basketball player or track star, Melsheimer recounted that he was subsequently cut from the basketball squad and that "[track] took a bad turn too…"
"…after the first two weeks of practice when the coach turned to me and asked, 'tom, are you trying out for the team, or are you just here for the exercise?'"
Melsheimer soon found himself on the debate team, where he encountered yet another improbability: "When I was in school, I stuttered. It was hard for me to get the words out, it was scary to talk in front of people." Seemingly incongruent to the debate team, Melsheimer's pursuit of the legal field hadn't yet started, for he "was convinced I wanted to be a school teacher. In fact, I wanted to be a school teacher and come back and teach at Jesuit."
"For me to be a debater was like being a swimmer who's afraid of the water, an acrobat who's afraid of heights. Yet, somehow, I did it. Even if I wasn't as good as Jay Fowler, I was good enough."
However, Melsheimer's most improbable achievement was not overcoming his own stutter. "By far the most improbable thing I did at Jesuit was in some ways the most typical and the most important thing: I met a girl," drawing laughter once again from the student body. Melsheimer and his wife, Miki, met "about this time 38 years ago" and accompanied each other to "homecoming…[and] to prom," not knowing that they would celebrate their 33rd wedding anniversary in July of this year.
Devoted to his wife, their three kids (two of them alumni of Jesuit), and Jesuit itself, Melsheimer contended that "each of you has something unlikely or improbable about you being here." He explained that "most of  the world's population has no chance to go a school like this, or even close to it. In the world population, only one percent graduate from college. Yet each of you is at a school with 'college prep' in the name… If this room were the population of the world, twelve of you would go to college and graduate… Each of you, however improbable, is privileged and lucky to be here."
Principal Tom Garrison echoed this statement, since "nobody here deserves to be here. But we're all here because God has put us here… If we value this place, if we think it's a wonderful place, if we believe in the mission, we should all be grateful."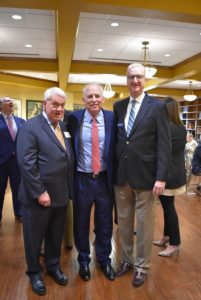 This inspiring message to future college graduates and crucial leaders in their respective fields brought Melsheimer to his career as a trial lawyer. "My dad could not stand lawyers. The last thing he wanted was for me to be a lawyer." Retelling the old joke of "if God and Satan got into a lawsuit," Melsheimer described the opposition not only in his father but also in himself, for "he wanted to be an English professor" while at Notre Dame.
From his current position as a lawyer now, Melsheimer acknowledged that "a lot" of lawyer jokes are "based on the idea that lawyers are unprincipled, that they just do anything for money, that they make any argument for money, and there's a certain truth to that. If you get hired in a case, one side or the other, you're gonna be making different arguments. If people really understand the role of the advocate, the role of the lawyer in our justice system, it's really not something that people would find offensive or joke about."
Since it seemed that the path towards legal prowess was unlikely at that point in his life, the Distinguished Alumnus assured the audience with the old adage of "If you want to make God laugh, tell him your plans." To strengthen his point, Melsheimer conceded that "there is some certainty in the rest of your day, what classes you will go to, what time you finish, what time you go home…but everything else is going to unfold in improbable ways."
"Make plans, but God will laugh. Don't be afraid of that, and don't be afraid to laugh along."
To conclude his address, Melsheimer stressed how "a 500-year-old Jesuit education is the best thing to happen to the internet," a seemingly improbable relationship. "To me, the fundamental and perhaps improbable takeaway from my time at Jesuit is that it's possible, by using your mind, your intelligence, to separate fact from fiction, to separate sense from nonsense," he said.
Following the ceremony, Melsheimer shared that "Catholic higher education has always been about…not [compromising] reason because we're faith-based. That's the message for this school and that's the message for really good Catholic schools all over the country." Speaking of the balance between the religious and intellectual aspects of Jesuit, seemingly at odds, he said, "I think a lot of these prayer services at Jesuit focus on faith and theology, and that's obviously a key mission and important point of the school. I don't want people to forget that there's an intellectual component here, and you really are learning how to tell sense from nonsense, and that is consistent with being a Catholic school… That is seemingly improbable because you think of a Christian school and the main driver of it is the theology of it, but I think the intellectual component is just as important."
Patent law, often pitting small parties against larger corporations, is unexpectedly Melsheimer's expertise; he's taken seemingly insurmountable cases and claimed victory in high profile situations. His most captivating legal feat, however, came in a truly improbable fashion: a whistle-blower case against Johnson & Johnson, which highlights the seasoned attorney's commitment to social justice, an ideal he learned while at Jesuit. Specifically, Melsheimer argued against "the marketing of an anti-psychotic drug that ended up hurting a lot of people. That was something where really a fight for exposing the truth, a fight for remediating a problem [appeared]… It was a very long case, went on for many, many years, and that's the kind of thing that you can really feel good about after it's over."
After speaking about his aspirations of teaching, Melsheimer did reference Mr. David Oglesby as someone who "really sticks out for me." He remembered that "he was an English teacher at the time, and he was almost a mythic figure, especially when I came in as a freshman because he was sort of unapproachable," Oglesby having a "legendary background since he was a medic in Vietnam. I was privileged enough to have him for class, get to know him, and stay in touch after I graduated."
Regarding his perceptions of this year's address to the student body, Garrison noted that "[Melsheimer] thinks about things deeply. I listen when he talks because he's got a very intelligent view of things… What I saw that Thursday morning was everybody listening, everybody paying attention to a very good message. It's one thing to have a good message, but it's another to be able to deliver it."
The selection process is no easy task for the Alumni Board. However, despite his "improbable" selection, "Mr. Melsheimer rose to the top of that list of being a real powerful force for good in the city of Dallas and what he does working for Fish and Richardson," according to President Mike Earsing. "He's very kind to the school, very generous…[he's] served on our foundation board, and I have a special place in my heart for him because he was one of my students." Speaking on Melsheimer's humility and generosity, Garrison has noticed that "these men, who I've seen receive this award in years past, generally are huge players in their field, they're a big deal. But they're very understated and they don't draw attention to that fact… They have not sought to be known for their philanthropy. I mean, these are very generous people."
"Each one of the students in that room [the Terry Center] is bound for some kind of greatness. And there's no telling what it will be," Garrison stated.
One might perceive the nature of the improbable as congruent with Jesuit teaching, though not explicit. President Earsing believes that the implicit teaching ties into the Jesuit Profile: "To make the improbable possible, you have to be doing a lot of the things we talk about on the profile… I think the world is full of improbabilities like [Melsheimer] said." Citing his own experience at Jesuit, Earsing noted that he was a Chemistry and World History teacher.
"That's a pretty improbable combination, isn't it? How could I know that to teach that? How could I get hired at a Jesuit school? I moved from New York, from Buffalo. And I teach Chemistry and History?" The first lay president of Jesuit and the only lay president in the Southern Province, president mike earsing sees improbability in his own life and graduates of Jesuit Dallas alike.
These lessons of perseverance, generosity, and social justice learned at Jesuit propelled Melsheimer not only to the 50th floor of the Comerica Bank Tower in Downtown Dallas but to the esteemed honor of being an embodiment of Jesuit Dallas' values.
The 'improbable' is never as it seems. Let Mr. Melsheimer's example remind you that, regardless of what field, trajectory, or situation you find yourself in, the improbable is conquerable.