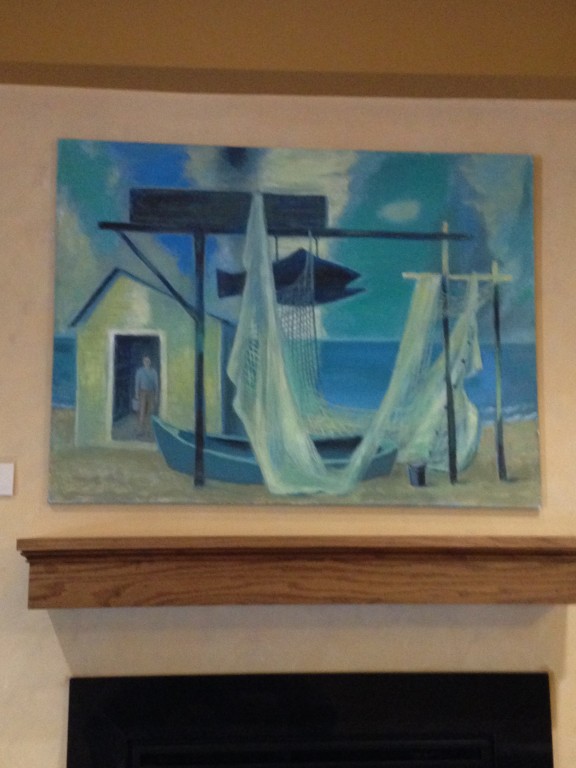 Every day, Jesuit's halls combine two unlikely things: artistic masterpieces and teenage boys. Everywhere you turn in the school, you will find a new, interesting piece, and now you can find even more.
The Jesuit Dallas Museum opened their newest art exhibition, David Bates & Texas Artists on, Thursday, September 22nd. The exhibition features the acquisition of David Bates, Man with Gold Tooth (1982), acquired through gifts from the Kevin Schnurr Memorial Fund, ArtQuest, private donations, and museum funds. David Bates & Texas Artists features works courtesy of Russell Tether Fine Art, private individuals, and the Museum's permanent collection. In addition to Bates, featured artists include John Alexander, Otis Dozier, Robert Rauschenberg, and others. Here's what to expect:
David Bates
David Bates was born in 1952 in Dallas, Texas and lives here today. Bates was influenced by Otis Dozier, a venerated artist with a reputation of excellence, especially in works involving the landscape, and went on to earn his BFA (Bachelor of Fine Arts) and MFA (Master of Fine Arts) from SMU with artist Roger Winter. Bates' work features a vernacular landscape and displays his clear connection with his Texas roots and the Southwest. In addition to the landscape influencing and embodying Bates' work, the Great Depression and World War I also contributed to his use of blue-collar heroism. The Man with the Golden Tooth (1982) is a portrait that reflects Bates' favorite pastime of fishing and the Texas landscape around the coast and lakes. The portrait depicts a fisherman with a golden tooth wearing a turquoise blue shirt and a red and white polka dot brimmed hat.
Otis Dozier
Otis Dozier, teacher and dear friend of David Bates, was born in Forney, Texas in 1904 and was raised on a farm in Mesquite. Dozier was interested in art at an early age, specifically drawing and painting. But it wasn't until a convincing visit to the State Fair that he set on his path to becoming on of the most renowned Texas artists in the 20th century. After years of honing his skills at Colorado Springs Fine Arts Center, using the Rocky Mountains as the subject of his paintings, Dozier returned to Dallas to teach at the Dallas Museum of Fine Arts School and in Southern Methodist University's art history department. Dozier's distinct style incorporates a use of nature and immersion of his surroundings. His art displays a sense of liveliness and vitality uncommon to most art in his time. Dozier, recognized nationally during his lifetime, was unafraid of experimentation and is a vital contributor to American Modernism.
William Lester
William Lester was one of the leading members of the "Dallas Nine" (a talented group of artists based in North Texas prominent during the Depression, also known as the Dallas Regionalists,) and lived in Graham, Texas. He was known to incorporate vibrant and wild colors and was influenced by Mexican artist Rufino Tamayo. Lester, inspired to study abroad, traveled to Mexico, Guatemala, France, and Italy, effectively abandoning the "American Scene" and immersed himself in the foreign style of abstraction. Rufino Tamayo heavily influenced Lester and inspired him to use Fauvist and brilliant colors. Like most artists in the Dallas Regionalists, Lester used tight brushwork and an earthy palette, working in a hard-edged style on top of his own unique implementation of vivid colors.
Exhibit Overview
The David Bates & Texas Artists exhibit features some excellent artists that have truly made an impact on Texas art history. Said Museum Director Mrs. Elizabeth Hunt Blanc, "I thought it would be a good time to introduce other Texan artists." The exhibit features members of the "Dallas Nine" and other talented Texas Artists. "[The Dallas Regionalists] focused on the people, landscape, and wildlife of Texas," Mrs. Blanc explained. "There are also themes of history and animals." The David Bates & Texas Artists exhibit will be up in the Historical Library until November 21st, so be sure to come and check out the exhibit!