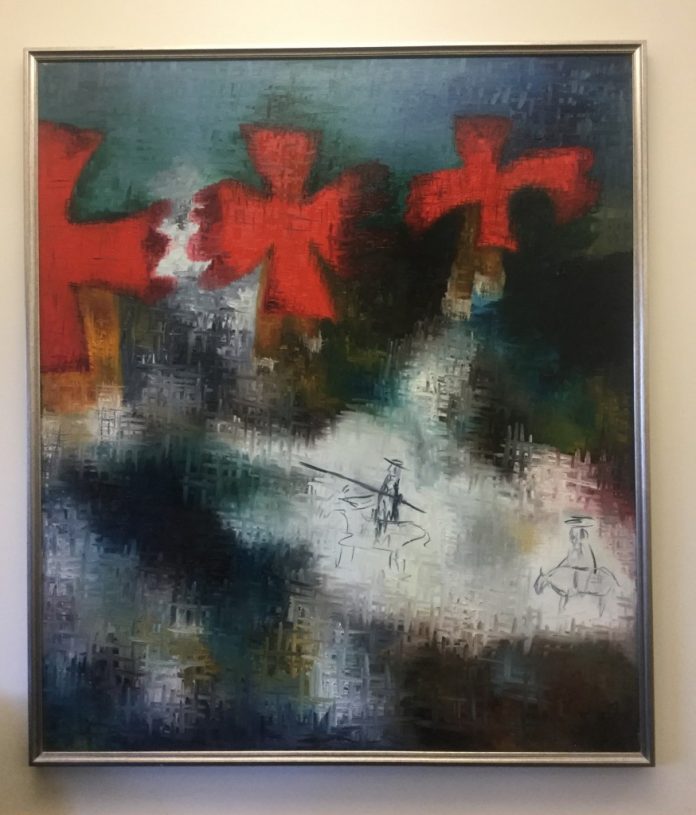 "Painting is the most magical of mediums. The transcendence is truly amazing to me every time I go to a museum and I see how somebody figured another way to rub colored dirt on a flat surface and make space where there is no space or make you think of a life experience."
In this quote, contemporary artist and photographer Chuck Close conveys the wonder of painting and how it affects each individual viewer. At the beginning of its cycle, the artist first has a vision and a message he wishes to display. From scratch, the artist then uses various types of brushes and mixes many different shades of color into a canvas, forming his thoughts into reality. He tweaks and fixes the painting meticulously, determined to express his mind in the most coherent way possible. And from there, the painting becomes a mirror of the artist, a glimpse into his experience, or even a reflection of the viewer's own life. The painting may elicit somber memories, past troubles, or even hope for new beginnings to come. Either way, the painting has a direct and influential impact on the viewer, an effect desired by all artists, including Johannes Boekhoudt, a renowned artist who centers his artwork around social justice and the issues of our community, and who's masterpieces find themselves inside the halls of Jesuit.
From January 9th through March 9th, the Jesuit Dallas Museum is featuring artwork from Johannes Boekhoudt throughout the school. The introduction and opening reception of this exhibit was held on January 19th, an event where attendees got a first look at his paintings while listening to soothing music provided by the Jesuit Jazz ensemble.
Along with Jesuit, his artwork has been featured in exhibits all across Latin America and the Caribbean. He utilizes abstract expressionism as the mode for his art, and in it, he examines various societal circumstances and how they have affected his life. Inspired by his art at the opening of his exhibition at the Museum of Biblical Art last spring, director of the Jesuit Dallas Museum Elizabeth Hunt Blanc approached the painter and asked him to present his work at the school. These pieces have provided students and faculty with illustrations of social justice as they walk through the halls, and many have expressed amazement for these paintings.
Many of his pieces are featured all around the school, but not every single one impacts every single person. However, throughout the various types of art and different messages depicted, there is always that one image or idea that speaks to each individual, affecting them in ways they can only understand completely. Commenting on his experience in the exhibit, Bass Stewart '17 stated, "The art was very deep. One of the pieces depicted a girl leaning against a wall, hunched over, clearly over trodden and beaten down. This piece touched me, illustrating in a most elegant way, with all the swirls and patterns, the very ugly and terrible problem that is child abuse."
Here, while amazed by the entirety of Boekboudt's masterpieces, the student found a particular painting, or more specifically, a particular social issue that struck him intensely. And his reflection perfectly emulates the artist's wish for students at Jesuit.
"I just want us all to focus, especially the younger generations, on the fact that we need to fix the convoluted global situation. I want people to understand that we just have this one earth and we have to care about all of these issues… We need to allow compassion and happiness into our hearts as a daily challenge in order to pave the way for those who have none," Johannes Boekhoudt has said. Thus, if the artist could speak to this student personally, he would probably say that while an invigorated sense of kindness and love for the world may not directly solve the issue of child abuse, it is the first step along the path to seeing all kinds of abuse eliminated from the world.
Like Stewart, Hunt Blanc, having many different occasions to witness the artwork, also found a painting that spoke to her personally: "My favorite is Tres Molinos (Three Windmills), which is in the information commons and based on the story of the knight Don Quijote fighting his demons." While it may not affect her life personally, the message of his painting, to fight the demons or rather to fight the fears, insecurities, or external factors that plague oneself, may strike her as an important ideal to live by, and this effect again captures Boekhoudt's mission, to seek social justice and peace across the world.
While he continues to inspire students and faculty at Jesuit, the paintings and the messages behind them were inspired themselves by his own experiences. Commenting on the origins of his work, Boekhoudt revealed that "because I have been a victim of domestic violence in the past, this has shaped my perspective and shadowed my childhood forever. Therefore, I promised myself that I would someday use my own voice through my paintings to raise consciousness throughout the world. I cannot stand idle when politics and bureaucracy remain at a standstill and cannot help their own country."
From the horror of domestic abuse, this painter arose to alert people of the various injustices and issues he has not only witnessed but also experienced himself. And of these issues, while not as strikingly horrendous as violence in the household, one of the key ones he mentioned was education: "I think that we're not educating our kids at home anymore. We let society educate our children, a society that blatantly dehumanizes rather that strengthen those characteristics that we should value." This problem, along with many others, constitute the focus of his artwork and are placed on display, as art does so well, to not only awaken people to the corruption that plagues the world, but more importantly, to spark change.
So while his paintings remain in the school for this next month, students and teachers alike should take time to look for his artwork and truly take time to appreciate it, and although every student might not be able to do this, teachers on the other hand can play a pivotal role in spreading his messages, highlighted by Boekhoudt himself: "Docents need to take the message to their classroom so they can initiate discussion about these social issues. I hope that this information will bring students to have confidence in the respect and values they have learned so that they may, in turn, have their own opportunity to raise their own voices."
If anyone is interested in seeing more of Boekhoudt's artwork, he would encourage you to visit the JM Gallery at the One Art Plaza in the Art District where he is showing some of his original drawings.